The Artist's Impression: Lily & Stewart
1000
More than 1,000 students & staff volunteer for community projects
Lily Webb, 15, is a local student at Finham Park Secondary School who wants to study art at Coventry University.
I was born in Coventry and I would definitely like to be an artist studying in the city I have grown up in – I just love its diversity, it's definitely inspiring!
When different cultures coexist, you end up with a distinctive cultural and arts scene so I think it would be a really interesting place to study art. If we were to win City of Culture, the art scene would get even more recognition, and as a result of that, more funding.
I love Stewart's style of art. The fact he studied here at Coventry University and then went on to exhibit in places like the Tate Modern proves to me it is possible to be successful in art, you just need to keep going.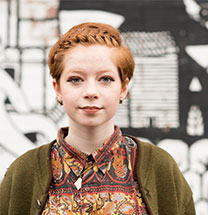 ---
Stewart Easton has gone from studying his Masters at Coventry University to becoming a London-based artist.
Recently I have developed a strong appreciation of the mish-mash architecture of Coventry – I grew up in Canley and I think that it's taken moving away to appreciate the aesthetics of the place.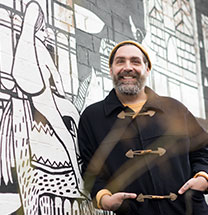 It's difficult to actually say what it was I liked about growing up in Coventry as I had never lived anywhere else so I have no environment to compare it to.
Growing up, I thought Coventry was the centre of the universe....so living in the centre of the universe was pretty cool and special.
It's an ever-changing city and since the second war different developments have been constant so it has a transitory feel to it.
Yet the people of Coventry have a real deep pride in being from 'Coventry'. Winning the culture bid would bring funding and visitors, alongside artists and culture from outside of city to Coventry, enabling the inhabitants to experience the new.
I think it's massively important to support new talent in the city, and as vitally important to have the right folk in place who can offer the right support. Having someone there with the experience and skill-set can work wonders in developing new talent and that's something we can all get behind.
I exhibited at the University as part of my Masters and then at the mac Birmingham, which is where things began to fall into place! I'm currently exhibiting at Beers in London as part of the Contemporary Visions VII show and I will be exhibiting some work in New York at 57W57Arts as well as having embroidery at Hive Gallery Los Angeles. I think this is the busiest start to the year yet!