Yanguo Jing
Associate Head of School – Enterprise & Commercial
School of Computing, Electronics and Mathematics
Faculty of Engineering, Environment and Computing

Email: yanguo.jing@coventry.ac.uk
Twitter: @DrYanguo
LinkedIn Profile
Biography
I am a fellow of the British Computer Society and a fellow of the Higher Education Academy. I have also been awarded with a university teaching fellowship in recognition of innovation in my teaching. I have extensive experience in knowledge transfer project delivery, academic leadership in HE, course management, curriculum development in online delivery and work based delivery, and quality assurance and enhancement.
I have been a managing director for a university commercial software house between 2013-2016, working for clients such as Comic Relief and colliers international.
My current position is the Associate Head of School – Enterprise and Commercial. My main responsibilities are to identify knowledge transfer, enterprise and commercial opportunities and to ensure their successful delivery.
Qualifications
PhD, Computer Science, Heriot-Watt University, 2004.
Postgraduate Certificate in Learning and Teaching in Higher Education, London, 2002.
Computer Science BSc (Hons) and MSc, Dalian, 2000.
Research interests
My research focuses mainly on the use of AI techniques to capture user's interaction patterns that can be used to develop adaptive and intelligent applications. This research has been applied in applications such as intrusion detection on mobile devices, keyboard typing errors auto-correction, user behaviour prediction on social networks, etc.
My successful completed PhD supervision:
Dr. Khurram Majeed, Investigation Leading To Behaviour-Based Hybrid Intrusion Detection System for Mobile Devices, 2014
Dr. Wondimagegn MALLEDE, Semantic Web Mapping Relational Database, 2014
Dr. Jun Li, Noisy Language Modelling Framework Using Neural Network Techniques, 2008
Research projects
eRaUI: e-Research Adaptive User Interface - Strand C, JISC funded project.
Recent outputs and publications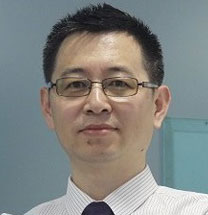 Teaching modules
E-commerce
Intelligent agent
Mobile app development
Work placement and work related learning
MSc project
BSc project
Areas of expertise
User Modeling and adaptive user interfaces
Social Informatics
Security framework for mobile devices
Student entrepreneurship and employability