Dr Saad Ali Amin
Biography
Saad Amin is the Post-graduate Programme Manager and Principal Lecturer in Network Computing in the Faculty of Engineering and Computing.His main area of research is Health Informatics.
One of his researches interests centres on the design of biomedical image processing algorithms and multimedia applications on parallel computers and distributed computing, and their implementation on Cluster of workstations (CoW). He is also involved in the area of context-aware multimedia information systems for e-health decision support.Previously, he was involved with a European Community project at the Parallel Algorithms Research Centre, Loughborough University.
The main objectives of the project were to establish a European standard platform for the exploration of biocomputational, nanotechnological and holographic algorithms.Dr Amin is the principal investigator of several funded projects. He has supervised eight completed PhD students and has eight current PhD students. He has published more than 70 papers in peer-reviewed journals, reputable conferences and books chapters on many aspects of this research. He has organised international conferences and workshops, as well as acted as Session Chair and on program committees for many international conferences.
He served on the IEEE Committee for Signal Processing Chapter for the UK and Ireland and Vice-Chairman of the British Computer Society/Middle East section.
Qualifications
Pg.Cert., Learning and Teaching in Higher Education, Coventry University
Ph.D., Computer Science, Loughborough University
M.Phil., Computer and Control Systems, Brunel University
Research Interests
Multimedia and e-learning
E-health
Biomedical Computing
Biomedical Applications
Distributed computing
Image Processing
Parallel Processing
Systolic Arrays
Parallel Algorithms
Very Large Scale Integration (VLSI)
Neural network
Selected Outputs
Al-Raisi, A., Amin, S., Iqbal, R., and Thompson, P. (2013) 'Evaluation of E-Performance System: A Cultural Perspective'. Proceedings of the 17th IEEE International Conference on Computer Supported Cooperative Work in Design, 'CSCWD 2013'. 27-29 Jun 2013 in Whistler, Canada
Aljarf, A., Amin, S., Filippas, J., and Shuttleworth, J. (2013) 'Creating Stego-Images through Hiding Single and Multiple Data Using Different Steganography Tools'. Proceedings of the International Conference on Signal Processing, Pattern Recognition, and Applications, 'SPPRA 2013'. Held 2013 in Spain
Aljarf, A., Amin, S., Filippas, J., and Shuttleworth, J. (2013) 'Develop a Detection System for Grey and ColourStego Images'. International Journal of Modeling and Optimization 3 (5), 458-461.
Amin, S.A. (2013) 'Classification of Pervasive Healthcare Systems: A Survey, Developments in e-Systems Engineering'. Proceedings of DeSE'13, 'DeSE'13'. Held 2013 in UAE
Al-Raisi, A., Amin, S., and Tahir, S. (2011) 'E-Performance Systems: A Method of Measuring Performance'. International Journal of Web Portals 3 (1).
Al-Raisi, A., Amin, S., and Tahir, S. (2011) 'Evaluation of E-Performance Analysis and Assessment in the UAE Organizations'. Journal of Internet and Information Systems 2 (2).
Anya, O., Tawfik, H., Nagar, A., and Amin, S.A. (2010) 'Context-Aware Decision Support in Knowledge-Intensive Collaborative E-Work'. In Proceedings of International Conference on Computational Intelligence, Lecture Notes in Computer Science. UK: Elsevier
Anya, O., Tawfik, H., Amin, S., Nagar, A., and Shaalan, K. (2010) 'Context-Aware Knowledge Modelling for Decision Support in E-Health'. Proceedings of the E-Health, the IEEE Computational Intelligence, 'E-Health, the IEEE Computational Intelligence'. Held 18-23 Jul 2010 in Barcelona, Spain
Khushman, S., Todman, A., and Amin, S. (2010) 'The acceptance of e-business websites in Arab countries'. Oxford Research Forum journal 3 (2), 33-47.
Oikonomou, A., Amin, S.A., Naguib, R.N.G., Todman, A., and Al-Omishy, H. (2006) 'Interactive Reality System (IRiS): Interactive 3D Video Playback in Multimedia Applications'. Journal Advanced Computational Intelligence and Intelligent Informatics 10 (2),145-149
Oikonomou, A., Amin, S., Naguib, R.N.G., Todman, A., and Al-Omishy, H. (2006) 'Interactive Reality System (IRiS): Interactive 3D Video Playback in Multimedia Applications for Breast Awareness'. Journal of Advanced Computational Intelligence and Intelligent Informatics 10 (2), 145-149.
Sabbagh, A.O., James, A.E., Bali, R., and Amin, S.A. (2004) 'A novel modelling methodology for informatics and knowledge management in the Saudi Health organisations'. Oxford Research Forum journal 2 (1), 69-79
Selected Funding
Breast cancer detection, BUiD Research Funding (UAE)
Parallel computing and medical imaging in collaboration with a number of hospitals in the Midlands region, UK Research Funding
Collaboration with a number of European institutes, European Community (EC) Funding
Project Manager for Computerised Documentation Bank, UNESCO
Context-Aware Multimedia Information System for e-Health Decision Support, Prime Minister Initiative 2 (UK)
To design and develop novel "Reliable and Energy Cognitive Radio Multichannel MAC Protocol and testbed for Adhoc Networks", Knowledge Exchange and Enterprise Network KEEN (UK)
Selected Professional Activities
Member of the Executive Council of Dubai Government Excellence Projects
Organising Committee Member and Chair: the 4th International Conference on Developments in e-Systems Engineering (DeSE'11)
Organising committee member and steering committee member: the 17th International Conference on Management of Technology (IAMOT 2008)
International Program Committee Member: Signal Processing, Pattern Recognition, and Applications Conferences
International Program Committee Member: Biomedical Engineering Conferences
Fellow Member of the School of Informatics, University of Edinburgh, UK
Teaching
Computer Architectures and Principles
Advanced Computing Technologies
Health Informatics
Research Students
3 current PhD students
4 completed PhD students
Other Responsibilities
Managing the MSc courses at international partner institutions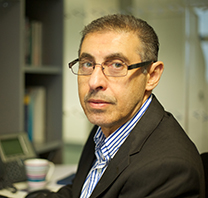 Engineering and Computing Building
Contact Number
+44 (0)24 77658583
Email
csx188@coventry.ac.uk