Emeka Efe Osaji
Teaching Fellow in Building Services Engineering
School of Energy, Construction and Environment
Email: Emeka.Osaji@coventry.ac.uk
Biography
Emeka is a Teaching Fellow in Building Services Engineering.
He is a recipient of Advance HE's Teaching Excellence Programme certificate that is aligned with the UK Professional Standards Framework (UKPSF) Descriptor 3, which demonstrates expertise in the Teaching Excellence Framework (TEF), Assessment and Feedback, Retention and Attainment, and Employability. He also has certificates in Module Leading, Module Tutoring, Module Marking, and Project Supervising.
Qualifications
Emeka obtained Bachelor of Environmental Studies (B.E.S.) and Bachelor of Architecture (B.Arch.) degrees from the University of Lagos on 30/05/2002.
He is a recipient of professional qualifications that include:
Member of American Society of Heating, Refrigerating and Air-Conditioning Engineers (MASHRAE)
Chartered Environmentalist (CEnv)
Chartered Scientist (CSci)
Fellow of Forum for the Built Environment (FFB)
Fellow of Royal Society of Arts (FRSA)
Academician of Academy of Urbanism (AoU)
Career overview
Emeka has served in roles, such as: Committee, Scientific Committee, Board, Editorial Board, and Panel Memberships; Lectureship; Mentorship; Module Leaderships; Teaching Fellowship; Tutorship; Directorships; School Governorship; Editorships; Chairpersonships; and Research Work Package Leaderships.
Research interests
Emeka's research interests include investigation into why Display Energy Certificate (DEC) and Recommendation Report (RR) non-lodgement occurred in the United Kingdom (UK).
Contributions to knowledge by this research have been the first-ever synthesis of key data. For instance, in the Sustainable Ecological Engineering Design for Society (SEEDS) Conference 2018 Proceedings, his research is described as "the first independent synthesis of data of this kind, which provides evidence on Display Energy Certificate (DEC) and Advisory Report (AR) Local Government compliance in Northern England". In the CIBSE Journal December 2017 issue, his research is described as "the first independent synthesis of UK central government compliance with DECs and ARs …".
This research has led to him becoming a recipient of awards, such as:
Research, Innovation, Sustainability, Enterprise (RISE) Awards 2022 Highly Commended Award for Building Consultancy and Surveying, and Chairs Commendation for Outstanding Work in Building and Surveying - Energy.
RISE 2021 Highly Commended Award for Field and Laboratory Research.
RISE 2019 Highly Commended Award for Knowledge Transfer.
Charity and memberships
Emeka serves (or served) in roles and external activities, such as:
Emeka's affiliations/memberships include:
Publications and press
Emeka's recent publications include the following Editorial for the Institution of Civil Engineers (ICE) Infrastructure Asset Management 10(2) Journal General Issue: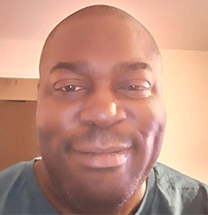 Modules
He serves as a Module Leader for modules, such as:
Domestic Building Science and Services
Construction Materials
Building Project 1
Building Practice
He also serves as a PG Project Supervisor.
Research interests
Emeka's areas of interest include:
Building Energy, Environmental Assessment Certification (BEEAC) Tools
Building Performance Evaluation
Building Services Engineering
CIBSE Guides and Technical Memoranda (TM)
Energy Certification Compliance
RIBA 2030 Climate Challenge Targets and Sustainable Outcome Metrics
RIBA Plan of Work 2020
Sustainable Architecture
Sustainable Construction
Urban Sustainability of Public Buildings