Dr. Faris Elasha
Lecturer in Dynamics
School of Mechanical, Aerospace and Automotive Engineering
Faculty of Engineering, Environment and Computing
Email: ac1027@coventry.ac.uk
LinkedIn Profile
Google Scholar
ORCID ID
Biography
I joined Coventry University in September 2015 as a Lecturer in Dynamics. Previously I was a Research Fellow at Cranfield University. Through my previous career, I have over 10 years experience as a Mechanical Engineer in the power generation industry, where I participated in, and headed, many committees for power station maintenance and overhauls management.
I have a degree in Mechanical Engineering from Sudan University of Science and Technology (BSc), MSc in Mechanical Engineering Design from the University of Manchester and my Ph.D. in Mechanical Engineering from Cranfield University. My research area focuses on rotating machines diagnosis and prognosis. Recent involvement in the renewables area includes contributions towards the design of condition monitoring system for tidal turbines.
Qualifications
Ph.D. in Condition Monitoring and Prognosis, Cranfield University, Completed January 2015.
MSc in Mechanical Engineering Design, University of Manchester, 2010.
Bsc in Mechanical Engineering, Sudan University of Science and Technology, 2003.
Research interests
Condition monitoring, diagnosis, prognosis, and intelligent health management are effective means to reducing the downtime and maintenance cost and improving the reliability of machines. These important issues have drawn more and more attention during the last decade and significant research effort is being taken by both academia and industry to advance the technologies for condition monitoring, diagnosis, prognosis, and health management of rotating machines.
My research goal is to undertake applied research and development with the aim of advancing the scope and the sensitivity of machinery fault detection, diagnosis, prognosis, performance and emissions monitoring. My current research investigates: machine diagnostics and prognostics; asset integrity and management; gearbox dynamics and design.
Recent outputs and publications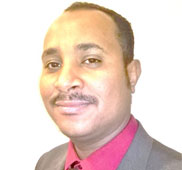 Teaching modules
Analytical Modelling (208MAE)
Engineering Application (104MAE)
Individual Project (324MAE)
Individual Project (M07MAE)
Mechanical Science (102MAE)
Solid Mechanics and Dynamics (206MAE)
Stress and Dynamics (M22MAE)
Areas of expertise
Health Monitoring Techniques for Rotating Machinery
Finite Element (FE) modelling
Condition Monitoring and Aging Management of Structures
Vibration based diagnosis for rotating machines
Advance Signal Processing