Dr. Tom Williamson
Associate Head of School (Student Experience)
School of Strategy and Leadership
Coventry Business School
Faculty of Business and Law

Email: aa1781@coventry.ac.uk
Biography
Alongside my business interests, I joined the Coventry University team to encourage a wider range of business support services for Coventry students. Since then I have played a central role in research, teaching and providing business support to students and for 6 years was the Course Director of the highly innovative BA Enterprise and Entrepreneurship degree at Coventry University. I remain at Coventry University today in my role as Associate Head of School responsible for Student Experience in the School of Strategy and Leadership.
From 2013 – 14, I was the Chair of Enterprise Educators UK, a group representing Enterprise Educators throughout the HE and FE sector within the UK. In my current role as director of EEUK, I aim to support the development of Enterprise and Entrepreneurship education, whilst distilling and sharing in best practice and knowledge transfer. EEUK operates at national and international levels to influence and contribute towards the development of policy and practice.
Qualifications
PhD Entrepreneurship, Coventry University, 2015
PG Certificate of Teaching in Higher Education, Coventry University
Human Resource Management BA, Coventry University
Research interests
My research interests cover Business Stuart-Up, Regional Development, Business Support Policy, Student Entrepreneurship, Entrepreneurship Education and Web Technologies for Businesses. I completed my PhD in 2015 entitled, "To what extent can universities create a sustainable system to support MSMEs? A focus on the West Midlands region" at Coventry University.
Recent outputs and publications
Pittaway, L., Gazzard, J., Shore, A., and Williamson, T. (2015) 'Student Clubs: Experiences in Entrepreneurial Learning' Entrepreneurship and Regional Development 27 (3-4), 127-153.
Williamson, T., and Wick, D. (2014) 'A longitudinal impact analysis of Entrepreneurial Attitudes, Activity and Intent of Coventry University Students graduating in 2013/14'. Institute of Small Business & Enterprise 2014. Held 5-6 November 2014 in Manchester, UK.
Williamson, T. (2014) 'The Impending Student Pipeline: Impacts On Enterprise Educators'. Higher Education Entrepreneurship Group; The Entrepreneurial University: Where Are We Now?. Held 17-18 June 2014 in London, UK.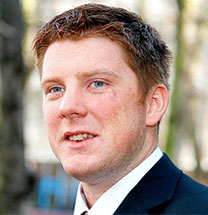 Teaching
I currently teach Research Methods, the final year undergraduate dissertation project module and supervise both undergraduate and postgraduate projects.