Tola Adesina
Associate Head of School (International)
School of Economics, Finance and Accounting
Coventry Business School
Faculty of Business and Law

Email: tola.adesina@coventry.ac.uk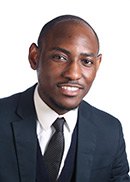 Biography
Tola currently is the Associate Head of School (International) at the School of Economics, Finance and Accounting at Coventry University and is responsible for driving the School's internationalisation strategy. In this role, he has worked extensively with Universities across Europe, Asia, North America and Africa and he is particularly keen on using technology to connect students' learning experiences across the world. Prior to that he had worked as a Lecturer in Finance at the Coventry Business School and then as the founding Director of the Coventry Business School Financial Trading Floor, the largest academic stimulated Trading Floor in Europe.
Tola is also interested in the interface between technology and finance education and as Director of the Coventry Business School Financial Trading Floor, he led the integration of market leading finance technology such as the Bloomberg Terminals into programmes at the Business School. He has also led several sessions on training researchers to use leading financial technologies in academic research. As a proponent of the use of modern financial technology in education, he has been invited to speak at and participate in several educational conferences including the industry led Bloomberg for Education conferences in London and New York.
His teaching expertise over the past years spans Financial Trading and Investments, Corporate Finance, Financial Regulation, Investments and Taxation. His research interests cover issues around financial market volatility, financial innovation, entrepreneurial finance, contemporary issues in financial markets and financial impacts of central bank communications. He has published work on contemporary issues such as Brexit in peer reviewed journals and his work on the Bank of England's communication has also been featured in the Financial Times.
Qualifications
PhD Economics, Birkbeck, University of London, in progress
MSc Finance, Coventry University, 2012
BSc Economics, University of Ibadan, 2010
Teaching modules
Undergraduate
Financial Trading and Investment using Bloomberg (A201FIN) [module leader]
Investment and Risk (201FIN) [module leader]
UK Financial Regulation (101FIN) [module leader]
Wealth Management (301FIN) [module leader]
Postgraduate
Corporate Finance (M08EFA)
Research interests
My current research interest covers the impacts of Central Bank communication on financial markets, including the transmission mechanisms through which financial markets are impacted. Previously, I had worked on the effects of financial liberalisation on investments in emerging markets.
I am also very interested in pedagogic research and recently obtained funding worth £3,000 to support my research in evaluating the intercultural perspectives in financial trading and investments using simulation based learning.
Recent outputs and publications
Adesina, T. (2015) 'Intercultural Perspectives in Financial Trading and Investments using Simulation Based Learning'. Coventry University Teaching and Learning Conference 2015 - Transforming Futures: Disruption, Connection and Innovation. Held 25-26 June 2015 in Coventry, UK. Adesina, T. (2015) 'Simulation Based Online International Learning Projects in Finance'. Winchester Business School Finance Lab Conference. Held 12 June 2015 in Winchester, UK
Teaching modules Undergraduate Financial Trading and Investment using Bloomberg (A201FIN) [module leader] Investment and Risk (201FIN) [module leader] UK Financial Regulation (101FIN) [module leader] Wealth Management (301FIN) [module leader] Postgraduate Corporate Finance (M08EFA)