Julian Robinson
Senior Lecturer - Event Management
School of Marketing and Management
Coventry Business School
Faculty of Business & Law

Email: ab7723@coventry.ac.uk
Biography
I am the Course Director for Undergraduate Sport and Event Management courses and a Senior Lecturer within the School of Marketing and Management at Coventry University. My teaching responsibilities cover a range of modules at all levels across sport, tourism, hospitality and event management courses. I have previous experience of curriculum design and taking new courses through the approvals procedure as well as wide experience of reviewing quality assurance processes at other Higher Education Institutions in my role as an External Examiner. I am a Fellow of the Higher Education Academy and an ad-hoc reviewer for The International Journal of Contemporary Hospitality Management, Tourism Planning and Development, the Journal of Hospitality, Leisure, Sport and Tourism Education and the Journal of Hospitality Management.
Qualifications
Hospitality Management

University of Birmingham

(

MA), 2005

Further, Adult and Higher Education,

University of Wolverhampton

(

PGCE), 2000
International Hospitality Management, University of Brighton

BA (Hons), 1993
Research
My current research is in the area of servicescape and service design in organisations. I am particularly interested in how organisations enhance the consumer experience by way of process or service design. Another area of research interest is technology enhanced learning and how this can positively impact on the student experience.
Outputs and Publications
Robinson, J. (2015) 'Supporting Graduate Employability by Internationalising the Curriculum', Coventry University Conference. Held 25-26 June 2015 in Coventry, UK.
Robinson, J. (2015) 'International Collaborative Learning to Enhance Graduate Employability'. Annual Association for Event Management Education Forum. Held 15-16 July 2015 in Falmouth UK.
Robinson, J. (2015) 'How Cultural Events Increase Tourism: Godiva Awakes', Annual Research Conference. Held in 2015 in Nicosia, Cyprus.
Robinson, J. (2012) 'The use of games and simulations for delivering operations management to postgraduate students'. Annual Faculty Research Conference. Held 2012 in Derby, UK.
Robinson, J. (2011) 'Assessing the value of using an online discussion board for engaging students'. Journal of Hospitality, Leisure, Sport and Tourism Education 10 (1), 13-22.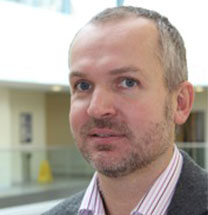 Teaching Modules
301SEM
308SEM
M10SEM
207SEM
Areas of expertise
event management
hospitality management
business management