Dr. Lien Luu
Associate Head of School – Enterprise and Commercial
School of Law
Faculty of Business and Law

Email: ac1648@coventry.ac.uk
LinkedIn: www.linkedin.com/in/lien-luu-2725a711
Biography
My academic career has spanned more than 20 years. I began my academic career as a historian and spent many years teaching history at universities. In 2004, I had a career change when I went to work in industry as a financial planner and loved helping clients achieve their goals. Qualified as a Chartered and Certified Financial Planner, I joined Northampton Business School in 2011 so that I could combine my academic and financial planning interests. In charge of a FCA accredited degree programme, I was responsible for training students to become financial planners and helping employees from a global life insurance company raise their professional qualifications. My current role at Coventry Business School is Associate Head of School for Enterprise and Commercial where I have the responsibility to develop professional development programmes. I am really excited to have an opportunity to work closely with students, and staff from industry and academia.
Qualifications
HEA: Senior Fellow of the HEA (2016), Fellow of the HEA (2013)
Financial planning: Fellow & Chartered member of Chartered Institute of Insurance (2016), Registered Life Planner (2016), Certified Financial Planner (2010)
PhD, Economic History, University of London (1997)
Research
Financial literacy: Financial illiteracy is a pervasive problem in the world. I am interested in the consequences of financial illiteracy and in factors affecting levels of financial literacy. I am particularly interested in financial literacy in the UK.
Financial education: I have just written (with 3 other authors) a book on Essential Personal Finance: A Practical Guide for Students (to be published by Routledge, 2017) This book is designed to help young people understand key issues in personal finance and the steps they need to take to build a secure future.
Performance of pension funds: A large proportion of national assets are held in pension funds and I am interested in their asset allocation as well as their financial performance.
Outputs and Publications
Luu, L., Lowe, J., Butler, J., and Byrne, T. (2017) Essential Personal Finance: A practical guide for students. Routledge [forthcoming]
Luu, L. (2005) Immigrants and the Industries of London. Farnham: Ashgate
Luu, L., and Goose, N. (2003) Immigrants in Tudor and Stuart England. Sussex: Academic Press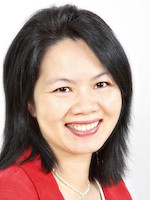 Teaching
Research Methods
Financial Regulation
Areas of expertise
Retirement planning
Wealth Management
Financial planning
Investments
Life planning
Personal Finance