Dr. Kasim Randeree
Senior Lecturer in Operations and Supply Chain Management
School of Strategy and Leadership
Coventry Business School
Faculty of Business and Law

Email: kasim.randeree@coventry.ac.uk
Twitter: @kranderee
LinkedIn Profile
Biography
I am a Senior Lecturer in Operations and Supply Chain Management at Coventry University and Associate Fellow at Saἲd Business School, University of Oxford. I have research interests intersecting project management, leadership and the Islamic economy.
I am an award-winning author, receiving the Outstanding Paper Award at the Literati Network Awards for Excellence in 2013 for my journal article on leadership and organisational commitment within project managed environments. I have published over thirty peer-reviewed journal articles and I am on the Editorial Advisory Board for the International Journal of Islamic and Middle Eastern Finance and Management, published by Emerald and associate editor and reviewer for a number of journals, including the International Journal of Project Management.
I graduated in 1999 with a PhD in Operations Management and have research and teaching experience at the universities of Oxford, Manchester, Hull and Lincoln in the UK and UAE University, The British University in Dubai and The American University in Dubai in the United Arab Emirates. I was formerly a Research Fellow in Major Programme Management at Saïd Business School, University of Oxford and a member of Kellogg College, Oxford. I have also worked for an international non-governmental organisation as Senior Policy Advisor and Head of Research & Development.
My published works on developing nations and the reputational effect of managing large-scale events, particularly on Olympic games' host cities, has influenced views on urban regeneration, legacy and the importance of sustainable environments, receiving global mainstream coverage, principally during the London 2012 Olympic Games.
Furthermore, I hold a Master's degree in Islamic Studies from the University of Wales and have developed specialist research on the Islamic economy at Oxford, focussed on areas including global Halal markets and corporate Waqf (endowments); work that informs the policy and practice of government ministries and public-private partnerships, particularly in trade, development and social responsibility in the Middle East and SE Asia regions.
Qualifications
Islamic Studies MA, 2010
PhD in Operations Management [Advanced Manufacturing Systems], University of Hull 1999
Postgraduate Certificate of Teaching in Higher Education, University of Hull, 1997
Engineering Design & Manufacture BEng (Hons), University of Hull, 1993
Research funding
2012-2014, Creating Sustainable Communities in Post-Conflict Environments, The Department for International Development
2011-2012, Oxford Islamic Branding and Marketing Research and Education Report for Brunei Darussalam, The Government of Brunei Darussalam, Ministry of Industry and Primary Resources
2010-2012, Examining Public Policy in the Context of Human Resource Nationalisation Processes across the GCC Region, The Qatar Foundation in association with Georgetown University
2010-2011, A Study on Corporate Waqf (Islamic endowments) in Malaysia and its Broader Implications for the Muslim World, The Government of Malaysia, State of Johor
2009-2010, Investigating Reputation on Olympic Host Cities, Oxford University Centre for Corporate Reputation and the BT Centre for Major Programme Management, £30,000
Recent outputs and publications
Randeree, K. (2014) 'Reputational and Mega-project Management: Lessons from Host Cities of the Olympic Games'. Change Management: An International Journal 13 (2), 1-7.
Randeree, K., and Chaudhry, A. (2012) 'Leadership - Style, Satisfaction and Commitment: An Exploration in the United Arab Emirates' Construction Sector'. Engineering, Construction and Architectural Management 19 (1), 61-85.

** Winner, 'Outstanding Paper of the Year' at the Emerald Literati Network Awards for Excellence 2013 **
Randeree, K., Mahal, A., and Narwani, A. (2012) 'A Business Continuity Management Maturity Model for the UAE Banking Sector'. Business Process Management Journal 18 (3), 472-492.
Randeree, K. (2011) 'Islam and the Olympics: Seeking a Host City in the Muslim World'. International Journal of Islamic and Middle Eastern Finance and Management 4 (3), 211-226.
Randeree, K., and El Faramawy, A. (2011) 'Islamic Perspectives on Conflict Management within Project Managed Environments'. International Journal of Project Management 29 (1), 26-32.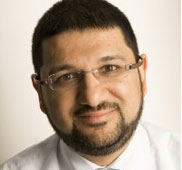 Teaching modules
International Leadership (M48BSS)
International Consultancy Project [HSBC} (315SAM)
Islamic Law (A209DEL)
Placement Students Supervision (239GED)
Postgraduate Dissertation Supervision (Sup PG)
Project Management for Business (345SAM)
Areas of expertise
Islamic Economics
Leadership
Project Management