Dr. Dong-Wook Kwak
Lecturer in Business and Management
School of Strategy and Leadership
Coventry Business School
Faculty of Business and Law

Email: d.kwak@coventry.ac.uk
LinkedIn Profile
Biography
I am a lecturer in Business and Management as well as an associate course director for BA in European Business Management and a undergraduate dissertation coordinator at Coventry University. My teaching is in the area of international logistics. In addition, I am supervising dissertations at undergraduate, Masters and PhD levels.
I studied BA in Economics at Seoul National University, South Korea. Before starting my postgraduate study at Cardiff Business School in the UK, I had worked in the global shipping industry for four years as a legal advisor, claim handler and key account manager. In 2011 and 2015, I was awarded 'the master logistics dissertation of the year' and 'James Cooper Memorial Cup (the best PhD dissertation award)' from the Chartered Institute of Logistics and Transport (CILT). My PhD thesis investigated international logistics risks management by mixed methods to analyse logistics risks and to various generate risk mitigating strategies.
As an early career research, I have published several research papers in leading academic journals and more than 10 conference papers. My current research interests focus on the mechanisms behind strategic decisions of firms involved in international logistics, encompassing risk management and collaboration.
Qualifications
PhD in Business Studies, Cardiff Business School, 2015
PgDip (Distinction) in Social Science Research Methods, Cardiff University, 2011
MSc (Distinction) in International Transport, Cardiff Business School, 2010
Research interests
I am involved in many on-going research projects in collaboration with:
Cardiff Business School (Risk Management & Humanitarian Logistics);
Plymouth Graduate School of Management (Supply Chain Innovation & Quantitative Studies);
Nottingham University Business School (CSR & Internationalisation); and
Yeungnam University, Korea (International Transport).
Recent outputs and publications
Kwak, D.-W., Beresford, A., Pettit, S., Mason, R., Sanchez-Rodrigues, V., and Seo, Y.-J. (2016) 'The roles of organisational orientations in implementing effective risk management strategies for international logistics'. International Association of Maritime Economists Annual Conference 2016. Held 23-26 August 2016 in Hamburg, Germany.
Kwak, D.-W., and Woo, S.-H. (2016) 'The roles of intermediaries in augmenting shippers' satisfaction with container shipping'. International Symposium on Logistics 2016. Held 3-6 July 2016 in Kaohsiung, Taiwan.
Roh, S., Kwak, D.-W., Pettit, S., and Beresford, A. (2015) 'Challenges in humanitarian logistics management: an empirical study on pre-positioned warehouses'. International Symposium of Logistics 2015. Held 5-8 July 2015 in Bologna, Italy.
Kwak, D.-W., Seo, Y.-J., and Mason, R. (2015) 'Supply chain innovation and risk management: their relationships and impacts on competitive advantage'. Nordic Research Network (Nofoma) Conference 2015. Held 3-5 June 2015 in Molde, Sweden.
Seo, Y.-J., Dinwoodie, J., and Kwak, D.-W. (2014) 'The impact of innovativeness on supply chain performance: is supply chain integration a missing link?'. Supply Chain Management: An International Journal 19 (5/6), 733-746.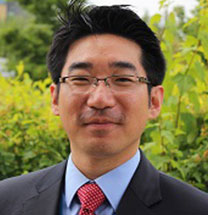 Teaching modules
International Business (Top-Up) BA – 353SAM International Logistics
Areas of expertise
Global Supply Chain Risk Management
International Transport and Logistics
PLS-SEM and CB-SEM
Interpretive Structural Modelling
Analytic Hierarchy Process