Dr. Daljit Kaur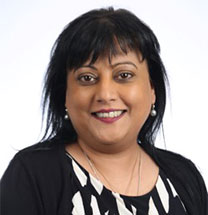 Senior Lecturer in HRM
School of Marketing and Management
Faculty of Business and Law

Email: Daljit.kaur@coventry.ac.uk
Biography
Daljit is a Senior lecturer in HRM at Coventry University and currently teaches a range of modules across several full and part-time HRM programmes undergraduate and post graduate.
Areas of expertise developed over 20 years
Leadership development programme design and delivery for the public, business, voluntary and faith sectors
Advise, design and deliver governor equality and cohesion training programmes for leaders within the public and voluntary sector
Role of women in promoting change from an equalities and cohesion perspective across diversity local, European and international
Role of neighbourhoods, communities and the impact at a local, regional and sub-regional urban and rural
Currently researching society and identity and communities within communities across generations within the diverse communities
Design and development of new CPD programmes to:
Explore innovative ways of working through providing advice, research and facilitation of training within the public, business and voluntary sectors
Education, employment and housing and in broader areas of social and economic regeneration.
Experienced in community involvement, policy development, service delivery in the area of employment programmes, facilitation design, delivery, training and development and change management
Qualifications
FHEA
MA Community Cohesion
Msc Dip Urban Regeneration
Teaching
Undergraduate programmes:
100 HRM Developing HR Professionals
304 HRM Creating Global and ethical HR
200 HRM Developing HR Professionals - employability focus
310 HRM organisational change
PG Programmes
M06 HRM Leading, Managing and Organising Change
CIPD Intermediate Programme
Study skills module leader
GLOBAL PROFESSIONAL DEVELOPMENT - this is a new initiative and the lead member from the school on delivery with cross faculty team
M09HRM Investigating a Business issue from a HR perspective
Areas of Expertise
Equalities and Diversity specialism in unconscious bias and gender diversity
Performance management
Equalities and diverse, social and community cohesion
Globalisation - international context
Leading, managing and organisational change
Ethical behaviours in human resource management
Research areas of interest
Learning and Development against Different Cultures
Unconscious bias and recruitment and selection
Third sector governance, leadership and organisational change management challenges
Research around FGM, Trafficking and grooming
Society identity and the way communities within communities engage and interact with society and within their own communities – this would be on a generational perspective
Expertise in working and securing funding with the public, private and public sector
Outputs and Publications
Kaur, D. (2016) 'Learning and Development against Different Cultures: international and home student experience in the classroom environment'. School of Marketing and Management Conference. Held June 2016
*also presented at the Better Together Conference at FBL July 2016
Kaur, D. (2016) 'Gender diversity, equalities and Social Cohesion of BME women in the UK: A Theoretical Review'. Joint Congress of IIAS – IASIA. Held 19- 23 September 2016 in Chengdu, China.