Dr. Tim Nisbet
Lecturer in English and German
School of Humanities
Faculty of Arts and Humanities

Email: aa3958@coventry.ac.uk
Biography
After graduating with a BA degree in French and German, I spent a year in Greece teaching English and then returned to the UK to train as a language teacher. In 1993 I was appointed Lecturer in German at the University of Wolverhampton where I remained for 9 years, teaching German language, German studies, general linguistics and translation studies. I completed a PhD in Germanic linguistics at the University of Reading in 2007 and have since worked at Coventry University mainly teaching academic English with a leaning towards the needs of postgraduates. I have also given language teacher training and presently manage the University's German language provision.
Qualifications
PhD, 'The licensing of benefactives in Germanic', University of Reading, 2007.
MA in German, University of London, 1999.
BA Combined Honours in French and German, University of Birmingham, 1989.
Research interests
My main research interest is in grammatical theory and description, with a growing interest in 'non-derivational' or 'constraint-based' approaches such as Construction Grammar, though I remain convinced that an adequate theory of grammar is not 'usage-based' but one that takes grammar to be a form of acquired mental knowledge which remains throughout life relatively unaffected by the pressures of usage. I am presently working on an article investigating the relationship between 'idiomatic' and 'non-idiomatic' forms of ditransitive verbs in English.
Recent outputs and publications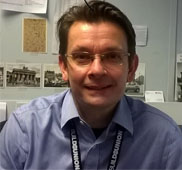 Teaching modules
Academic English (390/395DEL)
Approaches to Language and Linguistics (110DEL)
Academic English Essay Writing (AddVantage)
German language (AddVantage)
Areas of expertise
Grammatical description
Syntactic theory
German language
Germanic linguistics