Karen Arrand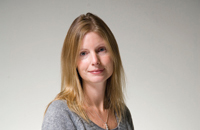 Biography
Karen joined the School of Media and Performing Arts in 2006 and is an Associate Senior Lecturer in Broadcast Production. She has had a long and varied career with the BBC where she worked her way up from Runner to Series Producer. She is an expert in Contemporary factual programming and has been in charge of producing a diverse range of output from live studio formats ('oh hell, go with it – we're live!') to observational documentary (television as a considered craft) for both BBC1 and BBC2.
Karen's career began in Radio working on speech-based programmes for BBC Radio TWO and BBC Radio FOUR such as Farming Today and the Gloria Hunniford Show. Karen has also directed numerous films; from a family of wild gorillas in Uganda to the distressing conditions of an orphanage in Romania, but her most daunting project was aboard a North Sea Oil rig, as the only girl!
Since starting at Coventry Karen has completed a Post Graduate Certificate in Higher Education and her professional interests have moved towards further study in teaching practice. She recently completed an MA in Learning and Technology alongside her teaching commitments and is particularly interested in exploring the links between the development of new formats and learning in higher education.
Qualifications
B.A (Hons), History, Nottingham University
M.A., Learning and Technology, Coventry University
Pg.Cert., Higher Education, Coventry University
Selected outputs
Arrand, K. (2005) BBC 1, Holiday 10 Best. Series Producer
Arrand, K. (2005) BBC 2, Sunday Style. Series Producer
Arrand, K. (2004) BBC 1 and BBC 2, RHS Chelsea Flower Show. Series Producer (2000-2004)
Arrand, K. (2003) BBC 2, Wrong Car, Right Car. Series Producer
Arrand, K. (2000) BBC2 Gardening Neighbours and Charlie's Gardening Neighbours. Series Producer (2000-2001)