Heidi Saarinen
Assistant Professor in Interior Design
Biography
Heidi is a design lecturer, architectural writer and dance artist with specialism in concepts, theories and experimental learning. Heidi's continuing research investigates the peripheral places, thresholds and the interaction between spaces and the body.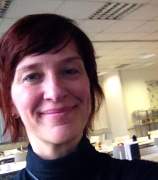 Heidi is currently working on a series of collaborative projects and publications connecting interiors and architecture, spaces, choreography and film. Heidi is active in matters on community and architectural heritage.
Heidi teaches on the BA, MDes and MA Interior Design programme.
Teaching
Interior Design MDes/BA (Hons)
Qualifications
Masters by Research, University of Hertfordshire
PGCE, Greenwich University
BA (Hons) Interior Design, Said/UNL (now London Metropolitan University)
FHEA Fellow Higher Education Academy
Recent outputs and publications
Saarinen, H. (2016)C3issue 379: Spatial Innovation and Interaction of Faculty Buildings. Flexible, Fluid, Futures: Contemporary Faculty Buildings Seoul: C3 Publishing Co.
Saarinen, H. (2014) 'It's not just the chosen few who should get a say on high streets'. North London Star. 24 July

[

Online

].
Saarinen, H. (2015) C3 issue 369: The Changing Landscape of the Office Interior. Seoul: C3 Publishing Co
Saarinen, H. (2014) C3 issue 364: Museum Spatial Journeys - Experiential journey between Art, Space and Architecture. Seoul: C3 Publishing Co
Saarinen, H. (2014) C3 issue 363: Public Spaces and Urban Scale Projects Seoul: C3 Publishing Co
Saarinen, H. (2014) C3 issue 355: Gateway to the Community. Seoul: C3 Publishing Co
Saarinen, H., Willcock, I. (2014) vol 10/1 Liminalities: A journal of Performance Studies - disDance 11054.80. Tampa: Department of Communication/Liminalities, University of South Florida (Peer reviewed journal)
Saarinen, H. (2013) C3 issue 352: Experiencing and Sensing. Seoul: C3 Publishing Co
Selected projects
'Underground' group exhibition at Summerhall Gallery, Edinburgh (2016) Performance/video installations in collaboration with Su Grierson and Diane Maclean
Noel Park Conservation AreaAppraisal and Management Plan (2014 - ongoing) Key survey team member. Project with/funded by English Heritage/Historic England and London Borough of Haringey. (Chakraborty, Saarinen, Sinclair, N & R Threlfall).
Threshold/Place (July 2014 - in progress): Cultural research project funded by Creative Economy Research Centre (CERC) Investigating place in the urban environment through interdisciplinary approaches; Architecture/Comics/ Interiors/performance/memory/food (Saarinen, Carta, Parham, Goodbrey).
Poetic Narratives (2014 ongoing) collaborative project between dance, sculpture and the space between (Saarinen, Grierson, Maclean).
Reading Spaces (2014) Investigating spaces such as the library and other 'reading' spaces. "Focus is on space and place, awareness of sensory qualities in design and architecture through creation of spatial narratives and scenarios." Project brief H Saarinen.
Noel Park Big Local Conservation Area steering group committee/events planning (2014)
Arcola Theatre (2013/14) This project was concerned with the theme of identity and place in interior architecture; investigating space/place, sustainability and heritage, with a performative aspect, making use of experimental research and mapping methodologies to observe, test and understand space. Project Leader with students from University of Hertfordshire and Arcola Theatre, London.
Letchworth Garden City Town Centre Pathways (2012) Principal project leader. Cultural Heritage project with Letchworth Heritage Foundation and Interior Architecture students from University of Hertfordshire. "..exploring concepts and re-thinking of the use of space in Letchworth Garden City, particularly in and around The Wynd. Working together with Letchworth Heritage Foundation, for an outcome to produce concept ideas for improvement of use and visibility of spaces in the town centre." (Project Brief H Saarinen).
Paper Trail Design Concepts (2011).
Working in collaboration with the Paper Trail Charity and paper mill in Hemel Hempstead designing concepts to improve visitor experience. With students from University of Hertfordshire.
Set Design Sound of Music (2011) Funded by Channing School, Highgate, London – part built/designed with Alice Gill-Carey/Channing School drama department and students from University of Hertfordshire.
Cells Symposium: confinement – configuration - coding (2010) International symposium on theme Cells. Lead host and curator of the Interior Architecture department at University of Hertfordshire 2010. 10 artists,10 voices – connecting cells.
Shoreditch Showcase (2010) Designing Site-specific structures, embedding exhibits/installations, through investigation into place, culture and community. With students from University of Hertfordshire.
Performance East(2010) participation in Goshka Macgua's exhibition Nature of the Beast/Bloomberg Commission Project Leader with students from University of Hertfordshire at the Whitechapel Gallery, London.
e-learning video demos (2008-10): Project leader pilot e-learning video project - online learning resources, demo videos for design students. CNWL London, funded.
Academic course consultant London College of Communication, University of the Arts London (2012-14)
Selected performances
Xscape (2014) Performance Milton Keynes town centre. In collaboration with sculptor Diane Maclean and filmmaker Su Grierson.
disDance 11054.80, Remote Encounters, Cardiff, UK, 2013. Collaborative remote project with Ian Willcock and dancers from Lasalle College of the Arts, Singapore.
New York sketches - series of improvised performances in the urban environment, 2012 Solo Performance.
Performance collaboration Something Took Place with Livingstone, L., Pavey, L., Saarinen, H. Platform North East, Star & Shadow Theatre, Newcastle upon Tyne, 2012.
ad hoc Performance, Lee-on-the Solent Promenade, 2011 Solo Performance.