Glenn Noble
Assistant Professor in Theatre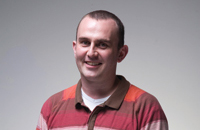 Course Director, BA Theatre and Professional Practice
Biography: I am a highly skilled and versatile theatre arts practitioner, having seventeen years experience of devising and directing professional theatre and teaching within Higher Education. Throughout my career I have specialised in physical, 'performer-centric' styles of theatre and have utilised the resulting methodologies to innovate across a wide range of professional, educational and community settings.

Qualifications:
M.A. by Research, Drama and Theatre Studies, University of Warwick
B.A (Hons), English and Drama, Liverpool Institute of H.E.
Selected outputs:
Noble, G. (2011) The Tale of Reynard the Fox. [Director] Performed at Coventry, as part of Coventry Mysteries Revival
Noble, G. (2009) The Sandman. [Director] Performed at Everyman Theatre, Liverpool and ACE national tour
Noble, G. (2007) Hoof! Spontaneous Theatre. [Improviser] Performed at The Hothouse, Los Angeles and UK Tour
Noble, N. (2006) The True Adventures of Baron Munchausen. [Director] Performed at ACE/Liverpool Capital of Culture 2008
Noble, G. (2005) Madam I'm Adam. [Director] Performed at Commissioned by Berkshire consortium for Edinburgh Festival
Noble, G. (2005) Backwater. [Director] Performed at ACE national tour
Noble, G. (2001) The Miller and the Mermaid. [Director] Performed at Alacati International Children's Theatre Festival, Turkey
Noble, N. (2000) The Man Who Cracked. [Director] Performed at ACE national tour
Noble, G. (2000) Quill and Quiver. [Director] Performed at Unity Theatre, Liverpool
Noble, G. (1998) B.L.T. [Director] Performed at ACE national tour
Noble, G. (1997) The Bank Job. [Director] Performed at ACE national tour
Noble, G. (1996) The Island by Athol Fugard. [Director] Performed at Theatr Clwyd, Mold, North Wales