Dr Geoff Willcocks
Director of Arts, Culture and Heritage
Main Duties:
Responsible for the development of the university's cultural assets, external cultural profile, student cultural engagement and external partnership liaison with regional and national cultural and artistic bodies and organisations and delivery of the city's Ten-Year Cultural Strategy.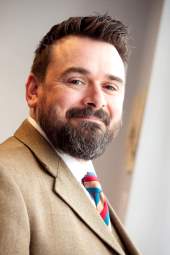 Biography:
Dr Geoff Willcocks is Director of Arts, Culture and Heritage at Coventry University. He joined Coventry University in 2002 and was previous Head of Department for Performing Arts. He co-authored the city's Ten-Year Cultural Strategy and is responsible for the biennial Cultural Audit of the city. He has played a central role in the development of the city's heritage sector, particularly with regards to his work as the Vice Chair of Historic Coventry Trust, an organisation that is now recognised as the new model for heritage development agencies in the UK. He has advised Art Council England on the role of Higher Education in UK Culture and as Chair of the Midlands Higher Education Forum his role is to develop and enhance mutually beneficially relationships between the universities of the Midlands its cultural sector. He instigated the creation of Coventry Dance, the Cathedral Quarter Alliance and is an executive member of Coventry Creative and Cultural Alliance, which is leading on the future cultural development of the city.
Other responsibilities:
Chair of Coventry Music Education Hub
Chair of the Cathedral Quarter Alliance
Chair of Midlands Higher Education Culture Forum
Vice Chair of Historic Coventry Trust
Executive Member of Coventry Creative and Cultural Alliance
Board Director of Historic Coventry Trust Trading Ltd
Board Director of Coventry Dance
Board Director Ludic Rooms
Board Director Coventry Music Trust
Board Member Heritage Action Zone
Coventry Heritage Strategy Steering Group.
Selected outputs:
Coventry's Ten-Year Cultural Strategy (2017)
Coventry Cultural Audit (2016 and 2019)
Coventry Heritage Audit (2020)
Coventry Moves (Cultural Strategy Relaunch, 2020)
European Theatre Performance Practice, 1900 to the Present (co-editor with Nadine Holdsworth), Ashgate, 2014
Europe in Flux: Exploring Revolution and Migration in British Plays of the 1990s. (in Blackwell Companion to British and Irish Drama, August 2007)
Reporting Trauma: Portraying the Balkans in Recent British Theatre. (Cambridge Scholars. 2008)
Cacophony, Truth and Freedom in Caryl Churchill's Mad Forest (Cambridge Scholars late 2009)
International conference papers:
We christened our children DEATH, SOLITUDE and FORGETTING' Staging Questions that cannot be Asked: Forced Entertainment and the Politics of Implication. (Political Futures: University of Reading April 2004)
Ethics and the Balkans: Exploring the Portrayal of Journalists and the Media in Recent British Theatre.(War and Our World: Manchester July 2007, published on In Place of War website)
Competing with History: Truth, Reality and Polyvocality in Caryl Churchill's Mad Forest(Cultural Representations of the Cold War, Universitat
Osnabrück, Germany, December, 2008)