Management, Leadership and Bespoke Development
General Management Training
As a new manager it can be a daunting experience and we're here to help with a range of training and development to support you in your new role.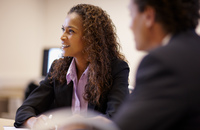 Topics include:
Introduction to First Line Management,
Stress Awareness for Managers,
Coaching Skills for Managers,
Development and Performance Review (DPR) for Reviewers,
Recruitment & Selection.
Management Development Programme
At the core of our Management Development Programme is 'the Coventry Way'. The programme is by application only and participants are expected to commit to a number of workshops and development sessions.
Bespoke Development
We understand that often development needs do not fall neatly within one of these categories and are happy to talk through your requirements and discuss bespoke solutions. We can work with you to consider both individual and team development needs. Solutions we have provided in the past include facilitated meetings, team away days, coaching, mentoring and bespoke training events.
---
Please contact us on ext. 658115 or email development.hr@coventry.ac.uk to discuss opportunities for you.