How to Apply

Applying to Coventry is an easy and quick process and you will receive an initial decision within a week.
There are many easy ways to apply:
1
2
Please ensure any attachments sent with your email and application form are less than 10MB, otherwise your application email may not reach us.
3
EU undergraduate student
You must apply through UCAS.
4
Through a local office
Our local offices are located in China, Kenya, Nigeria, Indonesia and Pakistan.
Visa
UK Border Authority entry clearance
---
Additional information
When you submit your application, you will need to select which course you are applying for. View our course lists here:
The international Office will need the following information in order to make a decision on your application:
All academic transcripts
Copies of degree/diploma certificates or work reference if employed
One academic reference
Your personal statement
Copy of your current passport
If you need any additional information or have any queries on any of the courses, please contact our Enrolment Management Team by calling +44 (0)24 7765 2152. If you are applying from within the EU via clearing, please call +44 (0)24 76 791 791.
Stay On, Go Further
Progression to postgraduate study
If you are a final year undergraduate, or a Coventry graduate, you don't have to complete the full application – just complete our fast track form and send it back to us at the details provided, either by email, into the office by hand, or by post. Any questions, don't hesitate to get in touch (applications.io@coventry.ac.uk).

International London applicants
EU students - EU students applying for a postgraduate programme must fill out our application form and send it to the following email address, londoncampusuk.culc@coventry.ac.uk
Non-EU students - Non EU international students applying for any course should complete their application online. Just use our International Online Application Form to submit your application and upload the necessary supporting documents.
You can also download an application form, which provides further guidance on submitting your application.
Please return completed application forms to:
International Office
Coventry University
Priory Street
Coventry
CV1 5FB
United Kingdom
or email: applications.io@coventry.ac.uk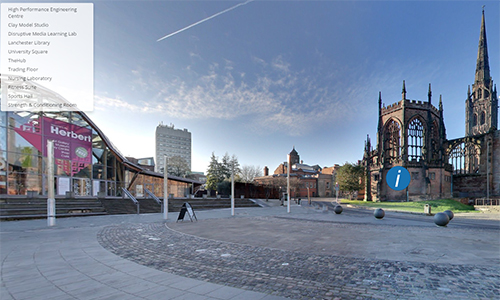 International Virtual Open Day

Take a closer look at our university!
We know that it's hard for international students to get to the UK for an open day. That's why we've created a Virtual Open Day area where you can find all of the information that you'd be able to find at an actual Coventry University open day, including a tour around campus!