Pre-sessional English courses
Academic English & Study Skills courses
Coventry University Pre-sessional English (PSE) courses will help prepare you for UK academic study on your chosen future course. The PSE programme focuses on improving your language ability and developing your academic and research skills.
The PSE will:
help you meet the minimum language requirements needed for your chosen Coventry University degree programme
improve your reading and writing skills; including how to write in the correct academic style using references and sources
develop your speaking and listening skills; including presentations and seminar discussions
help you learn important study skills, such as time management and effective note-taking
allow you to get to know the University's resources ahead of your degree course
The PSE Team works closely with university departments and the PSE course reflects future academic practices found on different courses.
The PSE course is accredited by BALEAP: the global forum for EAP professionals.
There is no separate application process to apply for the Pre-sessional English programme. Please see more information under 'How to Enrol' (tab 2).
2022 PSE courses
We will run our full range of PSE courses throughout 2022, and will remain flexible in offering both online and face-to-face options. Depending on the length of your PSE course, you may have the option to study fully online, fully face-to-face or a blend of both. All courses will be delivered full-time, in small class groups and with individual tutorial support. To find out the mode of delivery for your specific PSE course, please email enquiries.pse@coventry.ac.uk.
Course Details
The length of your Pre-sessional English course will be determined by:
- Your current level of English
- The entry level you will need to reach for your undergraduate or postgraduate degree
Use these tables to help you calculate the length of course you will need.
How is the course organised?
Full-time courses with 17.5 classroom hours per week
In addition, as a full-time student you will have regular tutorials and are expected to complete independent self-study, lesson preparation, assignments and homework tasks outside class time
Small classes with qualified tutors who are trained in working with international students. (Average class sizes 12-14).
For students studying a face-to-face PSE course on campus, classes will take place from Monday to Friday either in the mornings (9.00-13.00 with a 30 minute break), or the afternoons (13.10-17.10 with a 30 minute break). The 5 week course (summer only) is a lecturised delivery with a 75 minute lecture followed by two 50 minute lessons. Please note, the online schedule may vary.
How will I learn?
Classes focusing on language and academic skills.
Strategies to develop independent learning.
Detailed feedback on your work.
Group work activities to help build your confidence.
Structured self-study programme focused on areas where you need more development.
Additional resources to review learning. (Found on Moodle: an online platform used by the University.)
How will I be tested?
You will do exams in each skill at the end of the course to assess your level. You will also be assessed on each of the skills during the course, including a longer piece of writing. Course content and materials are linked to assessments and practice materials are available.
Please note: Enrolment on a Pre-sessional English programme does not guarantee progression onto your chosen academic course at Coventry University. Please see the information in the 'Enrolment section'.
How to Enrol
There is no separate application process for Pre-sessional English courses.
You must submit your application for the degree programme you wish to study on. When we process your application, we will offer you a place on the necessary Pre-sessional English course as required.
Please note that enrolment on a Pre-Sessional English course does not guarantee progression onto your chosen degree at Coventry University. In order to meet the English requirements of your course you need to:
engage with learning from the beginning of the course
attend all of your timetabled lessons
be committed to participating fully in English in all classes
complete all homework, assessments and other work set by your tutors
spend time on self-study throughout the duration of your course.
By achieving the level of performance required in the Pre-sessional English course, meeting the University's academic entry requirements and any other outstanding conditions, you will be able to progress on to your Coventry University course without needing to retake an IELTS exam.
Entry Requirements
In order to know which Pre-sessional English course you might need, it's important to find out your current level of English.
To study on a face-to-face course in the UK, you will need a Secure English Language Test (SELT) certificate.
To get your SELT certificate, you must sit an IELTS test at a test centre that is approved by UK Visas and Immigration (UKVI). The IELTS test will give you an overall score, from 1.0 to 9.0, on your understanding of the English language.
Your SELT certificate must include the following to be valid for entry onto a Pre-Sessional English course:
1. Top right box must state 'Academic'
2. Centre Number must be a centre number that shows on the UKVI approved test centres list
3. Must have a UKVI reference number
For online study outside of the UK, you can demonstrate that you have met the entry requirements for your online PSE course using a number of recognised English proficiency exams, such as TOEFL iBT, Cambridge Advanced or Proficiency, or PTE Academic. Our Admissions team will be able to provide more information on the entry requirements for online PSE courses.
Please be aware that 4.0 is the minimum IELTS score that Coventry University will accept for a Pre-sessional English course.
Support
How will I meet people?
Whether you study online or on campus, you will meet and work with students in your class.
If you're studying our face-to-face courses on campus, you will also have the opportunity to:
Meet students on other pre-sessional courses
Join University clubs and societies
Use the University's facilities (including the Students' Union and the Library)
Attend social events and trips
How will I be supported?
You will be supported before you attend your first class! The International Office (IO) will guide you through your application and help you prepare for arrival in the UK, including email updates and pre-arrival and visa guides.
If you're studying one of our face-to-face courses, the IO will continue to support you once you are in Coventry, with visa support and advice. The International Student Support Team can help you with questions about living and studying at Coventry University.
On your PSE course you will:
take part in a student induction
get support from your course leader and your tutors (including regular tutorials and feedback) throughout your course
have access to a Student Handbook
Other Information
Where is the PSE Course?
If you are studying on the Coventry campus, the PSE building (Elm Bank) is near Coventry University's Technology Park. At busy times PSE classes may be held in Faculty buildings on the main Coventry University campus. Elm Bank has space for self-study and there is a café in the nearby Technology Park. The main campus is a short walk away (10 minutes) where you can find the Library, Students' Union and sports centre.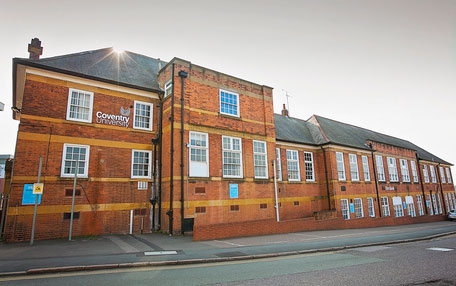 Where can I find more information?
National holidays and study breaks 2022
Monday 3 January – New Year's Day
Friday 15 April – Good Friday
Monday 18 April – Easter Monday
Monday 2 May – Early May bank holiday
Thursday 2 June – Spring bank holiday
Friday 3 June – Platinum Jubilee bank holiday
Monday 29 August – Summer bank holiday
Monday 26 December – Boxing Day
Tuesday 27 December – Christmas Day bank holiday
Study Breaks
Course
Study Break
Spring 10 week, Spring 5 week and Summer 30 week
TBC
Summer 30 week and Summer 15 week
TBC
Autumn 30 week
TBC