Music Technology BSc (Hons)
Course Code
UCAS Code: J930
International Code: AHU039
Location
Coventry University (Coventry)
Study mode
Full-time
Sandwich
Duration
3 years full-time
4 years sandwich
4 years full-time (study abroad or work placement)
Start date
September 2022
---
Course overview
Study level: Undergraduate
Have a passion for making and listening to music? This course covers skills needed to create, record and produce music and audio.
This course is ideal for those who have a passion for creative practices in both music and sound, and wish to explore the technical skill of those practices.
You'll explore the principles of sound and acoustics including: musical instrument acoustics, music composition and production, recording equipment and other music and audio software/hardware. We also cover the music business, careers and employability.
The course is inspired by innovation in the technologies and practices of the music industry, encompassing both experimental areas and cutting edge industry practices.

Global Ready
An international outlook, with global opportunities

Teaching excellence
Taught by lecturers who are experts in their field

Employability
Career ready graduates, with the skills to succeed
Why you should study this course
The course is designed to reflect the range of areas that make up the subject of music technology and the wide range of jobs that may be available to you once you have completed your studies. The course comes with the following benefits and opportunities:
Small class sizes so you should have plenty of access to our fantastic facilities.
A vibrant and creative environment, offering you access to professional practices, new research and outstanding graduate support.
Dedicated, experienced and qualified teaching staff with a mixture of commercial, academic and research related expertise at an international level.
For successful graduates, a potential range of career opportunities as music producers, sound engineers, composers, and audio postproduction technicians.
A course accredited by JAMES, a music industry body that acts on behalf of the association of Professional Recording Services, the Music Producers Guild and the UK Screen Association.*
*This course is currently accredited by JAMES Joint Audio Media Education Support for the 2021/22 entry. If there are any changes to the accreditation of this course, we would notify applicants and students as soon as possible.
5 QS Stars
for Facilities QS Stars University Ratings
Shortlisted for University of the Year The Times and Sunday Times Good University Guide 2021
Accreditation and Professional Recognition
This course is accredited sand recognised by the following bodies:

JAMES (Joint Audio Media Education Support)
JAMES is a consortium of music, entertainment and media industry organisations collaborating in the support of education and promotion of excellence. Assessed by industry professionals, JAMES engage with education primarily through their Course Accreditation process which is designed to endorse relevance, quality and continuing innovation throughout the student curriculum. This not only equips you for a rapidly changing industry, but also ensures that many years of industry experience are not lost to future generations. JAMES continues to promote supportive links between industry and education. JAMES is a recognised PSRB (Professional, Statutory and Regulatory Body) for undergraduate higher education courses.
---

Steinberg Certified Training Centre
Steinberg Certified Trainers and Training Centers help you get the most from Steinberg products. We use the latest Steinberg software and have extensive current product and systems knowledge.
---
This course is currently accredited by JAMES Joint Audio Media Education Support and Steinberg Certified Training for the 2021/22 entry. If there are any changes to the accreditation of this course, we would notify applicants and students as soon as possible.
---

AudioFusion
AudioFusion develops forward-thinking training tools for audio engineers and musicians to further their careers in the sound related arts. The first software, Soundcheck, is an AES Student Design Winner and is now used in courses across the globe. Since launching, AudioFusion has taken their pro audio simulations to different platforms such as 3D, Virtual Reality and continues to advocate the benefits of virtual simulations in education.
---
Music at Coventry University
Music Technology at Coventry has given me a great start in the world of audio. The course is hands-on, focusing a lot on group projects and use of professional audio equipment and software. After the course was finished, I have not only accumulated a significant body of work to present to potential employers, but a range of highly-sought out skills in the field of music production and recording, sound design, and acoustics.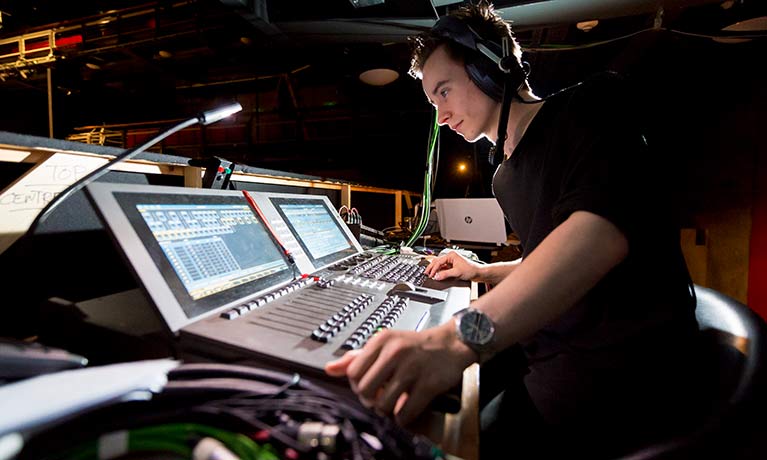 ---
This is a practical course that gives you the space to explore your creative interests and innovations while allowing you to develop a solid base of skills and knowledge to further your career aspirations.
Modules
Skills for Music Technology - 10 credits

This module provides support for students entering the Music Technology course by consolidating a range of generic skills that students need to function in Higher Education and beyond.

Assessment: Exam, coursework

Fundamentals of Sound - 20 credits

This module goes over the fundamentals of sound behaviour. This provides you with the foundation for Music Technology by covering areas such as sound synthesis and digital audio processing, which is crucial for producing and recording sound of a high quality. We explore different aspects of sound behaviour, propagation and auditory perception.

Assessment: Presentation, coursework

Recording Technology and Techniques - 20 credits

This module introduces the technology and techniques involved in the recording of music and sound. The module provides you with the opportunity to gain knowledge about the technology of the recording environment and how it is used in recording and production.

Assessment: Coursework

Audio Electronics - 20 credits

This module aims to provide part of the scientific and technical underpinning of the study of audio electronics by understanding the manipulation of analogue audio signals within electronic equipment. You will also gain a practical understanding of electronics principles through projects, for example working with microprocessor boards and sensory input devices.

Assessment: Presentation, coursework

Sound Art Composition - 20 credits

This module examines strategies for composition that involve the direct manipulation and design of sonic components. This is in contrast to traditional score-based or symbolic music composition to manipulate symbolic abstractions of sound.

Assessment: Portfolio

Sound Design and Synthesis - 20 credits

This module introduces you to the technological, practical and creative principles of designing sounds through synthesis and sampling techniques. Roles such as recording engineers, composers, music and multimedia audio producers are all likely to utilise synthesizer and sampling technologies as part of their roles.

Assessment: Exam, portfolio
Year two expands on the practical and theoretical lessons learns in year one. There is a particular focus on careers/ employability.
Modules
Music Technology Research - 20 credits

In this module, you will be encouraged to look at your own practice within the wider context of music technology. You will examine and critically analyse current theory and practice (creative and technological) internationally as discussed in major music technology-related journals.

Assessment: Portfolio

Acoustics- 20 credits

This module examines acoustics with specific emphasis upon sound within rooms. It aims to equip you with the knowledge of acoustics which will enable you to analyse and design rooms, and function effectively in recording environments. We examine: sound propagation, perception of sound, the acoustic environment, absorption and reverberation times, near and far fields, performance/recording space acoustics, effects of noise, legislation and specification of sound systems for acoustic spaces.

Assessment: Coursework

The Music Business -20 credits

This module prepares you for work in the global creative and digital industries by analysing how they operate. A music technology graduate will need to exist within a business environment that is highly complex and unavoidably influential upon your practice. Various types of organisations within the music industry are examined (musician, producer, music publisher, record label, distributor, retail outlet etc.) as is the relationship between each organisation, including revenue flow.

Assessment: Coursework, presentation

Live Sound -20 credits

This module examines recording technique and practice, music production and acoustics in a live context. It introduces the technologies and practice surrounding P.A. systems, live event management, Health and Safety considerations, mixing and recording in the live environment, acoustic and electrical considerations and sound diffusion.

Assessment: Exam, presentation

Music Production - 20 credits

This module provides a comprehensive view of the recording environment and its application in Music Production. It therefore aims to give you the in-depth capability in the recording environment necessary for specification, operation and creative adaptation.

Assessment: Portfolio, coursework

Developing a Professional Profile - 10 credits

In this module, you will begin actively promoting your skills and knowledge to potential employers and clients by developing an online presence that presents and links to your work on a range of social-media platforms.

Assessment: Portfolio
Following your second year, you will have an option to apply for a one-year professional work placement or study abroad opportunity*. Interest of such an opportunity can be registered early in your second year.
In the final year, you will apply your knowledge gained from years one and two. You will cover a range of topics within Music Technology so you are prepared for the field of your interests.
Modules
Audio Mastering -20 credits

This module examines the technology and practice associated with the mastering of music and/or audio material for final output. It encourages you to have the necessary knowledge and skill to either master or specify the mastering of audio for a large and diverse range of output media.

Assessment: Coursework

Audio Plug-in Development -20 credits

This module aims to provide you with development concepts in computer programming and algorithm design for the application in the creation of an audio plug-in. It is assumed that students will have previously had a little or no informal experience of computer programming.

Assessment: Coursework, presentation

Sound Design and Game Audio - 20 credits

This module introduces the theory and practice associated with sound in film, television and computer games. It examines the tools and methods utilised in recording and synching dialogue, creating sound effects and musical accompaniment for sound to picture.

Assessment: Coursework

Music Technology Project - 40 credits

In this module, you can undertake a large-scale piece of research that builds on your knowledge from previous research, writing and practical activities. You will explore relevant research methodologies, critically analyse relevant literature and evaluate the results you generate from your own experiments.

Assessment: Coursework

Professional Portfolio - 10 credits

In this module, you can continue to develop a professional online presence through compiling your work and research. This professional portfolio provides a comprehensive overview of your skills and knowledge through a presentation of completed projects alongside the research underpinning that work and reflections upon you.

Assessment: Porfolio
We regularly review our course content, to make it relevant and current for the benefit of our students. For these reasons, course modules may be updated.
---
How you'll learn
In our course, we use an immersive learning path where you will study using a black teaching method, focusing on one subject at a time for a few weeks before moving to the next study. We give free time and space for students to experiment.
You will be taught through lectures, workshops, *online classes and tutorials, as well as through industry recognised artists and professionals (subject to availability). Previous examples of speakers have been music producers, composers, sound engineers, label, artists and tour managers.
---
Assessment
This course will be assessed using a variety of methods which will vary depending upon the module. Assessment methods include practical or project work, coursework, tests, essays and presentations/posters.
The Coventry University Group assessment strategy ensures that our courses are fairly assessed and allows us to monitor student progression towards the achieving the intended learning outcomes. Assessments may include exams, individual assignments or group work elements.
---
Job ready
On successful completion, you should have knowledge of:
Concepts of professionalism within music technology (including composition, recording techniques an technology, Live sound, music production) and related disciplines and their relationship to music technology within a global context.
The skills, processes and techniques required for the creation, realisation, presentation and management of work as a music technologist, working within the digital age.
On successful completion, you should be equipped with the skills to:
Demonstrate technical skills relating to a range of recording, mastering, Music production, live sound and music composition.
Apply technological and music related skills creatively to a brief to a high standard of aptitude, demonstrating the appropriate breadth and depth of conceptual development.
Apply creative solutions to a brief, using technical means and appropriate application of materials, processes and technologies to develop a coherent body of work that reflects the particular characteristics of your own creative perspective.
---
International experience opportunities
The course offers an international field trip to students (subject to availability, application, meeting visa requirements and additional costs). Students in the past have been to Berlin to visit Ableton Labs and spent time in Hansa Studios where classic David Bowie and Depeche Mode albums were recorded. In addition, students recently went to Hong Kong where they took part in a pop-up show. You will also have the opportunity to go to Rock Field Studio for a week of master classes in recording and mastering.
---
Typical offer for 2022 entry
| Requirement | What we're looking for |
| --- | --- |
| A level | BBC |
| GCSE | Minimum 5 GCSE's graded 9-4 / A* including English and Maths |
| BTEC | DDM |
| IB Diploma | 29 points |
We recognise a breadth of qualifications, speak to one of our advisers today to find out how we can help you.
Portfolio
You may be required to attend a portfolio showcase, activity session or audition or submit a portfolio via email (as is appropriate to your course), either virtually or face to face, as is practical to arrange. Invites for these sessions will be sent directly to your contact email.
Each application will be considered on its merits.
Are you eligible for the Fair Access Scheme?
We believe every student should have the opportunity to dream big, reach their potential and succeed, regardless of their background.
Select your region to find detailed information about entry requirements:
You can view our full list of country specific entry requirements on our Entry requirements page.
Alternatively, visit our International hub for further advice and guidance on finding in-country agents and representatives, joining our in-country events and how to apply.
English language requirements
If you don't meet the English language requirements, you can achieve the level you need by successfully completing a pre-sessional English programme before you start your course.
For more information on our approved English language tests visit our English language requirements page.
---
Fees and funding
2022/23 Tuition fees
| Student | Full time | Part time |
| --- | --- | --- |
| UK | £9,250 per year | Not available |
| International | £18,050 per year | Not available |
For advice and guidance on tuition fees and student loans visit our Undergraduate Finance page and see The University's Tuition Fee and Refund Terms and Conditions.
We offer a range of International scholarships to students all over the world. For more information, visit our International Scholarships page.
Tuition fees cover the cost of your teaching, assessments, facilities and support services. There may be additional costs not covered by this fee such as accommodation and living costs, recommended reading books, stationery, printing and re-assessments should you need them. Find out what's included in your tuition costs.
---
Facilities
At Coventry, students benefit from superb facilities so they can build on their practical talent. Facilities include:
Several recording studios (including one based around an SSL mixing desk)
various live rooms and performance spaces
an iMac music tech suite plus further state-of-the-art recording studios running Pro Tools, Logic, Live, Max and Sibelius on Apple macs.
Our Television Studio in The Tank homes state-of-the-art TV Studio equipment like mixers and graphics systems.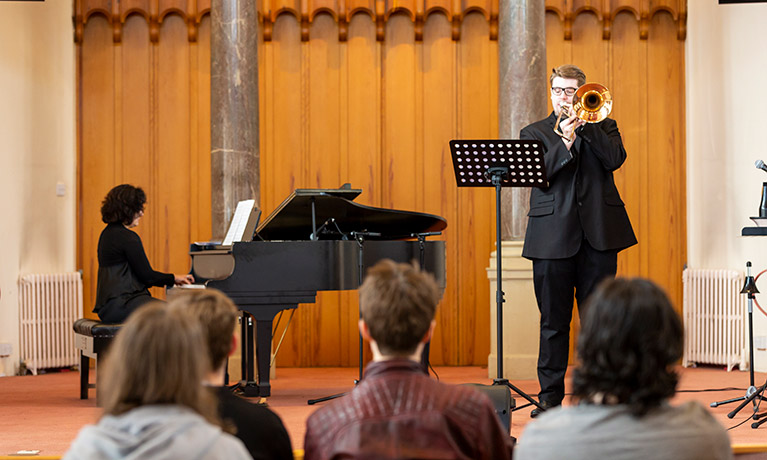 Music seminar room
A great space for our budding musicians, our specialist music seminar room comes with a grand piano, PA, amps, drum kit and 5.1 surround sound, all directly linked to a control room for recording.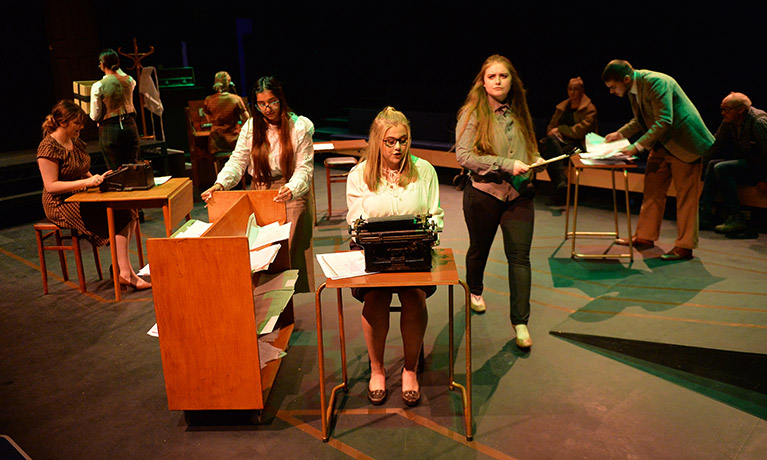 Performance spaces
Our Ellen Terry Building has a dance performance space, two dance studios and a theatre workshop. It also has dressing rooms and storage with around 3,500 costume items and 1,500 accessories.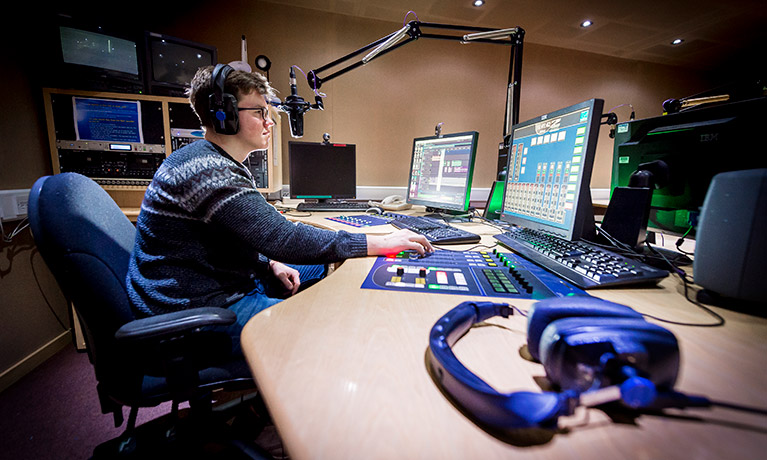 Recording studios
With some of our courses, you can have access to five recording studios, instrument storage, and an iMac music tech suite. We also have state-of-the-art recording studios running Pro Tools, Logic, Live, Max and Sibelius on Apple macs.
---
Careers and opportunities
There is a strong emphasis within the course on your future career, not only helping you to discover your potential chosen career path but also ensuring that you have the professional level of business skill and knowledge to thrive in this demanding industry.
Where our graduates work
Previous examples of employment include music producers, sound engineers, composers; audio post- production technicians together with work in extensive related fields such as radio and television sound.
---
How to apply
UK Students

Full-time students applying to start in September should apply for this course through UCAS. Part-time students should apply directly to the university. Read our application pages to find out your next steps to apply.

---

For further support or more information about your course get in touch with us today.

International Students

Full-time students applying to start in September should apply directly to the university. Read our application pages to find out your next steps to apply.

How to apply

For further support for international applicants applying for an undergraduate degree view our International hub.

You can also download our International guide which contains lots of useful information about our courses, accommodation and tips for travel.

---

Get in touch with us today for further advice and guidance.
You may also like
Coventry University (Coventry)

Popular Music Performance and Songwriting BA (Hons)
Coventry University (Coventry)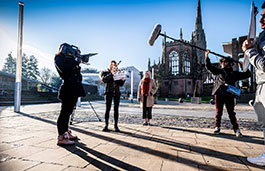 Media Production BA (Hons)
---
---
Disclaimer

Student Contract

By accepting your offer of a place and enrolling with us, a Student Contract will be formed between you and the university. A copy of the 2021/22 Contract can be found here. The Contract details your rights and the obligations you will be bound by during your time as a student and contains the obligations that the university will owe to you. You should read the Contract before you accept an offer of a place and before you enrol at the university.

Tuition fees

The tuition fee for the course that is stated on the course webpage and in the prospectus for the first year of study will apply. We will review our tuition fees each year. For UK and EU students, if Parliament permit an increase in tuition fees, we may increase fees for each subsequent year of study in line with any such changes. Note that any increase is expected to be in line with inflation. Following the UK's exit from the European Union, EU students should be aware that there may be a change to UK laws following the UK's exit, this may change their student status, their eligibility to study part time, and/or their eligibility for student finance. We will act in accordance with the UK's laws in force in relation to student tuition fees and finance from time to time.

For International students the tuition fee that is stated on the course webpage and in the prospectus for the first year of study will apply. We will review our tuition fees each year. For international students, we may increase fees for each subsequent year of study but such increases will be no more than 5% above inflation.

Accreditations

The majority of our courses have been formally recognised by professional bodies, which means the courses have been reviewed and tested to ensure they reach a set standard. In some instances, studying on an accredited course can give you additional benefits such as exemptions from professional exams (subject to availability, fees may apply). Accreditations, partnerships, exemptions and memberships shall be renewed in accordance with the relevant bodies' standard review process and subject to the university maintaining the same high standards of course delivery.

Facilities

Facilities mentioned on this page may not be relevant for every course. Due to the ongoing restrictions relating to COVID-19, some facilities (including some teaching and learning spaces) and some non-academic offerings (particularly in relation to international experiences), may vary from those advertised and may have reduced availability or restrictions on their use.

Placements and study abroad opportunities

Please note that we are unable to guarantee any placement or study abroad opportunities and that all such opportunities may be subject to additional costs (e.g. travel, visas and accommodation etc.), competitive application, availability and/or meeting any applicable visa requirements. To ensure that you fully understand the requirements in this regard, please contact the International Office for further details if you are an EU or International student.

Additional costs

This course may incur additional costs associated with any field trips, placements or work experience, study abroad opportunities or any other opportunity (whether required or optional), which could include (but is not limited to), equipment, materials, bench fees, studio or facilities hire, travel, accommodation and visas).