Renewable Energy BSc (Hons)
Study level:

Undergraduate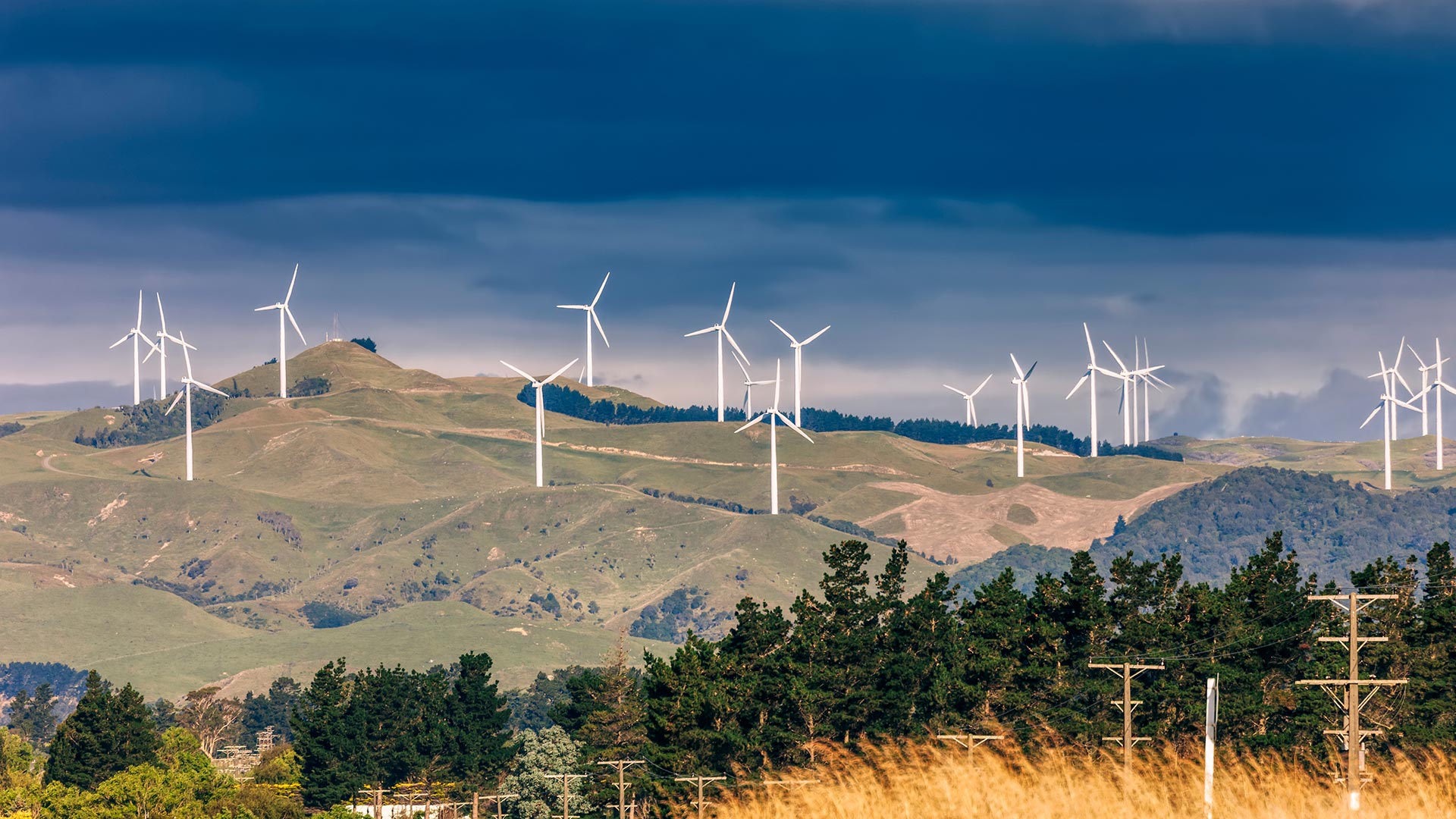 Our undergraduate degree in Renewable Energy covers this large and vital sector exploring a range of social, economic and environmental issues with a range of skills and approaches.
Location
Coventry University (Coventry)
Study mode
Full-time
Part-time
Sandwich
Duration
3 years full-time
4 years sandwich
6 years part-time
Start date
September 2023
---
Course overview
The course will introduce you to the management of energy system transitions.
Learning is centred around renewable energy production, how rapid technological advancements are changing the way that renewable energy is being generated and supplied, and the social and environmental impacts of these processes.
You will learn five core themes including Project Management, Data Analysis and Management, Energy Economics, Health, Safety and Environment and Technology.
The final year of study allows you to undertake a project of your choice (within the broad field of Renewable Energy).

Joint Top Modern University for Career Prospects
Guardian University Guide 2021 and 2022

5 QS Stars for Teaching and Facilities
QS Stars University Ratings

Top 5 UK Student City (Coventry)
QS Best Student Cities Index 2023
Why you should study this course
Fieldwork/site visits (in person or virtual) involving research skills are present in all years. After diverse applied fieldwork and learning experiences, students should be particularly well placed to apply and carry out a wide range of demanding year-long sandwich placements in industry, government or in an overseas learning establishment2.
The typical positive interaction between students and staff, and the supportive environment allows students to develop through the academic, personal and professional skills modules at each level.
The course makes use of the Simulation Centre, a facility that allows simulation of real-life work-place scenarios, all within a monitored and recorded environment that allows students to develop skills and receive immediate feedback on their development. Simulated exercises help to prepare our students for the challenges of the professional world and ease the transition into the workplace after graduation4.
---
In Year one, there is a focus on teaching the fundamentals that will underpin successful progression through the course. These 'essentials' are very largely delivered through two key modules, Fundamentals of Energy, and Global Energy Systems. This aims to ensure you are at the correct level of knowledge following the great variety of topics that may be covered in different syllabuses at A-level. Field skills are introduced.
Modules
A Changing World – 20 credits

Climate change, disasters, resource scarcity, energy crises, globalisation, human rights, collective action, social media, post-truth, technological advancement alongside grinding poverty. Burgeoning rights movements and freedoms juxtaposed with escalating inequality and oppression. Collective action and societal polarisation. We live in complex, challenging and energising times. The world faces significant and unprecedented challenges. At the same time, efforts are being made to meet these challenges from major global initiatives such as the Sustainable Development Goals, The Sendai Framework for Disaster Risk Reduction and the United Nations Framework Convention on Climate Change to grassroots movements such as Extinction Rebellion and Black Lives Matter.  

This module introduces the world today, how we got here, and where we may be going. It asks you to consider your place in the world, how the issues of the present and past shape and impact you and your future, and the role you may play in it all.

Research/Practical Toolkit – 20 credits

This module aims to provide a critical overview of the nature of academic research and help you to evaluate current research in your subject area. You will have opportunities to develop and demonstrate a range of key scientific, social science, technical and mathematical/statistical skills to address simple research questions and you will present your research findings in multiple forms. 

This module will give you the confidence to plan and design simple research projects, implement a variety of academic research techniques, and allow you to develop and demonstrate your digital literacy.

Fundamentals of Energy – 20 credits

This module aims to develop your ability to understand fundamental energy principles (e.g., kinetic energy, potential energy, conservation, laws of thermodynamics, etc.) and apply appropriate mathematical techniques to problems found within the energy sector, including performing resource assessments and basic technical and economic calculations. For example, calculating home energy usage, seasonal solar PV energy yield or calculating profitability of an energy project. The module is designed to prepare you for more advanced study and enhance your understanding. 

A main learning objective of the module is to ensure you become comfortable with using MS Excel for analysis and solving various energy sector problems. This helps you to ensure an understanding of applying first principles and develop the key skills that are required to use more advanced software packages. 

Global Energy Systems – 20 credits

This module examines conventional energy supply systems, its history, formation, supply chains, and its current status. You will learn about key upstream/downstream components of the oil, gas, coal, and nuclear industries, as well as global energy consumption; where and how energy is used in the different sectors (electricity, heating/cooling, industry and transport). The aim of the module is to ensure you have a solid grounding with all these varied components so that your subsequent modules can build on your knowledge and focus on the future of our global energy system. The module covers the present-day energy mix of fossil-fuel, nuclear, and renewable energy sources, and is the benchmark against which future changes can be measured.

The Module will teach and inform you about several of the United Nations' Sustainable Development Goals – especially those related to Affordable and Clean Energy; Industry, Innovation and Infrastructure; Sustainable Cities and Communities; and Responsible Consumption and Production.

The Economics of Renewable Energy – 20 credits

This module will aim to provide you with the vital underpinning in energy economics that will enhance your understanding and equip you with the necessary skills to tackle applied concepts of evaluating the financial benefits, costs, and comparisons of different renewable energy solutions. The module will majorly link to UN Sustainable Development Goal (SDG) #7 "Affordable and Clean Energy" in that energy is becoming more sustainable and widely available, as well as contributing towards parts of SDG goal #12 "Responsible Consumption and Production" in reducing consumption and making that sustainable. 

The module also aims to develop your knowledge of the financial and market risks associated with renewable energy economics and trade. It will provide you with a focused insight into energy markets and renewable fuels. Through studying this module, you will develop a more detailed knowledge of renewable energy price risks and mitigation tools. The module will therefore give you the skills and knowledge to make business/management decisions in the renewable energy sector in the transition from fossil fuels towards net carbon zero. The module will enlighten you in the basic economic theories that practitioners in the industry will be using to evaluate investment decisions and project evaluations, and your knowledge and understanding will be raised through your heightened ability to understand complex problems and develop solutions and ideas.

Sustainable Environments – 20 credits

This module offers you a practical examination of how the United Nation's (UN) Sustainable Development Goals (SDGs) can be implemented and furthered within the Built and Natural Environment. The module will introduce you to how individuals, communities and businesses within the Built and Natural Environment could be responding to the UN SDGs and helping to transform the world through their impact.

The module identifies how the SDGs impact your course discipline by exploring the 17 SDGs and focusing on the delivery and implementation of a student-led project that encompasses the most applicable SDG or a combination of SDGs to your specific academic discipline.

A global approach is needed for the UN SDGs to be fully realised and your place in this as an actor on the international stage will be enhanced.
In Year two, topics become more specialised and you will be introduced to a variety of topics such as Project Management and Climate Change. Field skills and research skills are cultivated further, with a keen eye on the energy dissertation in Year three.
Modules
Climate Change – 20 credits

Climate change is viewed by many as the most pressing issue facing the world today. In this module you will learn about the science and impacts of climate change, as well as strategies to mitigate or adapt to the problem, thus enabling you to develop your own critical opinion of the subject. We will explore the structure of the atmosphere in terms of natural and enhanced greenhouse states and discuss natural and anthropogenic causes of climate change. You will discover the effects that a changing climate has on global societies and on earth systems, such as the biosphere. We will also discuss what can be done about the problem by reviewing mitigation and adaptation strategies and examining the effectiveness of national and international climate change policies.

This module has relevance to all UN Sustainable Development Goals, as climate change directly impacts poverty (SDG1), hunger (SDG2) and health (SDG3), especially in non-OECD countries, as well as terrestrial (SDG15) and aquatic (SDG14) ecosystems. It also considers the future role of clean energy (SDG7), economic growth (SDG8) and infrastructure (SDG9) within the auspices of climate action.

Renewable Energy Systems – 20 credits

This Module explores the key technologies that are expected to power our future global energy system, namely onshore wind, solar PV, and bioenergy. You will learn about these resources, and how these can be converted into 'useful' energy, and what their current and projected costs are.

The Module will also give you more information and a greater understanding about other mature renewable and low-carbon technologies (in the case of hydroelectric and geothermal), emerging and developing energy sources (incl. wave, tidal, ocean thermal, etc.) and energy storage systems. This will allow you to develop skills used in research, as informed by the research experience of the Module staff. This module contributes towards the following SDGs: 7 and 13.

Health and Safety in the Energy Sector – 20 credits

Health and Safety (H&S) considerations have become a critical component of management systems and strategies in various industries and organisations across the globe. Health & Safety in the Energy Sector will focus on practical management skills, and how you can use and apply these to ensure that work is carried out safely and without risk. The module is therefore designed for anyone working in any sector or country but with reference to the renewable energy sector.

The module is structured in line with the institute of Occupational Health and Safety (IOSH) syllabus on Managing Safety.

Energy Project Management with EIA - 20 credits

The aim of this module is to provide you with the ability to apply a range of techniques to the management of projects and systems in the energy industry. The module introduces the key issues and language involved in managing projects by exploring project management tools, techniques and terminology.

This module will explore the role of Environmental Impact Assessment (EIA) as a process for identifying, predicting, evaluating and mitigating the environmental impacts of energy developments prior to major construction decisions being taken. An introduction to the development of EIA and the current legislative requirements are followed by an examination of risk and impact assessment methods, and data sources. The module will develop skills and the processes required to predict significant environmental impacts and propose mitigation measures and plans to implement them. 

Fieldwork and Research Applications – 20 credits

This aim of this module is to further develop your research methods and skills for geography, energy and disaster management students, specifically focussing on the skills and understanding necessary to undertake a final year research project. The module is designed to challenge you to think critically, independently and work as part of a team. You will look to develop key research and practical fieldwork skills necessary for collecting and analysing quantitative and qualitative data. We will explain the components of a good project and provide opportunities to practise the required skills. In addition, the residential field trip2 will provide further opportunities to gain experience of research and fieldwork methods and techniques. The module will support you in making an informed decision about the proposed topic of their final year project.

Sustainable Environments in Society: Developing Solutions – 20 credits

In this module, you will undertake a critical analysis of a specified location and associated project that has been influenced by the United Nation's (UN) Sustainable Development Goals (SDGs). Your analysis of the project will explore the impact, success or failure alongside possible solutions that will be fundamental to the positive future development of the location.

You will research, appraise, critique, develop and then communicate to a wider audience the impact and implementation of the identified SDGs for the location/ project. The focus of the review will be linked to your academic discipline within the Built and Natural Environment and draw upon prior learning from your previous cognate knowledge.

A global approach is needed for the UN SDGs to be fully realised and your place in this as an actor on the international stage will be enhanced, alongside the development of your inter-cultural competencies.
There's no better way to find out what you love doing than trying it out for yourself, which is why a work placement2 can often be beneficial. Work placements usually occur between your second and final year of study. They're a great way to help you explore your potential career path and gain valuable work experience, whilst developing transferable skills for the future.
If you choose to do a work placement year, you will pay a reduced tuition fee3 of £1,250. For more information, please go to the fees and funding section. During this time, you will receive guidance from your employer or partner institution, along with your assigned academic mentor who will ensure you have the support you need to complete your placement.
Whilst we would like to give you all the information about our placement/study abroad offering here, it is often tailored for each course every year and depending on the length of placement or study abroad opportunities that are secured. Therefore, the placement and study abroad arrangements vary per course and per student. Request further information about going on a placement or study abroad year.
Modules
UK Work Placement– 0 credits

This module2 provides you with an opportunity to reflect upon and gain experience for an approved placement undertaken during your programme. A placement should usually be at least 26 weeks or equivalent; however, each placement will be considered on its own merits, having regard to the ability to achieve the learning outcomes.

International Study/Work Placement – 0 credits

This module2 provides you with an opportunity to reflect upon and gain experience for an approved international study/work placement undertaken during your programme. A work/study placement should usually be at least 26 weeks or equivalent; however, each placement will be considered on its own merits, having regard to the ability to achieve the learning outcomes.
In the final year, you have the opportunity to explore Carbon Capture Utilisation and Storage (CCUS) and Negative Emission Technologies (NETs), a topic that has a global application. The project forms an important component at this level, requiring detailed knowledge of the skills that have been acquired at levels 4 and 5 and, in some cases, from a year in industry too. The international field trip2 is also the culmination of the learning of field skills that have been acquired in previous years.
Modules
Renewable Energy Research Proposal – 20 credits

This module is aimed at using different research methods and research skills to effectively communicate research novelties and ideas to the scientific and non-academic communities. It provides a background in research practice and helps students to understand various methodologies, and develop the skills of reading, reviewing, and critiquing academic literature in their related disciplines and to enable students to carry out research-oriented tasks (REL). It introduces academic research pertaining to renewable energy profession and associated skills, providing a sound academic background for the research dissertation module and for undertaking high calibre consultancy work when employed in industry.

CCUS and Negative Emission Technologies – 20 credits

To have a chance of limiting warming below 1.5°C, most recent scenarios from integrated assessment models (IAMs) require large-scale deployment of negative emissions technologies (NETs). These are technologies that result in the net removal of greenhouse gases from the atmosphere.  This module will first provide an up-to-date status report of the global carbon budget and the role of NETs in meeting climate targets. This is followed by a technological overview of each of the various NETs. The module also explores how we quantify the potential global impacts of the different NETs on various factors to determine the biophysical limits to, and economic costs of, their widespread application.

Renewable Heating/Cooling – 20 credits

Around one third of global primary energy consumption is used for space and process heating/cooling. This module examines the challenges of decarbonising this vital component of the global energy sector and you will learn how better energy management measures and renewable energy technologies can be deployed to meet this challenge. The largest proportion of this consumption is used for providing thermal comfort within our buildings (space heating/cooling). 

We will explore together how this might change depending upon local climate and how careful building design and adaptation can firstly reduce heating demand, before then exploring the options for renewable provision. This includes technologies such as air/ground/sea/lake sourced heat pumps, district heating and other renewable sourced heat sources. You will also review renewable options for process heat in the domestic sectors (water heating and cooking) and industrial sectors (low-medium-high temperature processes).

Renewable Transport – 20 credits

The transport sector (with the exception of freight and heavy-duty vehicles) is more amenable to decarbonisation than other sectors of the global economy. Transport therefore poses one of the most difficult and emotive challenges to energy system decarbonisation. Through studying this Module, you will take a detailed look at the global transport sector by an examination of the various transport modes and their outlook in light of the transition to a decarbonised world.   

One of the key themes that you will learn on this module is how the transition to decarbonised transport within the wider energy sector will be increasingly influenced by electrification and the commercialisation of hydrogen as a transport fuel.  You will use case studies and your own research on evolving fuel technology to demonstrate your understanding of the progress towards sector-wide improvements in transport sustainability. 

Research Dissertation – 20 credits

The aim of this module is to enable you to develop your research skills by conducting primary or secondary research focused on a specific problem of relevance to your discipline. You would use different methods and research skills, gained over previous years of study, to effectively communicate research novelties and ideas to the academic and non-academic communities. It will enable you to understand the importance of correct and critical analysis of all the factors involved in a problem and develop your initiative as you pursue and execute the investigation, demonstrating originality and creativity.

Global and Comparative Field Studies – 20 credits

This module aims to introduce you to critical thought and methods as applied in an overseas field location2. The module will extend your fieldwork skills and your grasp of contemporary methodologies and techniques. Emphasis in the classroom, and the field, is placed on experiential learning whilst also ensuring the continuation of transferable field and academic skills development. Experiences and skills that will be developed include undertaking research in the field; making observations, collecting and collating data; critically debating previous research, taking responsibility for one's own learning though individual- and teamwork and formulating hazard and risk assessments for fieldwork.
We regularly review our course content, to make it relevant and current for the benefit of our students. For these reasons, course modules may be updated. Before accepting any offers, please check the website for the most up to date course content.
---
You will be taught by current experienced, qualified teaching staff who bring professional and research expertise into their teaching. Field trips2 which occur in each year, provide an unrivalled opportunity to contextualise classroom-based learning and develop practical skills through real-life application. In addition to the residential field trips, you will have opportunity to undertake a range of day trips to gain practical experience of applying your knowledge.
This course can be offered on a part-time basis. Whilst we would like to give you all the information about our part-time offering here, it is tailored for each course each year depending on the number of part-time applicants. Therefore, the part-time teaching arrangements vary. Request further information about part-time study.
---
Teaching contact hours
We understand that everyone learns differently, so each of our courses will consist of structured teaching sessions, which includes:
On campus lectures, seminars and workshops
Group work
Self-directed learning
Work placement opportunities2
The number of contact hours may vary from semester to semester, however, on average, it is likely to be around 14-15 contact hours per week in the first and second year dropping to around 11 contact hours per week in the final year as you become a more independent learner.
In addition, you will be expected to undertake approximately 30-35 hours of self-directed study per week depending on the demands of individual modules. This self-directed learning allows you to use your research skills, consolidate your knowledge or undertake collaborative group work.
As an innovative and enterprising institution, the University may seek to utilise emerging technologies within the student experience. For all courses (whether on-campus, blended, or distance learning), the University may deliver certain contact hours and assessments via online technologies and methods.
In response to the COVID-19 pandemic, we are prepared for courses due to start in or after the 2023/2024 academic year to be delivered in a variety of forms. The form of delivery will be determined in accordance with Government and Public Health guidance. Whether on campus or online, our key priority is staff and student safety.
---
Assessment
This course will be assessed using a variety of methods which will vary depending upon the module.
Assessment methods may include:
Formal examinations
Phase tests
Essays
Group work
Presentations
Reports
Projects
Coursework
Exams
Individual assignments
Laboratories
The Coventry University Group assessment strategy ensures that our courses are fairly assessed and allows us to monitor student progression towards achieving the intended learning outcomes.
---
International experience opportunities
International field trip in year three2.
---
Entry requirements
Typical offer for 2023/24 entry.
| Requirement | What we're looking for |
| --- | --- |
| UCAS points | 112 |
| A Level | BBC |
| BTEC | DMM |
| GCSE requirement | 5 GCSEs at grade 4 / C or above, to include English and Mathematics |
| IB Diploma | 29 points |
| Access to HE | The Access to HE Diploma to include 30 Level 3 credits at Merit. Plus GCSE English and Mathematics at grade 4 / C or above. |
We recognise a breadth of qualifications, speak to one of our advisers today to find out how we can help you.
Are you eligible for the Fair Access Scheme?
We believe every student should have the opportunity to dream big, reach their potential and succeed, regardless of their background. Find out more about our Fair Access Scheme.
Select your region to find detailed information about entry requirements:

You can view our full list of country specific entry requirements on our Entry requirements page.
Alternatively, visit our International hub for further advice and guidance on finding in-country agents and representatives, joining our in-country events and how to apply.
English language requirements
IELTS: 6.0 overall with no component lower than 5.5
If you don't meet the English language requirements, you can achieve the level you need by successfully completing a pre-sessional English programme before you start your course.
For more information on our approved English language tests visit our English language requirements page.
---
Fees and funding
2023/24 tuition fees.
Student
Full-time
Part-time
UK, Ireland*, Channel Islands or Isle of Man
£9,250 per year
Request fee information
EU
£9,250 per year with EU support bursary**
£19,850 per year without EU support bursary**
Not available
International
£19,850 per year
Not available
If you choose to do a work placement2, you should consider travel and living costs to cover this. There is also a tuition fee3 of £1,250 that will cover your academic support throughout your placement year.
For advice and guidance on tuition fees and student loans visit our Undergraduate Finance page and see The University's Tuition Fee and Refund Terms and Conditions.
We offer a range of International scholarships to students all over the world. For more information, visit our International Scholarships page.
Tuition fees cover the cost of your teaching, assessments, facilities and support services. There may be additional costs not covered by this fee such as accommodation and living costs, recommended reading books, stationery, printing and re-assessments should you need them. Find out what's included in your tuition costs.
The following are additional costs not included in the tuition fees:
Optional international field trips: £400+ per trip.
Any costs associated with securing, attending or completing a placement (whether in the UK or abroad).
Other additional costs
Mandatory international field trips: Typically between £200 and £400 per trip.
*Irish student fees
The rights of Irish residents to study in the UK are preserved under the Common Travel Area arrangement. If you are an Irish student and meet the residency criteria, you can study in England, pay the same level of tuition fees as English students and utilise the Tuition Fee Loan.
**EU support bursary
Following the UK's exit from the European Union, we are offering financial support to all eligible EU students who wish to study an undergraduate or a postgraduate degree with us full-time. This bursary will be used to offset the cost of your tuition fees to bring them in-line with that of UK students. Students studying a Degree with a Foundation Year with us are not eligible for the bursary.
How do you know if you need to pay UK or international tuition fees?

We carry out an initial fee status assessment based on the information you provide in your application. Your fee status determines your tuition fees, and what financial support and scholarships may be available to you. The rules about who pays UK (home) or international (overseas) fees for higher education courses in England are set by the government's Department for Education. The regulations identify all the different categories of student who can insist on paying the home rate. The regulations can be difficult to understand, so the UK Council for International Student Affairs (UKCISA) has provided fee status guidance to help you identify whether you are eligible to pay the home or overseas rate.

If you meet all the criteria required by any one category, including any residence requirements, your institution must charge you the home rate. You only need to find one category that you fit into.
---
Facilities
The £50m Engineering and Computing Building and new £25m Beatrice Shilling Building are designed to support hands-on learning. Our Sir John Laing Building also houses a variety of industry-standard labs and equipment4.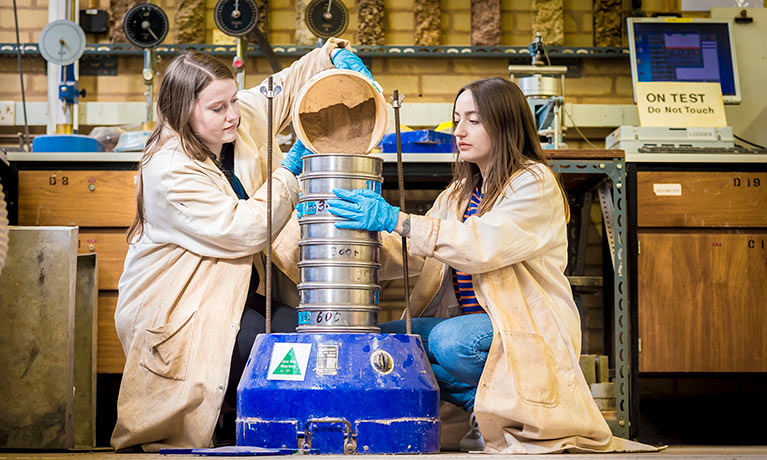 Geotechnics Laboratory
Contains triaxial cells, direct shear box apparatus, a dimensional compression oedometer, California Bearing Ratio apparatus, soil classification equipment and Marshall test apparatus for asphalt mixes.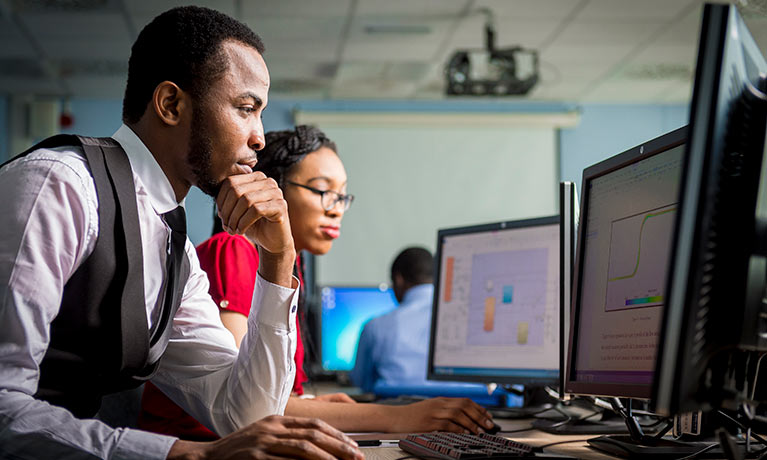 Computer Laboratory
This computer laboratory is equipped with access to ArcGIS for mapping and geographical information systems. It is also equipped with Petrel/Eclipse software for oil and gas reservoir simulation and calculation.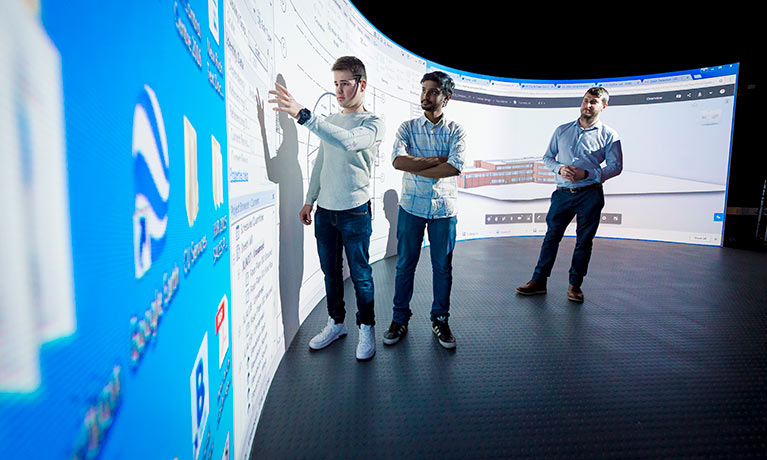 Simulation Centre
Our interactive training centre is used to create a 'virtual' construction site with fully-equipped site cabins and observation deck. Students undertake role play exercises to help prepare them for situations in the workplace.
---
Careers and opportunities
On successful completion of the course, students will be able to:
Demonstrate a sound understanding of the components of the global energy system including energy sources, generation and integration technologies, supply chains, and end-uses (electricity, transportation, heating/cooling).
Critically evaluate potential renewable energy and energy management projects, and subsequently support their planning, financing, management and operation within a changing energy market.
Understand the importance of and apply appropriate techniques in multi-stakeholder engagement, communication, and co-operation in aspects of policy, project implementation and management.
Critically analyse the challenges and strategies (short-term and long-term) in transitioning towards decarbonised energy systems with a focus on energy supply, efficiency/conservation, storage and disruptive technologies.
Evaluate the issues and techniques involved in collecting, analysing and communicating energy data, and demonstrate research design and execution skills within renewable energy-related topics.
Demonstrate personal skills and competencies expected of an energy sector professional, including operating within individual and team settings, including digital fluency and written, oral, visual, and numerical skills.
The breadth and blend of academic discipline covered in this course – the combination of social and environmental science; economics; health, safety and environment (HSE); and technical/engineering issues of energy demand and supply - are a strong mix of skills highlighted by Natural Environment Research Council as being essential.
---
How to apply
UK students

Full-time students applying to start in September 2023 can apply for this course through UCAS from 6 September 2022. Read our application pages to find out your next steps to apply.

Part-time students should apply directly to the university.

---

If you'd like further support or more information about your course get in touch with us today.

International students

International codes:
EECU129

Full-time students applying to start in September 2023 should apply directly to the university.

How to apply

For further support for international applicants applying for an undergraduate degree view our International hub.

You can also download our International guide which contains lots of useful information about our courses, accommodation and tips for travel.

---

Get in touch with us today for further advice and guidance.
Disclaimers

Coventry University together with Coventry University London Campus, CU Coventry, CU London, CU Scarborough and Coventry University Online come together to form part of the Coventry University Group (the "University") with all degrees awarded by Coventry University.

1Accreditations

The majority of our courses have been formally recognised by professional bodies, which means the courses have been reviewed and tested to ensure they reach a set standard. In some instances, studying on an accredited course can give you additional benefits such as exemptions from professional exams (subject to availability, fees may apply). Accreditations, partnerships, exemptions and memberships shall be renewed in accordance with the relevant bodies' standard review process and subject to the university maintaining the same high standards of course delivery.

2UK and international opportunities

Please note that we are unable to guarantee any UK or International opportunities (whether required or optional) such as internships, work experience, field trips, conferences, placements or study abroad opportunities and that all such opportunities may be subject to additional costs (which could include, but is not limited to, equipment, materials, bench fees, studio or facilities hire, travel, accommodation and visas), competitive application, availability and/or meeting any applicable travel COVID and visa requirements. To ensure that you fully understand the visa requirements, please contact the International Office.

3Tuition fees

The University will charge the tuition fees that are stated in the above table for the first Academic Year of study. The University will review tuition fees each year. For UK (home) students, if Parliament permit an increase in tuition fees, the University may increase fees for each subsequent year of study in line with any such changes. Note that any increase is expected to be in line with inflation.

For International Students, we may increase fees each year but such increases will be no more than 5% above inflation. If you defer your course start date or have to extend your studies beyond the normal duration of the course (e.g. to repeat a year or resit examinations) the University reserves the right to charge you fees at a higher rate and/or in accordance with any legislative changes during the additional period of study.

4Facilities

Due to COVID-19, some facilities (including some teaching and learning spaces) and some non-academic offerings (particularly in relation to international experiences), may vary from those advertised and may have reduced availability or restrictions on their use.

Student Contract

By accepting your offer of a place and enrolling with us, a Student Contract will be formed between you and the university. A copy of the 2023/24 contract can be found here. The Contract details your rights and the obligations you will be bound by during your time as a student and contains the obligations that the university will owe to you. You should read the Contract before you accept an offer of a place and before you enrol at the university.
---