Coventry University Brussels Office
Role of the Brussels Office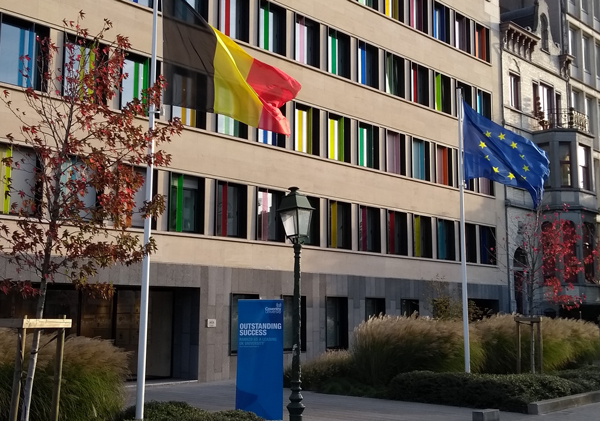 The Brussels Office is the 'eyes and ears' of the Coventry Group in the European Union. It supports the Group in identifying and pursuing opportunities in Europe, whether developing projects, generating impact from results or capitalising on partnerships. The Office also promotes the Group's reputation and visibility on the European stage, projecting a positive and dynamic image of Coventry. In practical terms this means:
Informing and providing strategic direction to Coventry's EU engagement, in particular in the context of repositioning post-Brexit
Proactively identifying and creating new opportunities to deliver the Group's Corporate Strategic Objectives at EU level, in particular around:

Diversification of research income
Research impact and excellence, including influencing and shaping EU policymaking
Strategic partnerships with research, business and other key stakeholder organisations
International mobility of academic staff and students
Innovation and excellence in teaching and learning delivery

Making connections and building relationships, including with a plethora of (in)formal EU networks and representations
Maximising the 'locational' benefits / added value of being in Brussels (easy access to EU institutions and networks)
Promoting and raising the Coventry Group brand in Brussels and wider Europe across all activities
Offering a friendly and welcoming meeting hub for:

Coventry Group use
External strategic partners & networks
Networks and associations
Location
The Brussels Office is located near the EU district of the city, 100m from the metro station Montgomery and easily accessible from both the Eurostar and Brussels Airport.
Brussels Office: Enterprise & Innovation
Supporting business, driving growth
The Enterprise and Innovation (E&I) team are the support structure for the university's business interests. We work to ensure that the knoweldge, expertise and resources of the university's academic and research staff can be transferred to the political and business worlds. The E&I team work on everything from local partnerships to global products, services and processes, and do business on every continent. We ensure that the outstanding impacts of our cutting-edge research are properly disseminated to policy makers and industry leaders.
Knowledge exchange
Knowledge exchange involves transferring good ideas, research results and skills from the university to business and the wider community to enable the development of innovative new products, services and processes.
The Knowledge Exchange team at Coventry University can work with businesses in a variety of ways, from Knowledge Transfer Partnerships (KTPs) to industry-funded studentships.
Coventry University's Knowledge Exchange team are keen to work in partnership with institutions and businesses across Europe to find solutions to the problems faced by industry, drive business growth and produce real socio-economic value. We are able to bring to the table all the research and expertise possessed by one of the UK's leading universities and use this to address industry problems by creating innovative and practical business solutions.
There are a number of practical models of cooperation available, from short-term industry-academic partnerships to solve specific problems and build relationships, through to industry doctorates that tackle key technical problems and generate new intellectual property, enabling a step-change in future performance.
Strategic partnerships
Our partnerships can enable your employees – from newly qualified graduates to experienced managers – to translate their problem-solving abilities into real, competitive advantage. Collaboration is essential for working in integrated, multi-disciplinary ways that provide a clearer, faster route from concept and testing to full-scale manufacture and supply.
Working with Coventry University can add value to your innovation approach and help you go beyond short-term transactional projects to attain benefits that can only be achieved through a trusted relationship built up over time.
Read more:
HORIBA MIRA – Autonomous and connected vehicles
UNIPART – Advanced manufacturing
KPIT Technologies

Learn more about Coventry University's offering for Business. From co-creative partnerships to facilities to hire, we have business solutions for companies of all shapes and sizes.
Brussels Office: Research
International research projects are a vital ingredient to our success. At Coventry, we value collaboration with our international partners and the expertise they bring from around the world. Our research projects make a real difference, developing and demonstrating solutions to some of the world's most critical issues.
EU funding provides an essential contribution to our research activities. We have significant experience not only with the main EU research programme Horizon 2020 and its predecessors, but also with smaller sectoral EU funding programmes focusing on migration, security and lifelong learning. Currently almost 30% of our research income comes from European funding sources, and with more than EUR 37 billion still to be distributed under Horizon 2020, we will continue to engage with European opportunities in the coming years. Despite the uncertainty around the availability of research funding beyond 2020, our continued partnership with European academia and industry is beyond doubt.
Coventry University places more students in international companies and assocations than any other UK university. Through our Student Mobility Service and other initiatives we produce graduates with attributes and capabilities that enable them to become global professionals and citizens, and successfully enter the international work environment.
We will further enhance our international profile in line with our core value of being 'global in our outlook'. We will address the challenges of preparing graduates for global careers and the generation of knowledge on global issues.
If your organisation could benefit from a highly motivated and academically excellent intern, contact us for more information on our international Student Mobility Service. We are able to fully fund internship placements. Join a thriving network of Brussels-based companies and associations where Coventry students are regularly placed.
As an ambitious and innovative university, our research makes a tangible difference to the way we live. Coventry University is already known for delivering research that makes a significant contribution to a number of global challenges. Our research centres focus on a range of real-world issues under five key themes:
Safety and Security
Protecting the security and freedom of citizens and of those most in need in society. Coventry University research not only reaches deep into communities across continents, but also explores and combats threats posed by technologies.
Health and Wellbeing
Ageing populations and rises in mental ill-health are just some of the significant challenges we at Coventry University are tackling.
Sustainability and Resilience
The environments we live in – and the infrastructures we build inside them – are constantly under threat, whether from climate change, economic instability or human conflict. These are challenges that researchers at Coventry University are meeting.
Intelligent Products and Processes
Coventry University has a successful history of innovating solutions and techniques that add value to the economy.
Creative Cultures
At Coventry University our roots can be traced back to a mid-19th century design school, and we continue to play a central role in the creative sector's success and future prosperity.

As an ambitious and innovative university, our research makes a tangible difference to the way we live. Coventry University is already known for delivering research that makes a significant contribution to a number of global challenges.
Address:
Coventry University, Avenue de Tervuren 168, 1150 Brussels, Belgium