Innovations in healthcare
The development of new knowledge in healthcare is a fundamental part of our work. From testing how vaccines behave under different conditions, to new ways of sharing information and best practiced around the globe we are committed to the advancement of healthcare knowledge through evidence-informed research and teaching. We are constantly striving to innovate, challenge existing thinking and advance understanding in the field of health, all with the purpose of improving patient outcomes.
Research
Our researchers work with local, national and global companies, public sector organisations and hospitals, research institutes and universities to tackle the very latest challenges facing the sector examples include:
refining respiratory rate measurement technology
improving the manufacturing efficiency for viral vaccines and gene therapies
developing artificial intelligence technology for predicting preterm birth
developing new sit skis which have been tested by Great Britain's leading Para Nordic athletes.
Well qualified and highly experienced researchers offer and supervise doctoral (PhD) opportunities to drive health care research for the future.
GlucoHand
Nina Godson, Clinical Skills lead worked with medical education equipment provider Adam,Rouilly to develop a simulator that provides a solution for blood glucose measurement and interpretation training. Students and diabetic patients can learn to recognise hypoglycaemia and hyperglycaemia through a simulated scenario and discuss the next appropriate clinical step.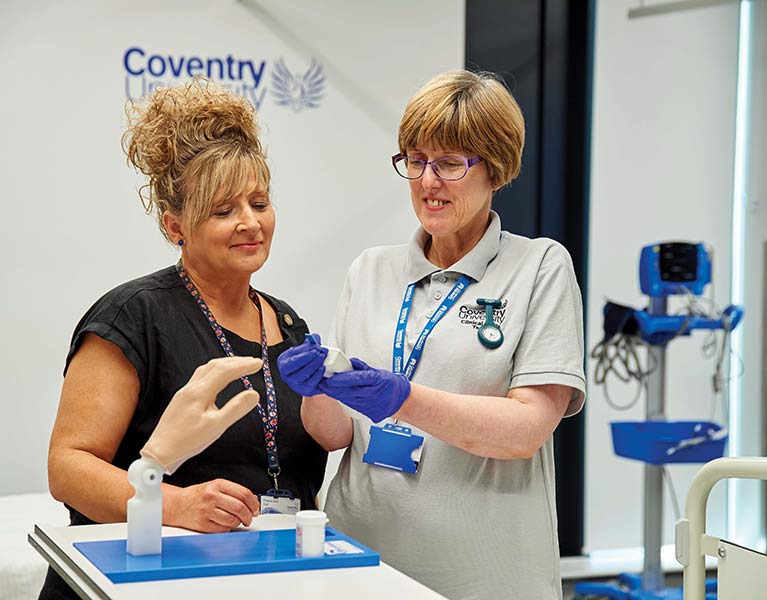 11th for Nursing and Midwifery
The Guardian University Guide 2022
Joint 1st for Graduate Prospects in Physiotherapy
Sunday Times University Guide 2022 and Complete University Guide 2022
8th for Health Professions
The Guardian University Guide 2022
Teaching and learning
Mask-Ed
Coventry University is one of a small number of UK universities that uses a persona-led teaching and learning tool to simulate scenarios they will encounter when qualified. The characters' medical history and background develops throughout the course and the students get to know the patients, developing their interpersonal skills and understanding of a range of patient needs and experiences.
Virtual reality teaching
A leader in healthcare simulation Coventry University uses the UKs first stand-alone 5g network to provide truly immersive learning through the use of virtual reality, enabling students and qualified healthcare professionals to experience things that have not been possible before. It allows students anywhere in the world to explore the human body, including at a cellular level.
Simulation-based learning
Students from various health and non-health courses work together on a project using laboratories, hospital wards and courtrooms in a fictional public enquiry exercise. The students develop their teamwork, communication and organisational skills in a practical, hands-on learning exercise.