The benefits of studying a Foundation Year course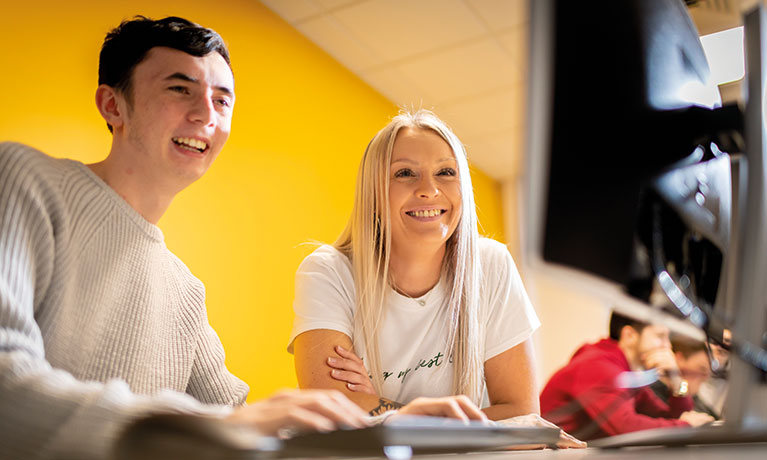 ---
Studying a Foundation Year course can often open a world of opportunities when it comes to further study and careers. But what exactly is a Foundation Year course, and how might you benefit from studying one?
UnCovered caught up with course directors Bashir Jimoh and Darshna Vaidya to get the lowdown.
What is a Foundation Year course?
A Foundation Year course is a level 3 course you can complete at the start of a degree course. It is beneficial if you want to study for a specific degree but don't meet the entry requirements. It is also for those who feel they need a year to get to grips with a subject they are interested in studying at the degree level.
How would I benefit from studying a Foundation Year course?
In short, a Foundation Year course is designed to build your knowledge, confidence and skills so you are well prepared and at the right level to commence the first year of a degree subject. Plus, if you successfully complete a Foundation Year course with us, you are guaranteed a place on a CU Coventry degree course!
What are the entry requirements?
Entry requirements are specific to a course, so do check individual course pages for more details. However, you would typically require 40 UCAS tariff points or have previously studied for qualifications at A level, BTEC or Certificate level. We may also consider other relevant qualifications and experience when deciding on individual applications.
What is the teaching and delivery style like?
Teaching is very interactive. You could find yourself taking part in lectures, practical activities, presentations and even role play. Some courses have previously invited guest speakers to come in and share their first-hand experiences of working in industry with students.
You only get to study one subject at a time which means you have the opportunity to study topics in-depth and give assignments your full attention before moving on. Each subject is taught over a six-week 'block' and is assessed as you learn.
Module assignments are completed within the block. This means you can complete a module and then move on to the next one without any crossover. There are no end-of-year exams to worry about either!
When and where can I study?
Thanks to our block teaching system, you can enrol onto any of the six blocks in an academic year (subject to availability). Blocks usually start in September, October, January, March, May and July. You can study in Coventry, London or Scarborough, depending on the course you choose.
Where can I find more info?
Our Foundation year courses web page should provide you with all the information you need, including a list of what courses you can study. You can also check out our Open Day dates if you would like to see a campus first-hand or speak face-to-face with an academic.