Award-winner finds perfect course at Coventry University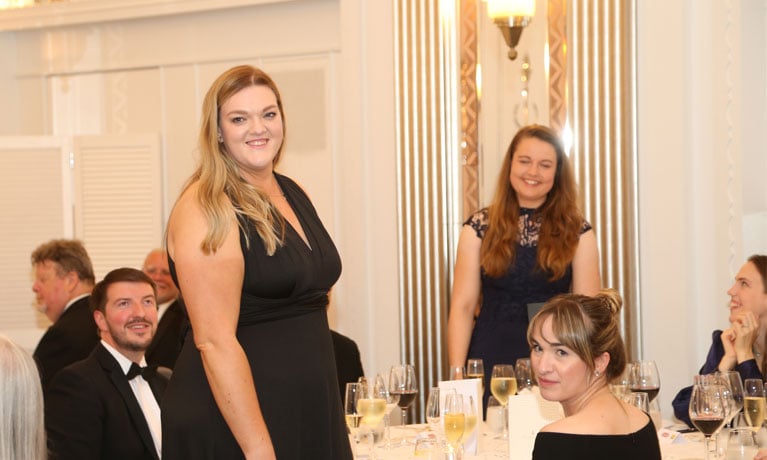 ---
An online quiz took Madeleine Clarke from working in retail to being a regional winner with the Women in Property Student Awards 2021.
The only careers that were pitched to me at school were nursing or teaching and I thought I don't want to do that.
From fast food to fast track
Working in her local fish and chip shop at the time, it was purely by chance that Madeleine found herself considering architecture, after randomly taking an online careers quiz that highlighted her suitability for that career path.
She was 23-years-old then, now 26, Madeleine is part-way through her Architectural Technology BSc degree in the Faculty of Engineering, Environment and Computing at Coventry University:
Working full-time in retail taught me valuable things that I might not have learned necessarily from going straight to university.

I wasn't totally sure which career I could see myself working in, but I quickly began to realise that Architectural Technology was a career which engaged my curious nature and allowed me to develop my own sense of identity.

Coventry University offered all the things I was looking for in a course – a mixture of practical and theoretical learning that also gave me the chance to gain an understanding of real industry life.
Being an award-winner
The Women in Property 2021 Student of the Year Awards took place in September 2021 where 54 universities entered 119 students. This annual event showcases the work of the top students from the participating universities' built environment degree courses.
My passion for the built environment focuses on creating interesting places to live, work and socialise, whilst championing innovative and resourceful ways to put sustainability and modern methods of construction at the forefront of my designs.
Having initially been quizzed on a specific piece of coursework and her own career aspirations, Madeleine, along with the other regional award-winners, went on to compete in the national final, where they faced a panel who challenged them on topical industry issues.
In June's regional awards, Madeleine won the West Midlands' crown and she's keen to use this platform to urge more young women to consider a career in architecture or construction.
It is wonderful to see so many women doing well and being successful in this industry but that isn't the norm, so I just want to encourage more women to look into it because exposure is important.
Looking to the future
Madeleine admits that she's keeping her options open for the future and credits Coventry University's set-up and support for getting her this far:
I must say thank you to my lecturers, who have been fantastic but on a personal level, have been there to offer advice and support whenever I have needed it.

I've thoroughly enjoyed participating in webinar sessions with industry experts, to build my awareness of the industry and learn of the challenges that are currently facing us, and I've also tried to immerse myself in CPD webinars.
And to the young women who might find themselves in a similar situation as her, Madeleine says:
Take all of the opportunities you can get and challenge yourself to do something that excites or pushes you out of your comfort zone.

I want to show people that you can do something different, I want more women to follow in my footsteps and consider a career in architecture.