Safety
The compact single-site campus is right in the city centre, not in a remote isolated, out-of-town location. The University Square has the stunning cathedral as its backdrop, which is where our unforgettable annual graduation ceremonies are held. Most University owned or managed accommodation is located within walking distance of our campus and close to the city centre, with easy access to the University facilities as well as public transport, shops, restaurants, cafes, sports facilities, theatres and cinemas.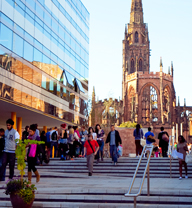 To ensure the safety of our students, we have uniformed security staff patrolling campus 24 hours per day. They can respond quickly to any incidents from missing keys to students getting lost. Our security staff can also administer basic first aid and assist with medical emergencies. The whole campus including the university managed accommodation is equipped with CCTV security cameras.
All in all, Coventry University is well suited to students who are living away from home for the first time. All of the facilities are intended to ensure students learn and live in a safe and secure environment.