Finishing my final year in lockdown
Michal Olak completed the final year of his BEng (Hons) Mechanical Engineering degree during the height of the Covid-19 pandemic (June 2020). We caught up with Michal to discuss robots, deadlines and the challenges of completing a final year project 1,000 miles from campus.
I came to study at Coventry University from Poland.
The university was heavily talked about in the international student community, so I decided to come here and try it out for myself.
The international spirit definitely wasn't exaggerated!
My final year project focuses on using technology to help us with our everyday lives in a more tangible way.
One day I thought wouldn't it be cool if we had our own little personal robots that could help us with everyday life tasks, like making a cup of coffee or bringing things to us?
This pretty much set the scene for what I was trying to develop as my final project, which is a technological platform for a personal assistant robot.
The robot I eventually built takes a form similar to R2-D2, being two-wheeled and self-balancing. It is capable of recognising a person using a camera feed and artificial neuron networks. It can autonomously follow that person by taking movement decisions according to the pre-programmed behavioural algorithms. This level of development allows the robot to be a technological platform for future applications to be developed, similar to how smartphones and app stores work.
The pandemic didn't help with the stress and tight project deadlines. By the time the university shut down, I had the majority of parts already manufactured, so I could continue development in my student flat. However, as the borders started to shut down, I decided to go back home to Poland.
To do that, I needed to take the robot with me to finish the project on time. It was quite a task; I had to buy a special suite case, pack all the spare parts and somehow get through security, laden with electronics!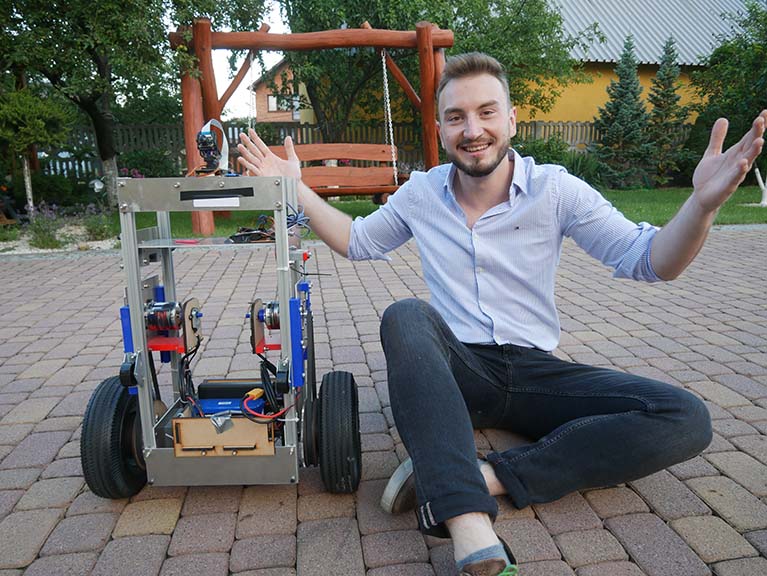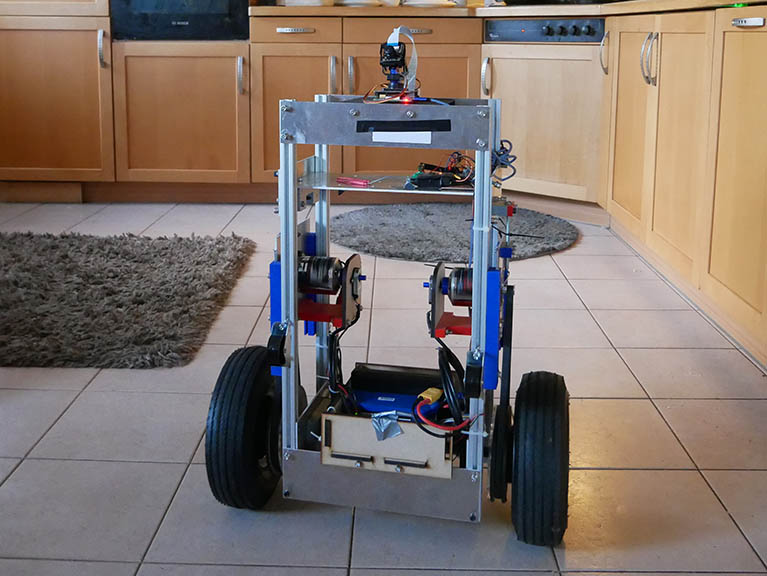 Fortunately I made it back to Poland safely. Since then, I have received a considerable amount of support from the university. I have been in constant contact with my project supervisor, receiving both motivational and academic support. Additionally, remote access to the majority of software used on-campus allowed me to continue working as if nothing ever happened. The only drawback from the whole situation was the sudden lack of student community I was so used to on campus. Fortunately, the ongoing support from my supervisor smoothed things out for me.
My robot is now completed, in so much as it has met the aims and objectives of the original project. I could quite easily pour months of further work into research and development and never be satisfied with the result!
Going forward, I want to integrate our lives with technology ever closer. I want to build tech companies that will commercialise the use of robotics, IoT and AI in our everyday life, thus bringing more of the R&D happening in labs into our environment.
I think that studying Mechanical Engineering has been useful in helping me get closer to these aims and ambitions. The course exposed me to an international community of future engineers, providing me with new insights into the well-known British engineering culture. Besides that, I liked the openness to discussion and numerous opportunities to advocate my methods and academically defend my position.
As for the challenges caused by the lockdown, in my experience the new realities of online learning were perceived positively amongst both students and staff, with provisional methods of learning set up quickly by the university. The question about less face-to-face access to the student community and the benefits that come with it are still to be answered, however I think Coventry University are in a good place when it comes to a future online learning approach. A lot of learning is self-directed study anyway, so this new approach should hopefully bring top-class quality to the already great study materials.
You can connect with Michal on LinkedIn to find out more about his project.