Coventry University launches postgraduate conversion course in data science
The UK Government has identified a huge shortage of Artificial Intelligence (AI) and data specialists.
Coventry University is looking for a new generation of idealists, visionaries and problem solvers to help business, industry and government make the right decisions in our increasingly complex and uncertain world.
What is a data scientist?
Huge volumes of data are collected and stored worldwide every day. Data scientists make it meaningful - from identifying the spread of disease to helping prevent fraud and predicting online purchasing behaviour. Data science teams combine, explore and analyse this huge deluge of information using predictive algorithms and statistical modelling.
And you don't need a degree in computing or mathematics
Starting in September 2020, our new conversion course in Data Science (MSc) has been designed for graduates with little to no formal background in computing, statistics or mathematics.
We want you to bring your background with you, whether you graduated in Psychology, Business, Geography or Law.
We are looking for people who ask questions, who don't jump to conclusions, and who respond with caution. We want people who are able to find and communicate the best possible solutions.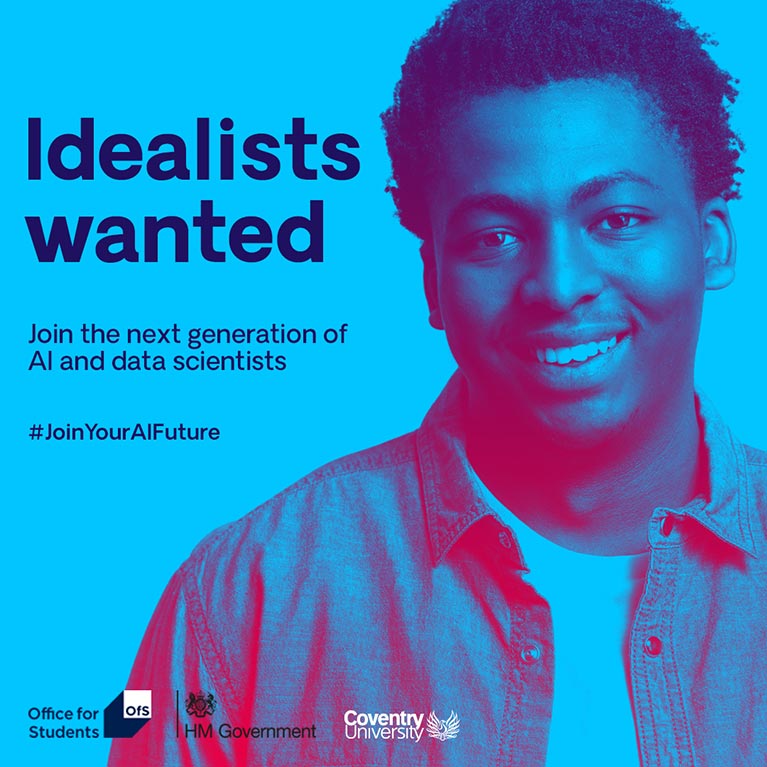 Want to know more?
More information will be available and applications open soon – register your interest and we'll be delighted to let you know when applications are open.
Register your interest
In the meantime, find out more about the course and what a career in data science looks like:
What is Data Science?
Data Science is the scientific study of data of all different kinds. For example, by combining your purchase history (from a loyalty card), how much time you like to spend outside (from your mobile phone), what your friends are up to (trending on social media), weather forecasts (meteorological data), and delivery times (real-time traffic), a retailer may offer you a special deal on picnic or BBQ supplies. In healthcare, Data Science is used to plan staffing (by forecasting admissions), analyse patient medical records, track exercise and sleeping habits, and identify potential health issues from medical images. In biological sciences, data is collected and analysed at all levels of biological systems, from genomes to populations.
Are there any prerequisites for the course?
The short answer, aside from a good undergraduate degree, is no. However, we would expect you to have some interest in data analysis. Perhaps you have done data analysis or research methods in your undergraduate course, studied Mathematics at A-level, or you have some relevant professional experience. Support in mathematics and computer programming will be integrated within the course, and additional support can be provided through the University's Sigma Centre for mathematics and statistics support. We are looking into the possibility of running a computer programming Bootcamp before the course begins. We would confirm this in any offer.
What skills will I develop?
This course aims to develop Data Science knowledge and skills. Yes, we will develop skills in using modern Data Science software tools, data management systems and programming languages. Yes, we will study Machine Learning and Big Data. However, since the technology in Data Science is evolving quickly, it is important to gain experience working with data of all kinds, develop analytical skills, and establish an understanding of the algorithms, statistical models, and mathematics that forms the foundations of Data Science.
Where will this course take me?
There are many different flavours of Data Science jobs and careers in which the skills from this course may help. You may wish to apply to work in a specialist Data Science team in a consultancy role, within a particular kind of industry (e.g. online retail) or apply to work in a more cross-disciplinary team. You might want to focus on one particular aspect of Data Science, such as the technical aspects of big data management, the analysis of particular types or sources of data, or the communication of insights to stakeholders. Whatever your choice, there is currently huge demand for Data Scientists across business, industry and government and this course aims to give you the skills to support such roles.
Coventry University is part of the #JoinYourAIFuture national recruitment campaign programme funded by the Office for Students. The Office for Students is the independent regulator for higher education in England.