2017 Enterprise and Entrepreneurship Summer Academy
A group of students from varying parts of the globe joined Coventry University for an opportunity to explore overseas and find the entrepreneur in themselves. The course, at postgraduate certificate level, aimed to grant an autonomous learning approach, allowing exploration, research and learning within a team.
The three week summer academy revealed the world of business to the students, introducing the plethora of concepts and methods that arise within the sector, including the unexpected. In order for the students to experience these, four challenges were pitched to them from which they could choose one or more.
The four challenges were:
Over 60s
Arts Need You / You Need the Arts
Students and Mental Health
Tourism in Coventry
These were intended to help the students as 'hooks', subjects to focus on as they dove into the provided theory. For each section of theory, there was an opportunity to be practical and give it a go. The credits for the course were gained by producing a poster, contributing to a report and pitching it to the problem holder. The aim was to build information and knowledge around the problem and create a solution for the chosen challenge.
The following sessions travelled from defining an entrepreneur and how someone of this role would think, through to what makes a good team and understanding their own team's entrepreneurial profile. Understanding the range of competencies important to their role helped them to focus on self-awareness and their expectations.
The changing and ever-moving nature of business means that companies need to innovate regularly, therefore creative thinking and innovation are crucial to staying afloat. Activities that required a certain mind-set surprised the students and revealed the power of thinking outside of the box and beyond any rules we assume exist. History revealed the insignificance of doubt as incredible facts were highlighted. Even the telephone itself was once rejected as a means of communication!
More remarkable methods of building creativity arose, such as using Lego building blocks to demonstrate abstract ideas. The students literally built on their ideas to tackle their chosen challenges. This included the reflection of dealing with mental health issues as overcoming hurdles and a ladder to signify a simpler and more effective approach to a solution. At this stage, the students were impressed by the way staff managed the learning process and communicated through a different perspective.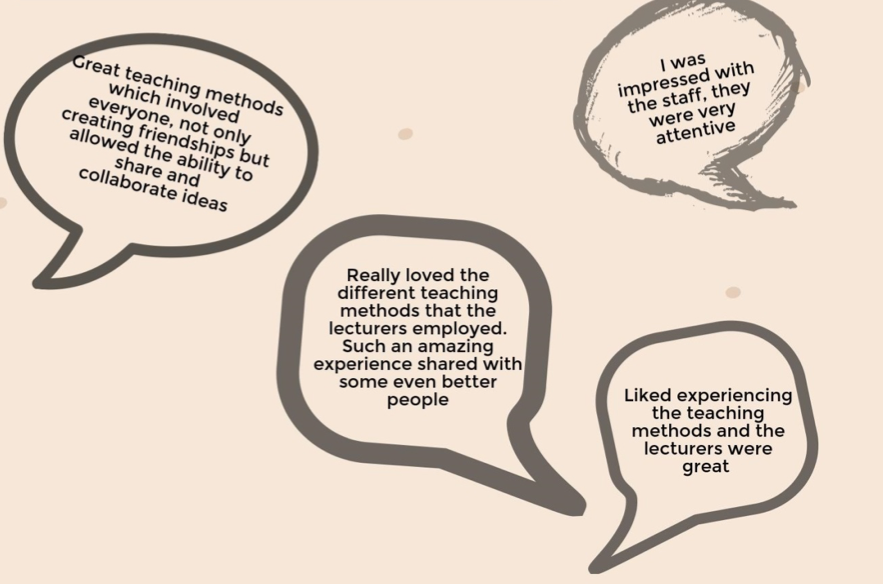 Following on from this, the students focussed on strategy and learned that inward thinking is important as knowing what they want their businesses to be and say is vital in the first steps. Each team created three customer personas of whom they wished to attract. These personas were based on age-range, personality and role, i.e. parents, students and other stakeholders.
On the day of the pitching presentations, the four teams put forward their business ideas to the tutors. SEE Events' Go-Diva Night Market for Coventry started off. Second UniWell ran through their mental health tracking app for students. Thirdly, Hip Hop Bus Service filled a gap in the market. And finally, CovenTrip aim to provide useful information to tourists of Coventry.
All of the innovative ideas formulated by the four groups received high praise and positive feedback. UniWell won as the most impressive idea within the class. All of the teams were encouraged to pursue the goals of which they have set for themselves; so hopefully, they will all soon become a reality.
While the students were incredibly successful in their studies, this opportunity was much more than that. It was a well-rounded experience from which they were able to immerse themselves in a new city, engage in new ways of seeing things and meet and build friendships with like-minded people.