Pirate Care June 2019 - Video Documentation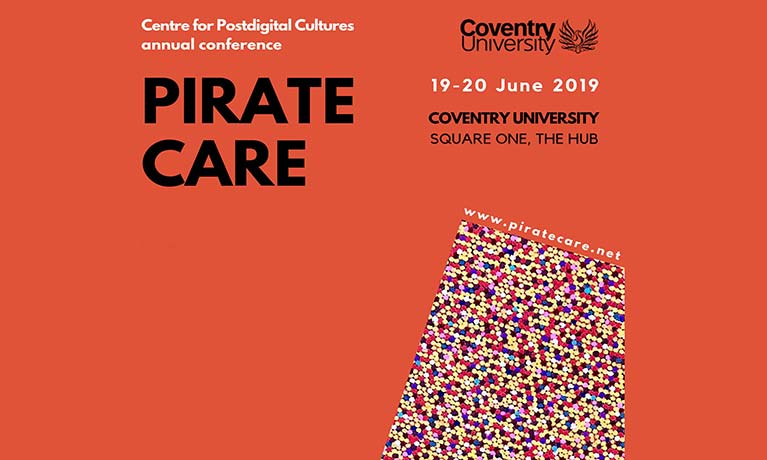 ---
Monday 07 October 2019
Press contact
---
On the 19th and 20th June 2019, The Centre for Postdigital Cultures, Coventry University, welcomed speakers, students and academics to its second annual conference, exploring the phenomenon of 'Pirate Care', a title condensing two processes that are particularly visible at present.
On the one hand, basic care practices that were previously considered cornerstones of social life are now being pushed towards illegality. At the same time new technologically-enabled care networks are emerging in opposition to the current unequal access to provisions.
The conference featured projects providing various forms of pirate care, ranging from refugee solidarity, healthcare, reproductive freedom, childcare, public transport and access to knowledge.
After the summer break, we are now pleased to announce that the video documentation of the event is available online.
We are also pleased to announce that the theme of Pirate Care will continue to be explored with a project commissioned by the Croatian cultural centre Drugo More, as part of their flagship programme Dopolavoro for Rijeka European Capital of Culture 2020. More information can be found on the dedicated website.
Projects included: Docs Not Cops + #PatientsNotPassports | The Four Thieves Vinegar Collective | Memory of the World | Planka | Power Makes Us Sick | Sea-Watch | SottoSopra pirate kindergarten | Opencare.cc | The Conflict, Memory, Displacement project.
Special thanks to our participants: Agustina Andreoletti (Academy of Media Arts Cologne) | Mijke van der Drift (Goldsmiths / Royal Academy of Art, The Hague) | Taraneh Fazeli (curatorial fellow, Red Bull Art Detroit, Canaries collective) | Kirsten Forkert (BCU) + Janna Graham (Goldsmiths) + Victoria Mponda (Conflict, Memory, Displacement project) | Maddalena Fragnito (SottoSopra) | Chris Grodotzki + Jelka Kretzschmar (Sea-Watch) | Toufic Haddad (Kenyon Institute) | Erik Kamenjašević (University of Haague) | Andrea Liu | Power Makes Us Sick | Gilbert B. Rodman (University of Minnesota) | Zoe Romano (WeMake Milan / Opencare.cc ) + Serena Cangiano (SUPSI) | Deborah Streahle (Yale) | Nick Titus (Four Thieves Vinegar Collective) | Kim Trogal (UCA) | Ana Vilenica | Kandis Williams (Cassandra Press) | John Willbanks (Sage Bionetworks).
Films by Kelly Gallagher (Syracuse University)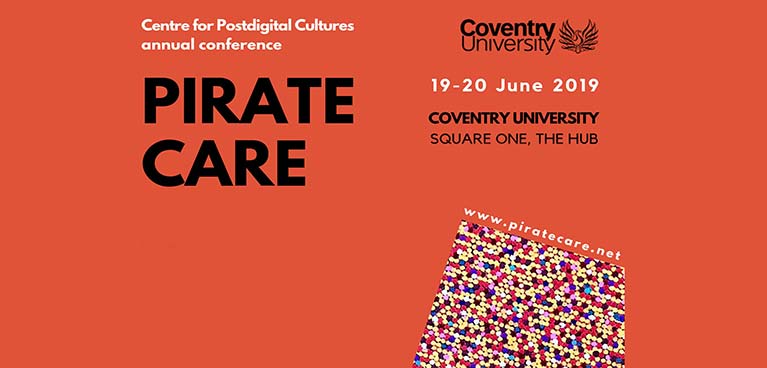 Pirate care channel
To view the presentations given by our invited speakers to the conference please watch our YouTube channel.