Improving supply chain sustainability in Indonesia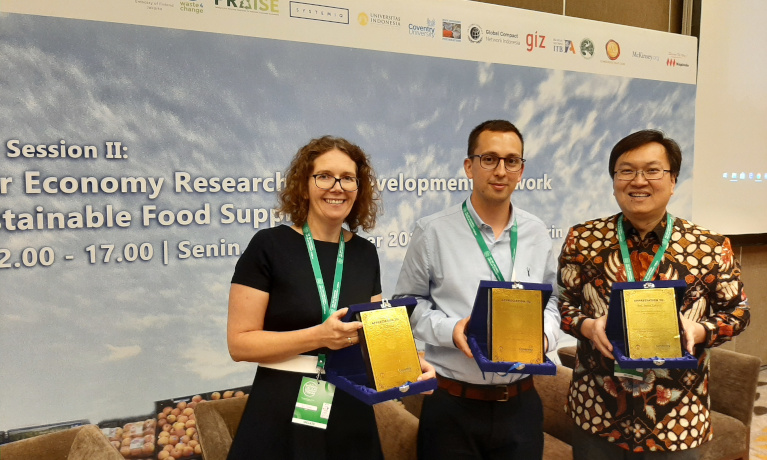 ---
Monday 16 December 2019
Press contact
---
Researchers from Coventry University's Centre for Business in Society have taken part in the third Indonesian Circular Economy Forum, raising awareness of food waste in the supply chain.
The forum brought together government officials, researchers in both the public and private sector and businesses to share their expertise.
Alongside academics from the University of Indonesia, Coventry University outlined the challenges to sustainability in the country. Their session hit on a key issue for Indonesia, as they are one of the top contributors for food wastage.
Professor Benny Tjahjono, Dr Jill Timms and Jordon Lazell from Coventry University and Dr Alin Halimatussadiah and Dr Cindy Priandi from the University of Indonesia shared some of their work on sustainability. They covered the potential role of certification in the cut-flower industry, a study of food waste in the supply chain of a retailer in Southern Africa, the huge potential of the circular economy and the barriers to be overcome.
The session then involved a series of roundtable discussions with four groups covering different parts of the supply chain. Each group considered current issues, barriers and discussed potential solutions, identifying several key areas for future research.
Jordon Lazell said: "It was great to contribute to the sustainability work taking place in Indonesia. The forum showcased their ambitious commitments to sustainability and their determination to advance the circular economy. Indonesia are expected to soon become the fourth largest economy, so it was reassuring to hear that they are keen to avoid the environmentally damaging ways of some of their neighbours."
The session was funded through a networking collaboration grant from the Academy of Medical Sciences. Coventry University is working with the University of Indonesia, the National University of East Timor and the University of Science Malaysia to draw together the findings, experience and contacts to develop work on the circular economy, food waste and the sustainability of supply chains.
For further information about this project and the work of the Sustainable Production and Consumption Cluster on their webpage.