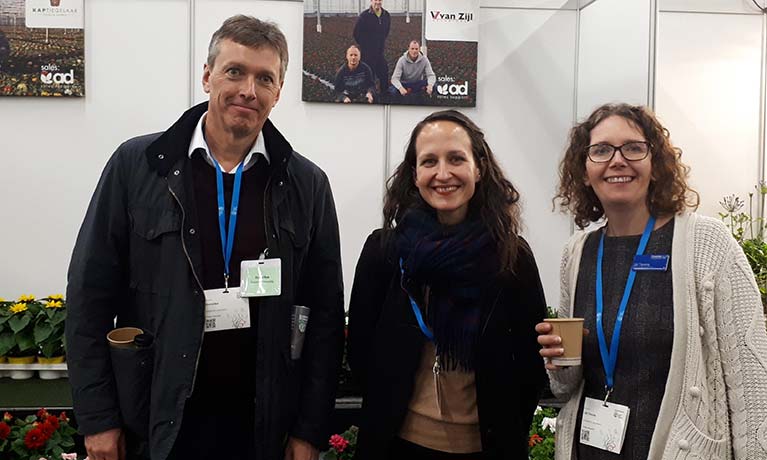 ---
Saturday 06 April 2019
Press contact
---
Dr Jill Timms, Dr David Bek and CBiS's PhD Candidate Nora Lanari led a workshop with stakeholders from the cut-flower industry hosted by Fleurametz in Aalsmeer, Holland in April.
Attendees were drawn from a range of organisations and companies interested in driving the sustainability agenda in the flower industry, including the British Floristry Association, Dummen Orange, Fairtrade, Flowers from the Farm, the Floriculture Sustainability Initiative and the Dutch Flower Council.
The principle objective of the workshop was to identify a plan for embedding sustainable practices within the daily operations of different parts of the cutflower value chain. The workshop included excursions to the FloraHolland Spring Fair and to world leading plant breeders Dummen Orange, where participants enjoyed the opportunity to observe the breeding process first-hand and to see new varieties of roses under development.
As a result of the discussions which occurred during the workshop many exciting initiatives are in the pipeline to further the sustainability agenda. For example, ideas were exchanged about ways to better promote Fairtrade certified flowers within the UK market. The participants developed an action plan for furthering the group's goals with everyone taking ideas back to their own organisations for enacting the agenda. These include: improving information and training about sustainability for florists, promoting local and seasonal flowers, identifying the main carbon footprint hotspots in supply chains and even having a Sustainable Flowers Week including a Fairtrade Garden at the Chelsea Flower Show!