SUDSnet International Conference, 2018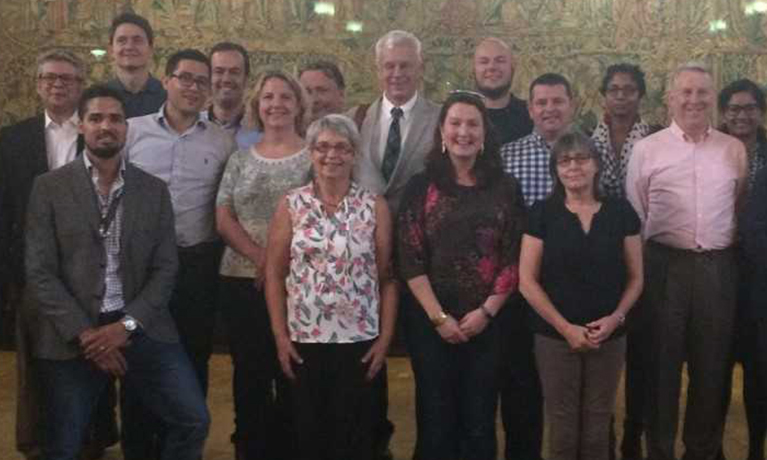 ---
Monday 01 January 2018
Press contact
---
SUDSnet International Conference, 2018
Professor Sue Charlesworth (CAWR) and Dr Rebecca Wade (Abertay University) organised an international sustainable drainage network conference at Coventry University, 30&31st August. SUDSnet was initiated with EPSRC funding in 2003, Sue at Coventry and Rebecca at Abertay, have been running it ever since. This year they celebrated 15 years of the network, it is still going strong and still in demand. Hosted on the University of Abertay website.
The conference attracted speakers and delegates from all over the world (Australia, USA, Italy, Spain, Denmark, Norway, and of course the UK). The conference addressed topical and challenging issues, including a session on water management in refugee and internally displaced persons (IDP) settlements, which was sponsored by the Humanitarian Innovation Fund (HIF). With a keynote from Milly Hennayake from Arup, who are designing a guidance document for water management in refugee and IDP camps and speakers considering settlements in Iraq, Africa and South America, this topic was considered in depth. The speakers and delegates also discussed water issues in extreme climates as well as addressing climate change in the UK.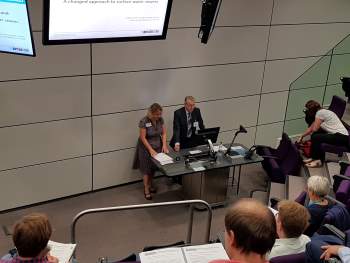 Above: Professor Lian Lunday and Brian Smith
Right: Milly Hennayake from Arup
The second keynote, a joint presentation from Yorkshire Water and Middlesex University by Brian Smith and Professor Lian Lundy, considered ways in which barriers to SuDS can be overcome in the UK and promoted the collaboration of industry and academia in resolving some of the delivery and management issues.
An MRes student at CAWR, Mitchell McTough, also representing The United Nations Development Programme, flew in from Iraq to present his work on the use of SuDS in refugee camps in Iraq, funded by HIF. After the conference he said: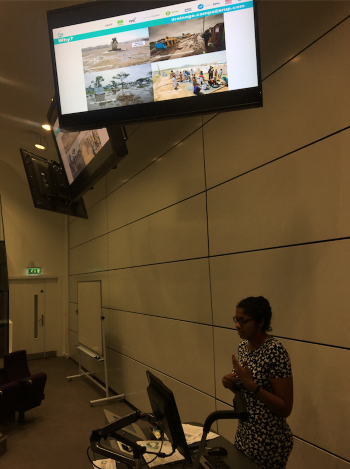 Thank you for the wonderful conference, for me at least, it was highly enlightening to be around so many individuals at the forefront of the research on SuDS.

MRes student at CAWR, Mitchell McTough
As ever, this SUDSnet event provided fantastic networking opportunities and helped to bring delegates up-to-date information on advances in SuDS and research on contemporary sustainable water management topics and also provided inspiration and examples about how to educate, communicate and articulate water management issues.
The conference dinner was held in the magnificent St Mary's Hall, Bayley Lane, Coventry, where Mary, Queen of Scots was imprisoned for a time.