Postgraduate Researcher of the Year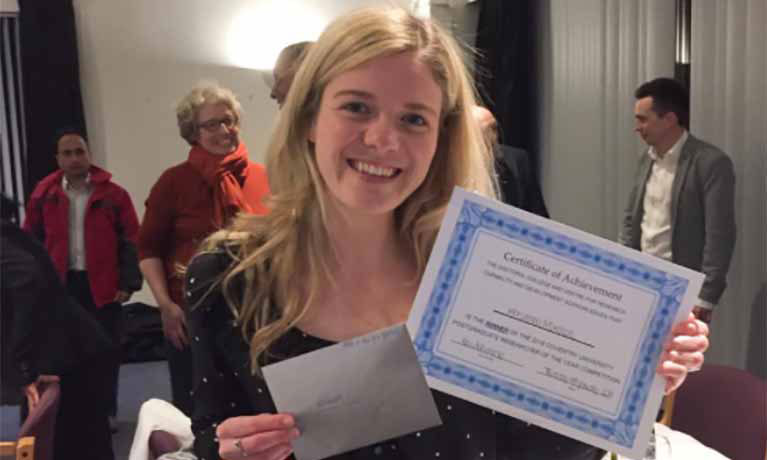 ---
Friday 19 January 2018
Press contact
---
And the winner is…..
As part of the Research Hootenanny held at Elm Bank, the new home of the Centre for Research Capability and Development, CAWR nominated Morwenna McKenzie to represent the postgraduate team in the Postgraduate Researcher of the Year competition.
Morwenna was judged by a panel of judges on her presentation of her PhD titled 'Still rivers run deep… and dirty!' before taking part in a tense Q&A session with the judges. As ever Morwenna remained calm and determined to claim the victory from her experience of presenting at past postgraduate events such as the 3 minute thesis competition. The CAWR supporters were out in full force as she presented her research before the results were revealed at the Research Hootenanny Dinner.
With the tough competition from other postgraduate researchers from both faculty and university research centres, there could only be one winner. Morwenna said she "was absolutely delighted to have been awarded the 2018 Coventry University Postgraduate Researcher of the Year. Thanks to the organisers for an amazing day".
Congratulations to Morwenna from all at CAWR on this award which is a testament to your work ethic, commitment and enthusiasm.
Morwenna's Abstract
Less than a quarter of rivers in England are considered healthy; this figure has continued to decline since monitoring first began. A primary cause for this is soil erosion, from intensively farmed land, which carries fine sediment particles into rivers. The fine sediment can clog the river bed, block out light, and transport other harmful substances such as heavy metals, phosphates and pesticides. However, quantifying fine sediment in rivers is difficult because rivers are very dynamic systems. This makes it hard for water monitoring bodies to understand the problem in order to prioritise and target management actions. A common approach is to look at the small insects and other small creatures that live in the river to infer the level of pollution present, a process known as biomonitoring.
For the project, I led a laboratory study to document physical damage of fine sediment to insects, a major gap identified in the literature. Three different species were exposed to six different treatments of varying water velocity and fine sediment concentration. High powered microscopy images were used to quantify physical damage on the surface of the insect's gills. I also undertook a large-scale field work effort at 21 different sites over two seasons to sample fine sediment and river insects, using the data to test and improve existing biomonitoring methods and explore macroinvertebrate response to fine sediment. The results will help show how monitoring of fine sediment pollution can be done in a way that can support national management goals.