What the Prevent duty means for schools and colleges in England: An analysis of educationalists' experiences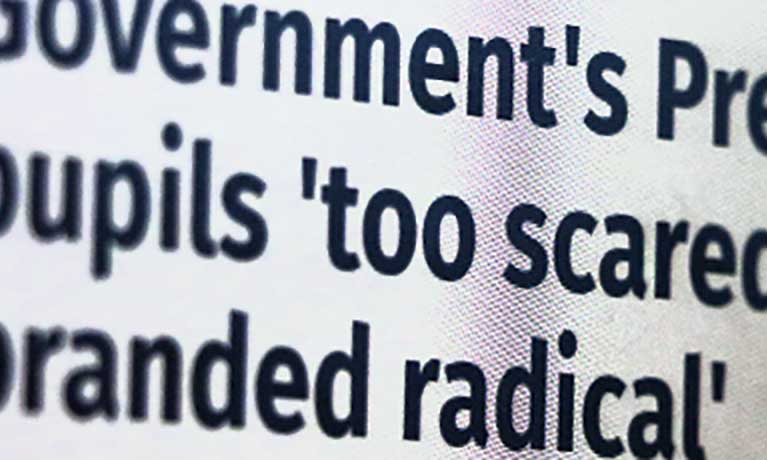 ---
Tuesday 04 July 2017
Press contact
---
In July 2015, a legal duty came into force requiring that 'specified authorities', including schools and further education colleges ('colleges'), show 'due regard to the need to prevent people from being drawn into terrorism' – popularly referred to as the 'Prevent duty'.
The report 'What the Prevent duty means for schools and colleges in England: An analysis of educationalists' experiences', published 2 years after the introduction of the Prevent duty, seeks to get beyond the, at times, polarised public debate about the duty to explore, in a systematic and evidenced way, the experiences of 'front line' education professionals in schools and colleges (that is, teaching staff, school/college leaders, support staff and technical staff).
The report addresses four key questions:
How has the new Prevent duty been interpreted by staff in schools and colleges in England?
How confident do school/college staff feel with regards to implementing the Prevent duty?
What impacts, if any, do school/college staff think the Prevent duty has had on their school or college, and on their interactions with students and parents?
To what extent, if at all, have school/college staff opposed or questioned the legitimacy of the Prevent duty?
Our findings include the following:
While there has been widespread engagement with key government messages about understanding Prevent as part of 'safeguarding' and the Prevent duty applying to all forms of extremism, there was less certainty about, and even resistance to, the requirement on schools to build resilience against extremism amongst their students by promoting 'fundamental British values'. We found considerable discomfort and uncertainty around the focus on the specifically British nature and content of these values and concern about how this can be translated in to inclusive curriculum content and practice;
While confidence in implementing the Prevent duty is generally fairly high, it is, on average, significantly lower among less experienced members of staff and those who are not part of institutional safeguarding teams;
There was relatively little support among respondents for the idea that the Prevent duty has led to a 'chilling effect' on conversations with students in the classroom and beyond. We believe this is in large part due to initiatives undertaken by schools, colleges and individual educational professionals to pre-empt such outcomes;
There were, however, widespread – and in some cases very acute – concerns about increased stigmatisation of Muslim students in the context of the Prevent duty;
While we did find some criticism of, and scepticism about the efficacy of, the Prevent duty, particularly among senior leaders and BME respondents, very few respondents directly questioned the legitimacy of the duty or expressed wholesale opposition to it.
The research is based on a combination of in-depth qualitative interviews with 70 education professionals across 14 schools and colleges in 2 areas of England (West Yorkshire and London); in-depth qualitative interviews with 8 local authority level Prevent practitioners working in different local authority areas to support schools and colleges; and a national online survey of educationalists (n=225).
---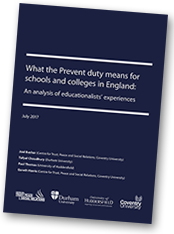 You can download a copy of the report here. For more information, please contact joel.busher@coventry.ac.uk.
The research was undertaken by Joel Busher (Coventry University), Tufyal Choudhury (Durham University), Paul Thomas (University of Huddersfield) and Gareth Harris (Coventry University).
The research was funded by the Aziz Foundation, with support from the Centre for Trust, Peace and Social Relations at Coventry University, and additional support from Durham University and the University of Huddersfield.