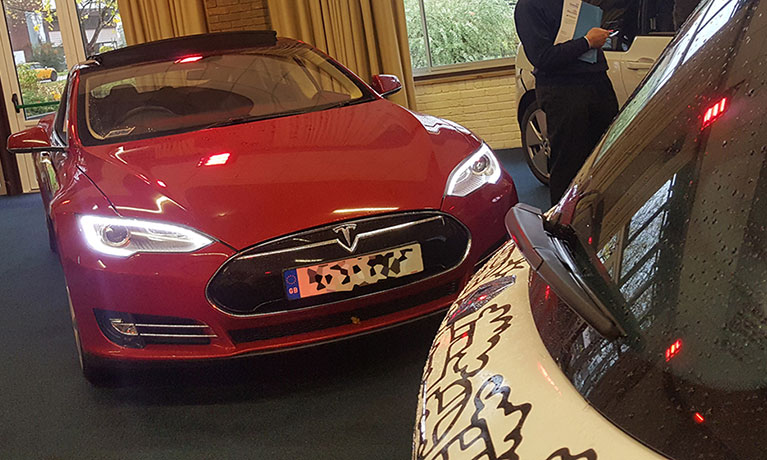 ---
Friday 01 January 2016
Press contact
---
On Wednesday 9th November, CBiS colleagues Dr Andrew Jones and Dr Jason Begley organised and co-hosted the Warwickshire Rural Electric Vehicles (WREV) showcase at Stoneleigh Park with Greenwatt Technology, coinciding with ESRC's Social Science Festival Week. We were joined by over 50 representatives from SMEs and other groups interested in the trial, along with Warwickshire County Council and Coventry City Council, as Andrew presented his key findings from the WREV project.
The venue created the perfect setting with space for exhibitors to showcase their EV technology and business modelling as well as a range of electric vehicles on display including autos produced by Nissan, Tesla and Ziesal.
The event demonstrated how electric vehicles can be used to solve the transportation problems faced by rural businesses and motorists through new research from a demonstrative trial in Warwickshire. This was well received and instigated a real buzz and enthusiasm which was clearly evident in discussions being had in the room.
The event allowed a range of small businesses who adopted electric vehicle technology as part of the WREV project to share their experiences with the audience. Interested stakeholders were also given the opportunity to test drive an electric vehicle on site which, rather unsurprisingly, received a high uptake.
In addition to Andrew's fascinating presentation on the WREV project findings itself, there were also talks from industry representatives on considerations into how EVs can be utilised as a mobility and/or sustaianble business solution for those in rural locations.
Andrew was praised by many throughout the event for his informative presentation and involvement in the project. The discussion panel, chaired by Andrew, comprised of representatives from Greenwatt Technology, E-volt (Charge Points), Nissan Sandcliffe, CBiS associate and colalborator Professor David Bailey as well as CBiS's Dr Jason Begley.
The event proved to be a real success, showcasing and exemplifying our 'research with impact' as well as outreach and networking with key industry representatives.