The Big Question. Lecture Series. The US Presidential Election 2016. Fact or fiction?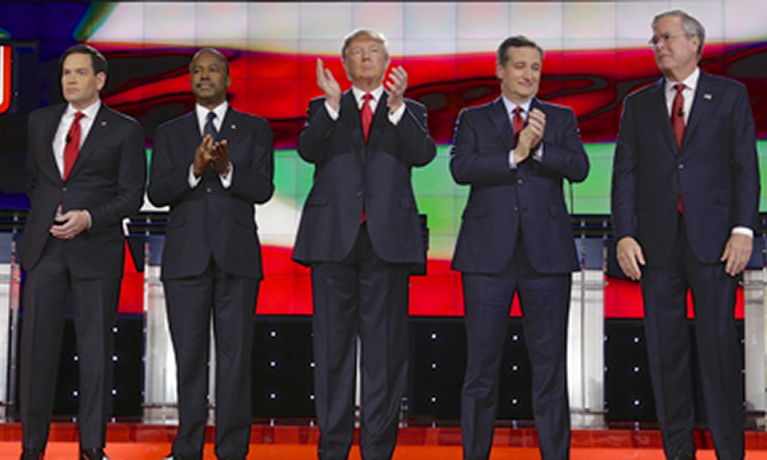 ---
Thursday 17 March 2016
Press contact
---
In the USA Republicans and Democrats are fighting to select their candidate for President. From Donald Trump to Bernie Sanders, unexpected candidates have come to the fore. Controversy, criticism and confusion have dominated the headlines and thrown the future of American politics up in the air. But what is fact and what is fiction? And where is America headed to as a result? The unfolding events will undoubtedly affect America's future and have potential ramifications around the world.
For our next instalment of The Big Question series, we welcome US political expert M. Dane Waters to examine the blurred boundaries between fact and fiction in the race to be presidential candidate.
Dane has been a political appointee in the administration of George Bush Snr, worked directly on five presidential campaigns, including John McCain's battle against Barack Obama in 2008. He is the CEO of political communications company Tipping Point Strategies. He has an insider's understanding of American politics vital for looking behind the headlines in the current race to the White House.
Join us on Tuesday 12th April at 5pm for The Big Question: The US Presidential Election 2016: Fact or fiction?
To register your place please contact Charlotte Martin at charlotte.martin@coventry.ac.uk.
---
THE BIG QUESTION
The Big Question seminar series creates a vibrant public space to discuss these challenges, providing an opportunity for innovative and timely thinking and debate with leading figures from across government, the media, research, business and society as well as the general public and members of Coventry's research community and student body.
---
ABOUT THE SPEAKER
Dane currently serves as the CEO of Tipping Point Strategies, a communications and advocacy firm based in Washington, DC which provides strategic advice to campaigns, governments and NGOs all over the world.
Dane has worked on six continents with elected officials, activists, NGOs and government entities including the United Nations, the United States Department of State and the International Republican Institute. He was a political appointee in President George H. W. Bush's administration, served as the Political Director of the Humane Society of the United States, the largest NGO in the US with 12 million members, and was the National Field Director for US Term Limits.
Dane has worked on five presidential campaigns and numerous of other candidate elections in the United States as well as presidential and prime ministerial campaigns around the world. Dane has worked on over 60 ballot campaigns and is one of the few people who have worked on all aspects of direct democracy campaigns.
Dane has authored and edited numerous articles and books on direct democracy andhas provided commentary on governance issues to newspapers, radio talk shows, and television stations around the world. He also consulted on the television shows West Wing. He currently writes a political blog called This is the Point.