Petals - FGM web app for young people wins Gold London Design Award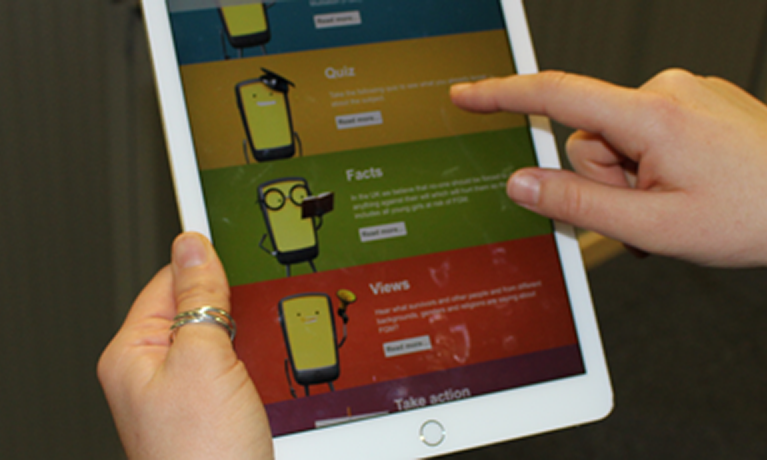 ---
Thursday 24 November 2016
Press contact
---
After to being shortlisted a few months ago, the Coventry University 'Petals' - FGM app, created to help protect young girls and women from female genital mutilation (FGM), has won a Gold London Design Award. The prestigious awardgiver, which this year recognised over £4.9 billion of spaces, objects, visual, digital & experience designs in over 40 specialist categories, chose the multi-platform app over stiff competition from over very meaningful apps, including designs to help those dealing with depression, isolation, mental health issues, etc.
Female genital mutilation, which is sometimes called female genital cutting, female circumcision or sunna refers to procedures that intentionally alter or cause injury to the female genital organs for non-medical reasons. The practice has been illegal in the UK since 1985 but is a growing problem across the country.
Project lead Professor Hazel Barrett, with her team Steven Ball, Deanne Dunstan and Jamie Stallard, launched the NSPCC endorsed app in July 2015, which works across most smartphones, tablets and laptops via an internet browser. It is aimed primarily at young girls living in affected communities and at risk from FGM, but it can also be used as an educational tool to teach young people and others the facts and realities of FGM.
See the launch of the app from last year below.
The London Design Awards is organised by design100 a global community of 75,000 design experts that celebrate creative courage, recognise design excellence and grow demand for design. In London a panel of some of the world's leading design minds providing curatorial, judging and creative direction.
The Award itself will be presented in late February at the Awards Presentation.