The Big Question: Election 2015: How was it for you?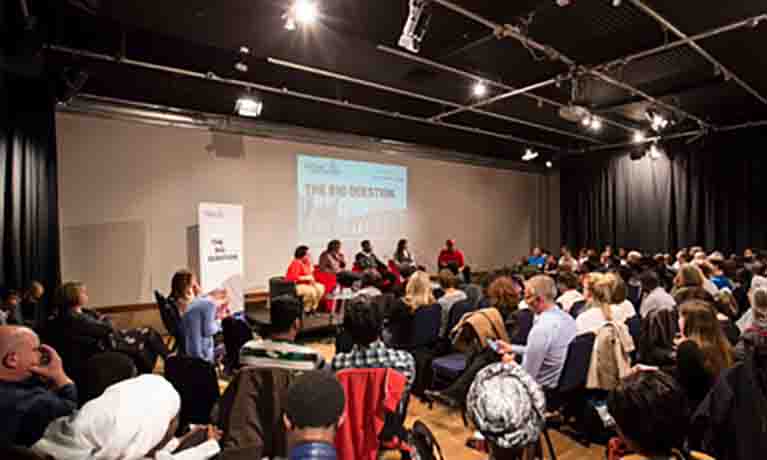 ---
Thursday 21 May 2015
Press contact
---
On the 7th of May 2015 the British population voted in one of the most uncertain and contentious general elections in decades. In the run-up to the election large sections of the population, particularly young people and minorities, described feeling disengaged and powerless. Figures from outside the dominant political parties, from UKIP to Russell Brand, gave voice to this sense of people being left behind.
The Big Question debate series continued on Wednesday 10th June with Political commentator and special advisor on youth policy Kenny Imafidon chairing the fully-booked event which saw a lively and enthusiastic crowd debate issues of young people, politics and power.
The debate raised a number of key arguments when it came to young people and their relationship with political discourse. "Young people need to feel valued for their contributions to society, then their work ethic will increase", said Curtis Blanc. Curtis also suggested "young people have a raw understudying of politics".
"Young people are at the heart of grassroots change and at the forefront of politics when it involves protests, petitions and expressions through writing, art, music and using social media platforms. They are often removed from traditional sources of power, which has to change to improve how democracy works in Britain today", said Sawsan Bastawy.
Our panellists were:
Curtis Blanc, former prisoner turned entrepreneur, founder of Tisrespect Enterprise music and artist management, award-winning volunteer.
Sawsan Bastawy, CEO of Bite the Ballot, a party-neutral, youth democracy movement which has aimed to get young people engaged in the political process
Rose Neelam, a political and student activist from Birmingham who works to support Muslim youth on issues of sexuality, Islamaphobia and empowerment.
Nathan Coyle, manager of Social Breakfast, a young person's civic engagement organisation that looks to give people a voice via social innovation and civic tech.
What comes next?
From the event, it could be seen that on the one hand, young people want to be taught about politics in schools and communities and given more accessible information about their representatives. Kenny Imafidon stated, in Coventry, that 'it's dangerous that young people aren't taught politics in schools' because it leaves people feeling uninformed and uncertain of the practicalities and significance of utilising their right to vote.
However, there is also a need for a cultural shift in the way that politics works. Curtis Blanc, an ex-prisoner turned entrepreneur and mentor commented to us that young people often feel undervalued and underestimated, whereas what they need is to be inspired and have courage to push themselves to speak out on the issues that matter. Positive role models in schools, in business and on social media can be the source of this inspiration.
You can continue the conversation for all Big Question events by using #BigQuestionCov on Twitter.