Partnerships for Peace - Dignity for all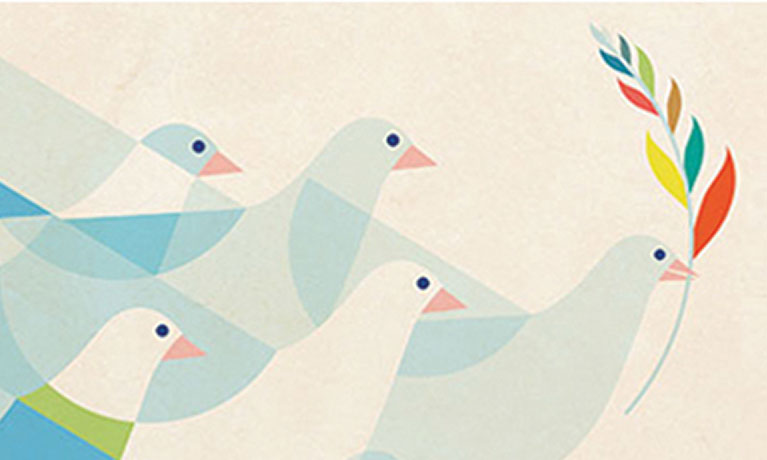 ---
Monday 21 September 2015
Press contact
---
On Monday 21st September Coventry city celebrated the International Day of Peace with an event bringing together the University's Centre for Trust, Peace and Social Relations (CTPSR), the Cathedral and Cord, the Coventry based international NGO working for peace. The event was organised by Cord's senior advocacy officer, Casey Davison O'Brien, also a CTPSR alumni member, and was hosted by Coventry Cathedral in St Michaels House. Speakers came from organisations striving to promote peace, both in Coventry and internationally.
Sabir Zazai, Director of Coventry refugee and Migrant Centre talked of his personal journey in search of peace, leaving Afghanistan in the 1990s and arriving as a refugee in the UK. He also spoke of his work now coordinating an organisation dedicated to supporting refugees in Coventry. The city now hosts forty percent of the UK's refugees from the conflict in Syria, reflecting Coventry's particular disposition as a city to welcome those who are fleeing conflict. The Dean of the Cathedral John Witcombe also spoke of the history of the city and joined Sabir marking the importance of the Cathedral as a space for remembrance, reconciliation and above all for forgiveness. Emmanuel Gore, a PhD researcher at the CTPSR spoke movingly of his own experience in South Sudan, leaving as a refugee to the Middle East, and the challenges of finding lasting peace in South Sudan. His current PhD research in Coventry focuses on the potential of improving transitional justice systems to contribute to peace in South Sudan. Finally the Director of Cord, Mark Simmons, and the CTPSR's Professor Heaven Crawley both explained the work of their organisations in Coventry and internationally and the importance of partnership to achieve lasting solutions to conflict.
The point was raised during the public debate, that while Coventry has indeed achieved many great accomplishments in promoting peace, the arms trade remains a stain on the record. Members of the public urged representatives from the Council, the University and the Cathedral to fight for divestment of funds, from the West Midlands pension fund away from arms manufacturers.
There were also calls to reject companies coming from the arms trade being hosted in the city. Heaven Crawley reiterated the need for comprehensive responses and joined up thinking, if we are to tackle the serious conflicts leading to the current refugee crisis on the borders of Europe.
There are videos of all the talks, recorded by one of the delegate, available online.