Coventry University academic joins delegation to Palestine in support of the right to education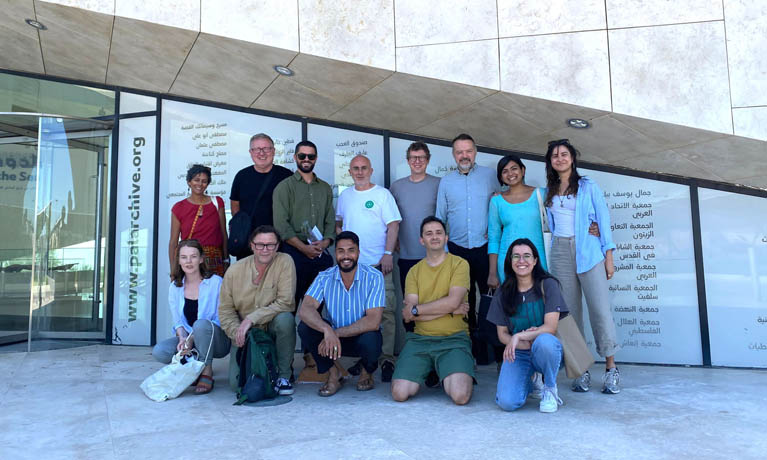 ---
Monday 18 September 2023
Press contact
---
Dr Ken Fero, Assistant Professor within the Centre for Global Learning (GLEA), was selected for a fellowship of the first Palestine Academic Links Seminar (PALS) organised by the Friends of Birzeit University (FOBZU).
Guided by the British Academy's International Engagement Framework, the PALS programme aims to enhance understanding of the Palestinian higher education sector, its achievements and challenges and develop awareness of the structural limitations to education for Palestinians living under occupation and in exile.
The fellowship involved a week-long study tour in Palestine with a delegation of 11 academics from British universities, all seeking to build networks and relationships between UK and Palestinian colleagues and institutions.
During the tour, PALS fellows visited Palestinian higher education and cultural institutions to meet academics and students and undertake an educational itinerary of roundtable discussions.
The delegation also learned from the Right to Education Campaign at Birzeit University, which documents, investigates, and raises awareness about the restrictions faced by Palestinian universities, students and teachers.
Dr Ken Fero said:
Other institutions visited by the delegation included the Mada al-Carmel Arab Centre for Applied Social Research, the Badil Resource Centre for Palestinian Residency and Refugee Rights and the Human Rights Organisation in Al-Haq.
Professor Katherine Wimpenn said:
We have been working to foster academic links and collaboration with colleagues in Palestine as part of international research projects, PhD collaborations and collaborative publications since 2015. Associate Professor Saida Affouneh from An Najah National University, Nablus, is currently a Visiting Research Fellow in GLEA.

Such collaborations have rich synergies with our research in Education without Boundaries. The opportunities I have had to visit with students and academics in Palestine have been incredibly enriching and eye-opening and always provide huge opportunities for learning about one another's contexts about the right for education for all. It is great to hear about Ken's experiences and that the PALS fellows will continue to work together to forge institutional links with academics and students in Palestine.

Professor Katherine Wimpenny, Theme Lead Global Learning: Education Without Boundaries, Centre for Global Learning
In support of FOBZU's commitment to the right of education, the PALS delegation will continue to work towards freeing Palestine by forging institutional relationships with students, academics, and colleagues across the state.
---
Find out more about the Palestine Academic Links Seminar.
Find out more about the Centre for Global Learning.