Coventry University hosts South African university seeking to close the gap between industry and academia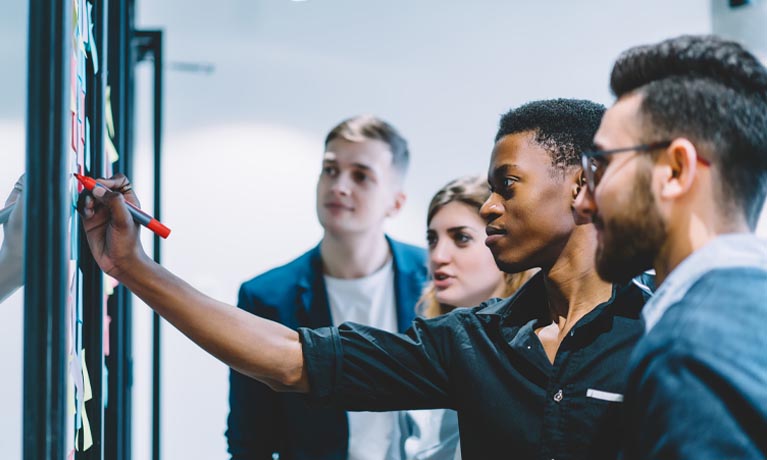 ---
Wednesday 17 May 2023
Press contact
---
Coventry University recently welcomed a senior delegation from the Tshwane University of Technology (TUT) alongside several other West Midlands universities. With nine campuses and seven faculties, the TUT is the largest residential higher education institution in South Africa.
Organised by the Department for Business and Trade, the four-day regional engagement programme included guided tours, meetings, and presentations with some of the Midland's leading academics on subjects ranging from Cyber and AI to Engineering and Physical Science.
In 2021 the TUT launched a new Institute for the Future of Work (IFoW), an ideation hub designed to respond to the requirements of the rapidly changing world of work. Their objective is to develop a global framework through which the TUT seeks to close the gap between the industry and academia.
Through the engagement programme, the TUT were able to explore potential ways to collaborate with different universities for specific areas including teaching, benchmarking, research, and innovation.
Tseliso Mohlomi, Senior Director for IFoW, TUT said:
The visit to the universities in the Midlands was quite an eye-opener, especially on how the academia and the industry work together to tackle the challenges presented by the 4th Industrial Revolution. Through the different engagements, we are hoping to solidify collaboration in high-impact research, staff and student exchange programs and leveraging the different industry partnerships to support TUT's vision of producing future ready graduates.

Tseliso Mohlomi, Senior Director, IFoW
Richard Wells, Pro-Vice-Chancellor (International) said:
As a university group with a global reach, Coventry University was delighted to support a visit from Tshwane University of Technology and representatives from the Department for Business and Trade. The visit emphasised the importance of collaborations to promote innovation and growth in global economies.

As a winner of the Queen's Award for Enterprise in the category of International Trade and having the benefit of our Africa Hub in Rwanda, we are well placed to collaborate with universities like TUT. One key takeaway was the need for open communication channels between academia, industry, and government to facilitate such collaboration.

We also discussed how organisations and industry can collaborate with academia to drive innovation and research. This includes sharing knowledge, expertise, and resources to develop new technologies and products. The visit highlighted the benefits of possible joint research projects and knowledge exchange programs to foster innovation and commercialisation.

Moving forward, we will work to connect with key stakeholders in TUT and the Department for Business and Trade to build relationships that drive innovation and growth. We will continue to share good practice and promote knowledge exchange and collaboration to create new opportunities and unlock the full potential of our collective expertise.

Richard Wells, Pro-Vice-Chancellor (International), Coventry University
Discover more about research and innovation at Coventry University.