Coventry University to hold Ukrainian art auction to support those impacted by the war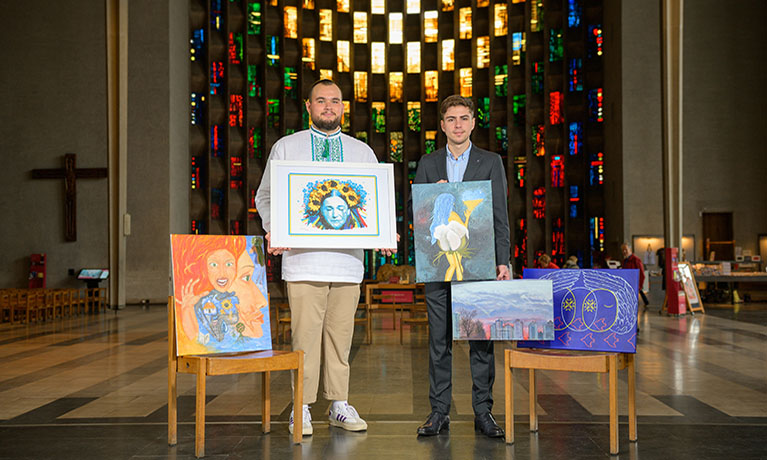 ---
Wednesday 26 October 2022
Press contact
---
Paintings created by Ukrainian artists at the scene of the war in their homeland are being auctioned at Coventry University's annual RISING Global Peace Forum to help raise thousands of pounds for those affected by the conflict.
Led by the Centre for Trust, Peace and Social Relations, RISING brings together leading politicians, policymakers, academics, and community organisers from around the world to discuss new ways to make and sustain peace.
Around 50 paintings from a wide range of Ukrainian artists of all ages, that depict the invasion of their country are set to go on display at Coventry Cathedral on November 9.
Half of the proceeds will go towards funding items needed the most in Ukraine, including food, medical supplies, ambulance cars, and electric generators. The rest will go to the artists who created the pieces.
The auction has been organised by Pavel Pimkin, President of the Coventry University Ukrainian Society.
The context within which these paintings were created – and what they represent – gives them historical significance and as such we hope to raise a significant amount of money to support the people of Ukraine over the coming months.

It is particularly special to be auctioning the paintings within Coventry Cathedral – a building that is associated with peace around the world. I am looking forward to seeing this inspiring collection of paintings go under the hammer and bring Ukrainian art to a wider audience.

Pavel Pimkin, President of the Coventry University Ukrainian Society
One of the artists to be featured, Viktoriia Sydorova, aged 10, has had to evacuate her home for the third time in her life due to conflict – first from Donetsk in 2014, and then from her home in Kyiv to Rivne in western Ukraine earlier this year, before recently moving to the UK.
She has had a passion for painting since she was a toddler and has used it as a way of expressing herself during the war.
Viktoriia said: "I remember having to spend some nights in bomb shelters and underground stations with all the people who were hiding from rockets.
"My favourite painting is of the woman with fire around her and pictures of a house, plants, animals and books – all of the things that I miss from home."
Another artist, Yevheniia Zhydkova, 42, from Gostomel in Kyiv, created her paintings fresh from an evacuation attempt which began with more than 30 helicopters hovering over her home. She fled to Moldova with her child, while having to leave behind her mother and husband.
She said: "I was fortunate that my car was not noticed by Russian soldiers.
"My paintings are a way of downloading my emotions somewhere, as I could not stand them being only inside my head.
"I also wanted to show my emotions and how I see the war in Ukraine as an artist, using colours and techniques only."