Flat-packed electric trucks featuring Coventry University research receive millions in funding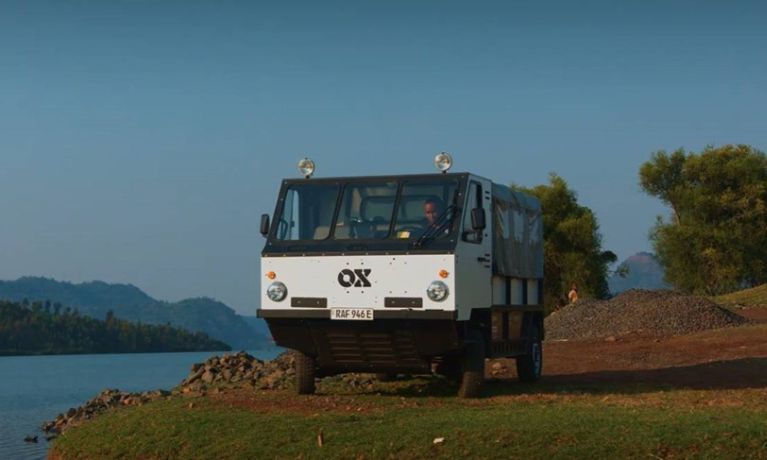 ---
Tuesday 12 July 2022
Press contact
---
Researchers from Coventry University are helping to drive net-zero trade in rural, emerging markets through electric delivery trucks.
The Clean Logistics for Emerging African Nations (CLEAN) project, led by British start-up truck manufacturing business Ox Delivers, aims to develop all-terrain, electric delivery trucks that are manufactured in the UK and delivered in flat-pack boxes for assembly and use in developing countries.
The trucks are designed to be rugged, reliable, easy to maintain and able to withstand tough off-road conditions. They use long-life, lower-cost batteries which can be charged from solar energy, making them cheaper to run and look to support net-zero ambitions.
The CLEAN project will also make delivery trucks more financially accessible for farmers in Africa as customers can use the trucks on a pay-as-you-go basis.
Coventry University's input into the project will be led by Dr Marcos Kauffman, Director of Coventry University's Institute for Advanced Manufacturing and Engineering (AME).
"According to global management consultancy McKinsey & Company, more than 60% of the African population is made up of smallholding farmers and their biggest supply-side problem is the cost of getting products and produce to market. To make this more accessible for the farmers there are two enablers for success: a new type of vehicle and a new business model that suits the market," explained Dr Marcos Kauffman.
Due to this pay-as-you-go business model, known as Transport-as-a-Service (TaaS), the engineering focus isn't on achieving a one-off sale but on a lifetime of ownership costs. This is where AME's expertise in digital manufacturing and engineering will benefit the project as the institute will create a digital twin of each physical truck - an exact replica of the truck created in the virtual world.
Integrating digital and physical worlds enables real-time monitoring of systems and processes to proactively identify and address problems before they arise. This is critical to the TaaS business model as it will improve productivity in the following ways:

1. Deliver faster, safer and more cost-effective validations of product functionality through virtual testing.
2. Allow the engineers to evaluate the impact of new designs and explore the consequence of changes to the truck's system processes without disrupting operations.
3. Enable accurate predictions to 'what if' scenarios that can anticipate performance failures, identify the cause of quality issues, and optimise product and process design to improve performance outputs.

This project will also provide a framework and a demonstrable example of techniques used to implement digital twins across the product life-cycle and their technical implementation across the automotive value chain.

Dr Marcos Kauffman, Director of AME
The CLEAN project secured funding through the Advanced Propulsion Centre's (APC) collaborative research and development competition, which supports innovative low-carbon automotive technology and aims to help propel the UK in the global race to secure electric vehicle value chains.
The total project investment will be £17.1m, of which £8.5m is grant funded by APC. The money will enable OX Delivers to work in collaboration with Coventry University, Dana, Potenza and FLAGS Software on the CLEAN project over the next two and a half years.
Find out more about the Institute for Advanced Manufacturing and Engineering. Find out more about Advanced Propulsion Centre's collaborative research and development competition. Find out more about the OX Delivers electric delivery truck.