Coventry University researchers welcomed international stakeholders to higher education partnership roundtable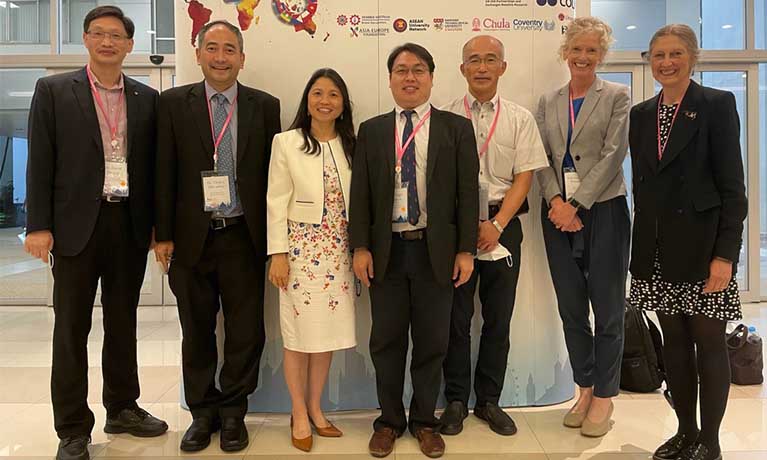 ---
Thursday 30 June 2022
Press contact
---
A project led by Coventry University's Centre for Global Learning – 'UK-Southeast Asia Partnerships and Exchanges Baseline Research' (PEER) – successfully welcomed global delegates to their first seminar and roundtable policy dialogue, focused on inclusive, equal, and sustainable higher education partnerships.
The pioneering event - 'We cannot take inclusive and equal partnerships for granted' - took place on 28 June 2022 with discussions providing a series of key recommendations to sustainable and fruitful collaborations between Southeast Asia and the United Kingdom.
The project team hosted over 450 international participants online and onsite at Chulalongkorn University, Thailand's first established university. Roundtable panellists including policy makers, university leaders, Association of Southeast Asian Nations (ASEAN) regional experts, alumni and researchers, focused their discussions on reconstructing the pathway to inclusive and equal future partnerships.
Dr Que Anh Dang said:
Our research findings show the modes and patterns of UK-East Asia transnational education and research partnerships over the past 10 years, which aimed to achieve the whole that is greater than the sum of its parts.

Given the complexity and diversity of UK-East Asia partnerships, our findings proposed pursuing the principle of 'substantive equality'.

The roundtable policy dialogue called for harmonisation of differences among partners, highlighted the importance of bringing complementary strengths to the partnership, and the promotion of teachings of intellectual equality, instead of reinforcing knowledge hierarchies. This will shape the focus of our next Seminar and form part of the project report.

Dr Que Anh Dang, PEER Principal Investigator, Coventry University
Funded by the British Council, PEER supports in identifying the priority areas of future mutual engagement, following the UK becoming ASEAN's 11th Dialogue Partner in August 2021, the first partnership that ASEAN has agreed to in 25 years. PEER brings together a team of international researchers, including British Council colleagues, based across 15 East Asian territories.
Leighton Ernsberger said:
The PEER project allows us an exciting opportunity to shape the future of UK's engagement in SEA in a way that will best support mutual ambitions on international HE. By understanding current and evolving collaborations and linkages between the UK and the region, we can promote a more targeted approach in creating and designing partnerships that are impactful, sustainable, and inclusive.

Leighton Ernsberger, Director for Education and English, East Asia at the British Council
---
Watch the event video
Find out more about PEER
The PEER project is in collaboration with ASEAN institutions, including, Nanyang Technological University of Singapore, Lingnan University of Hongkong, Fukuyama City University of Japan, SEAMEO Centre for Vocational and Technical Education and Training in Brunei, Chulalongkorn University in Thailand, the Asia-Europe Foundation (ASEF) in Singapore, and the ASEAN University Network (AUN) in Thailand.
Find out more about GLEA
The Centre for Global Learning (GLEA) aim to impact positively and ethically on teaching and learning across the higher education sector, and beyond, by engaging with high quality research and influencing policy and practice.
---