Coventry researcher discusses the importance of representation at festival for entrepreneurs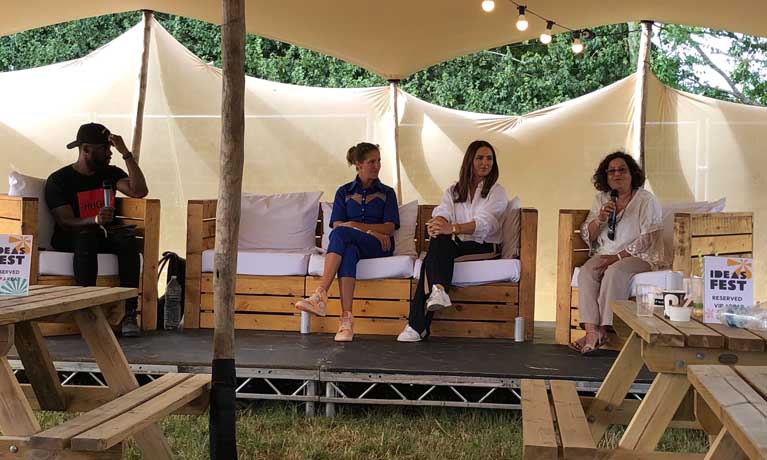 ---
Friday 26 August 2022
Press contact
---
Coventry University researcher Dr Huma Shah spoke with entrepreneurs and business leaders on the importance of representation in the workplace at Ideas Fest 2022.
Dr Shah, Assistant Professor from the Centre for Computational Science and Mathematical Modelling (CSM), contributed to the panel discussion on 'People like me: Why representation matters in the workplace' alongside entrepreneurs and industry experts from private and social enterprises.
The panel formed part of Ideas Fest 2022, a two-day festival which sees 'thought leaders, disruptors and entertainers' engaging in discussion about making the business world more responsible in an ever-changing environment.
The panel discussed the importance of representation in the workplace – highlighting that all people should have someone they can identify with and look to as a role model.
Dr Huma Shah said:
To me representation means that I belong. Representation in environments where people 'look like me' can help to eliminate 'imposter syndrome', encourage confidence and make people feel included.

Dr Huma Shah, Assistant Professor, Research Centre for Computational Science and Mathematical Modelling
Dr Shah focused on the importance of seeing women succeed and progress in the engineering sector, especially in computer science and artificial intelligence - a field dominated by men.
Dr Shah added:
More females are needed in robotics, machine learning and intelligent computing. It is important that there is diverse input into developing new technologies, including online tools, that benefit society to mitigate harms, especially if this can prevent discrimination against members of our society.
To achieve representation for others in the future, the panel discussed ways to overcome a lack of representation, such as changing recruitment practices. This included discussing blind CV reviews, where all personally identifiable information about applicants, including gender, ethnicity and age, is removed.
The panel also discussed how employers could evaluate their own workplace to improve its inclusivity, including reviewing the kind of language or 'banter' that is encouraged that might lead to a hostile working environment.
Dr Shah is currently working as Co-Investigator and Director of Science for the CSI-COP project alongside Professor Neil Forbes. The CSI-COP project had an exhibition stand at Ideas Fest members of the wider team engaged with members of the public and entrepreneurs to explain CSI-COP's research.
---
Learn more about Dr Shah's research, her book, the CSI-COP project and the work of the Centre for Computational Science and Mathematical Modelling.