Knowledge Exchange Framework results reflect Coventry University Group's strengths in community engagement and local business regeneration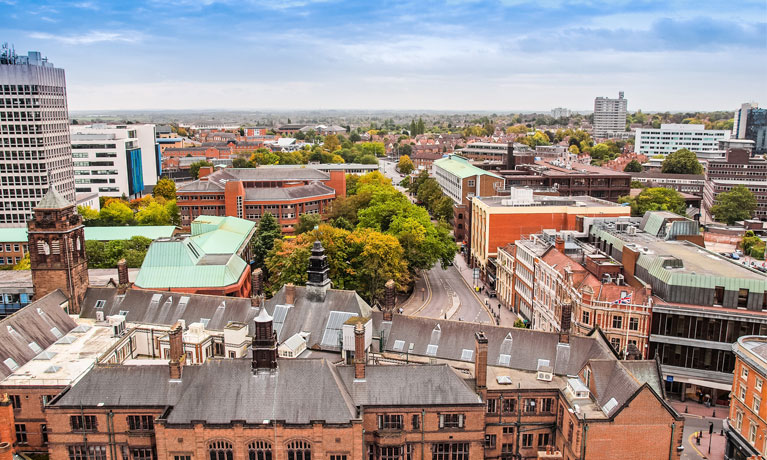 ---
Wednesday 31 March 2021
Press contact
---
Coventry University Group has been recognised for its regeneration and support work for communities surrounding each of its campuses, as well as its delivery of skills-based training in the newly launched Knowledge Exchange Framework (KEF).
Research England's KEF aims to measure, benchmark and improve the overall efficiency and effectiveness of the Knowledge Exchange (KE) activities of the 135 English universities participating in the evaluation.
Demonstrating the breadth of its business and community engagement, Coventry University Group delivers against all seven of the KEF perspectives. Most significantly, the Coventry University Group has ranked in the top 10% for public and community engagement, top 20% for skills, enterprise and entrepreneurship, and top 30% for local growth and regeneration. The KEF outcomes are reflective of not only our size but demonstrate our reach and engagement with business and society.
The results also reflect the outstanding quality and range of projects and support programmes Coventry University Group delivers to local businesses and organisations across its Coventry, London and Scarborough campuses.
We are pleased that these results reflect our ambition for knowledge exchange which aims to find university solutions to real challenges faced by our communities, businesses and partners.

Working collaboratively with our partners ensures we deliver projects and initiatives that meet their needs and deliver effective results. Locally we focus on tackling key challenges like unemployment, health inequalities, workforce development, and business innovation to build local growth surrounding our campuses.

It is clear that our staff and students' resilience and agility has enabled us to continually provide critical support to local businesses and organisations especially during the pandemic.

Knowledge exchange is a core part of higher education institutions' activities and the ambition for the Coventry University Group is to continue to grow and deliver successfully beyond the first assessment.

Dr Paul Noon OBE, Pro-Vice-Chancellor (Enterprise and Innovation)
Coventry University Group examples of Knowledge Exchange include the Survive, Stabilise and Grow programme, developed in partnership with InnovateUK as part of the COVID-19 response, to support and steer local businesses through the turbulence of the pandemic.
Furthermore, the Coventry University Group has established spin-out companies, such as Hope for the Community CIC (Community Interest Company), which is designed to support individuals to manage long-term health conditions. The team use positive psychology techniques and have adapted to develop, test and implement digital interventions to ensure both new and current users have access to wellbeing support during lockdown and beyond.
Alongside supporting local communities and organisations, the Coventry University Group also works with a number of strategic partners such as the UK Civil Service (partnered with EY and KPMG) to deliver quality training to create a better skilled workforce for the future.
To find out more about some the initiatives that the Coventry University Group are involved in read our news stories.