Coventry University Postgraduate Researcher represents African Youth Delegates at Pre-COP26 event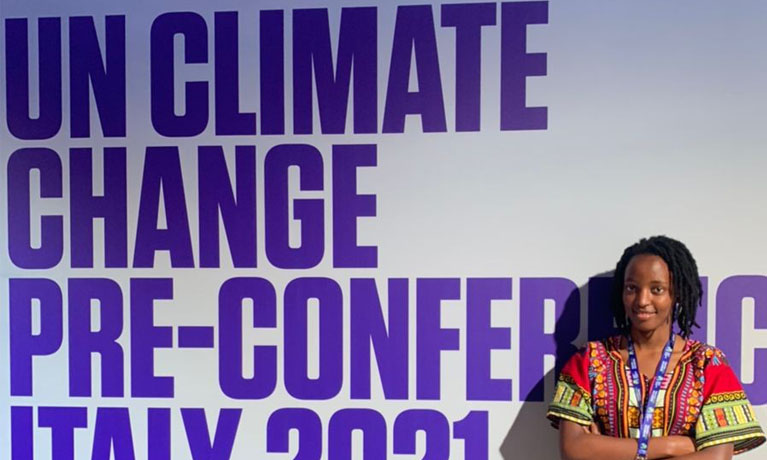 ---
Thursday 04 November 2021
Press contact
---
Coventry University Postgraduate Researcher Rose Kobusinge was selected to lead the African Youth delegates at the Youth4Climate: Driving Ambition Pre-COP26 event, which took place in Milan.
Rose applied for this position at Youth4Climate alongside more than 8,700 other applicants and was carefully selected for the role.
The event gathered 400 young people from 186 member countries of the United Nations Framework Convention on Climate Change to address the main urgencies and priorities of climate action.
Rose's role included the leadership of African youth attendees, alongside presenting the African proposal to the COP26 president, as well as ministers representing governments.
Being selected to delegate African youth in the Youth4Climate Pre-COP26 summit is a great and appreciated challenge for me. I am working hard to ensure I represent the critical young and marginalised voices regarding the lived challenges and priorities for transformative climate and sustainable energy solutions.

Rose Kobusinge, Coventry University Postgraduate Researcher
Rose's research will remain focused on transitions to sustainable energy, transformative social inclusion of young people, women, and displaced people.
Rose joins Coventry University as an interdisciplinary postgraduate researcher within the Centre for Computational Science and Mathematical Modelling (CSM) and the Centre for Trust, Peace, and Social Relations (CTPSR).
Rose added:
I am looking forward to an exciting learning and unlearning journey of a PhD at Coventry University, where I will research on 'Sustainable Energy Futures for Displaced Communities', an area that has been left behind in global energy debates, research and programming. I also look forward to expanding my personal, social and professional network with great people at Coventry University.
Rose will be supported by an interdisciplinary network during her time with Coventry University, including her Director of Studies, Esra Kaytaz.
Rose was awarded the Doctoral Training Alliance studentship on energy. Through a socio-technical lens that combines energy social sciences and humanitarian engineering, Rose will work on developing energy systems design protocols that reflect decision-making processes and build the capacity and resilience of displaced communities. We are looking forward to welcoming Rose to Coventry University as a PGR and working with Rose on this innovative transdisciplinary research project.

Dr Esra Kaytaz, Centre for Trust, Peace, and Social Relations