'Faculty on the Factory Floor' featured in the Gatsby Foundation report on the development of 'learning factories'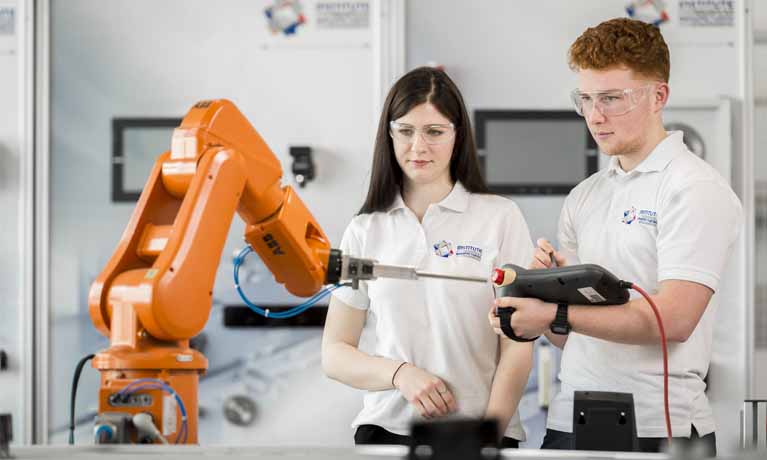 ---
Friday 14 May 2021
Press contact
---
Coventry University's Institute for Advanced Manufacturing and Engineering (AME) has been featured as one of five case studies in the Gatsby Foundation report which details the 'The Opportunity for Learning Factories in the UK'.
The report was authored by Dr Stuart Edwards, an Honorary Research Associate at the University College London's Knowledge Lab.
In his report, Dr Edwards explains how factories can play an intrinsic role in helping to educate the next generation of technicians and engineers.
Universities, industry and researchers need to work together to provide potential learners with real-life problematic scenarios as practical projects. Students are supported with state-of-the-art facilities and expert supervision to develop their knowledge and skills. It is suggested that this practical approach to teaching and learning will help to improve the UK's gaps in technical education, increase productivity and accelerate the adoption of technology.
Advanced Manufacturing and Engineering currently offers its students a real-life manufacturing environment in its 2000m2 faculty building. Based in a manufacturing factory in Coventry, the facilities are multi-purpose and used for teaching, research and by industrial collaborators to support skills development and training.
Undergraduate and post-graduate students develop their knowledge and experience around real industry projects generated by AME's industrial partners, this type of learning forms part of their degree.
It is great to see recognition of the AME model for creating industry ready graduates as one of the five exemplars featured in the Gatsby Foundation Report. This is the result of the vision and investment made by the university to support the delivery of outstanding teaching and cross-disciplinary research. We are very excited to continue to add value to student experience, researcher knowledge, and supply chains for our industry partners.

Marcos Kauffman, Director of the Institute for Advanced Manufacturing and Engineering
Find out more about the research centre and how to get in touch by visiting the AME website.